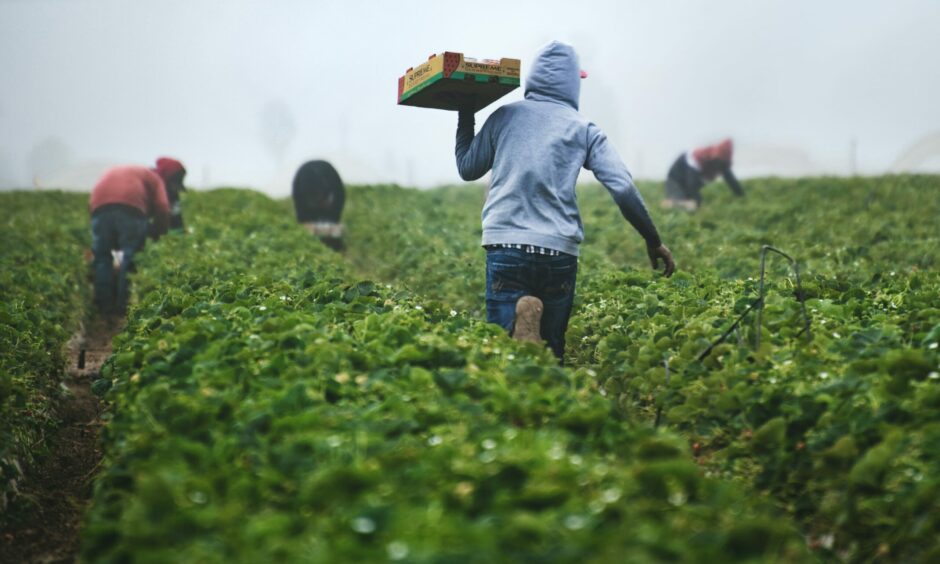 In this six-part series, we break down the UN Environment Programme's (UNEP) recommendations on how to reach the Paris Agreement goals, sector by sector.
UNEP found that the current pledges will lead to a temperature rise of 2.4-2.6°C by the end of this century.
If food systems continue with business as usual, they can, on their own, preclude the achievement of Paris Agreement goals.
Researchers recommended a range of actions to make food systems more sustainable, which will benefit both the environment and human health.
Food systems are major contributors to climate change and have huge impacts on biodiversity, water and land. If current trends continue, these sectors could preclude the achievement of Paris Agreement goals on their own, as they will lead to a 60-90% rise in emissions between 2010 and 2050.
As such, transforming food systems will limit global warming, prevent biodiversity loss and reduce water and land pollution. It will also improve human health through food security and healthy diets. In fact, imbalanced diets are a massive health burden for countries worldwide and the food is unevenly distributed – two billion people are overweight and obese, another two billion have nutritional deficiencies, and about 800 million are suffering from hunger. Food is becoming increasingly more expensive, which is exacerbated by extreme weather events disrupting food systems. This highlights how equity and justice are vital components to accelerate the transformation.
In its Emissions Gap Report 2022, UNEP said that addressing food systems will help identify synergies and trade-offs across the various interconnected environmental, health and economic impacts. Alongside agriculture, food systems include pre- and post-production processes, which are related to the transportation, industrial activities, storage and
consumption of food. Researchers cautioned that food system emissions are complex to calculate, as they include many sectors, which increases the risk of double counting. Connecting the supply and demand sides, however, ensures that mitigation strategies are compatible with food security, and facilitates the design of integrated adaptation and mitigation policies.
The food system accounts for a third of total GHG emissions. The largest contribution stems from agricultural production, at 39%, followed by 32% from changes in land use and 29% from supply chain activities, such as retail, transport, consumption, fuel production, waste management,
industrial processes and packaging. Developing countries account for 73% of emissions, but their per capita emission footprints are up to four times lower than those in industrialised countries due to a difference in population.
What needs to change
UNEP said that reducing emissions will require demand-side changes – such as a shift towards more sustainable diets – protection of natural ecosystems, improvements in food production at the farm level, and decarbonisation of the supply chain. Researchers said that changes in one domain will affect other domains. For example, dietary changes towards more plant-based diets will lower demand for cropland, in turn helping with deforestation. It will be key, however, to avoid trade-offs with other issues, such as food security, but instead create synergies to tackle all problems.
Demand-side shifts
Meat production, which has quadrupled since the 1960s, generates over half of the agriculture sector's GHG emissions. Everybody on the planet should consume within levels recommended for health and the environment – 14 grams per day or less of red meat, 29 grams per day or less of poultry, and 28 grams per day or less of fish – to avoid a projected 60% rise in meat production by 2050. There have been some positive shifts, for example total consumption of meat substitutes has increased by more than three times between 2013 and 2020, but there has been little progress on changing diets so far, according to the UNEP report. None of the nationally determined contributions (NDCs) at the heart of the Paris Agreement mention the need to reduce the consumption of animal protein.
Protection of natural ecosystems
Deforestation is the main source of emissions from land use, land-use change and forestry, and further exacerbates climate change by reducing the future removals of atmospheric carbon in natural forests. The Sustainable Development Goals (SDGs) include a target of halting deforestation by 2020, which has been restated in several declarations including at COP26, however deforestation related to food systems was 11.5 million hectares per year between 2011 and 2020. 
UNEP said governments and companies need to be made accountable for their commitments through effective, unified and public systems of monitoring, reporting and verification. 
Improvements in food production
Enteric fermentation of ruminant livestock is the major source of emissions from agricultural production, which can be addressed by changing feed level and composition, in turn boosting animal productivity. 
Changes in water management can significantly reduce methane emissions from rice, another important source of emissions, especially for low- and middle-income countries.
Another prominent GHG is nitrous oxide, which is mainly emitted from agricultural activities such as the application of fertilisers and from livestock manure. Reducing their nitrogen emissions will cut pollution of air and water, however limiting its use is not straightforward, as crops have different needs based on type and location.
Decarbonisation of the supply chain
Energy use along the supply chain is the fastest-growing source of emissions in the food systems, with households accounting for 30% of the total. This is expected to continue rising as supermarkets expand in developing countries. Another concerning element is the rapid growth in fluorinated gases from cooling equipment, as they have a higher warming potential than CO2.
As such, the food and beverage industry is a critical area of activity. Mitigation options include increasing energy use efficiency and waste recovery, adopting renewable sources of energy, and cutting energy use by putting doors on refrigerators in supermarkets.
Everyone can play a role in changing food systems
UNEP warned that scaling transformations will be challenged by the fragmented state of data, information, knowledge and awareness across sectors, population groups and public and private agencies. This can be addressed by multicomponent approaches, for instance by combining information campaigns with economic incentives and fiscal measures, which have historically led to meaningful changes.
International cooperation will be required at all levels due as all countries' food systems are strongly connected.
Governments should reform national dietary guidelines to support citizens in adopting more sustainable and healthy diets, implement fiscal policies such as taxation and subsidies, and set targeted investments and regulations. For example, investing in public infrastructure such as storage or waste management as well as subsidising loans for renewable energy equipment can support farmers in cutting emissions.
Cities and local governments should increase the share of organic products and/or from local suppliers and reduce waste through directives, resolutions or orders. They must consider integrating food production, access and distribution in urban planning and can serve as a testing ground for policies to be scaled nationally. 
Companies can drive food system transformation by setting targets to reduce emissions and reach net zero. There is also significant business opportunity in implementing the SDGs, estimated to be $4.5 trillion out of the total food sector turnover of$10 trillion per year by 2030. This includes the alternative proteins sector.
Finally, citizens can drive food systems transformation through consumption choices, voting and mobilising in favour or against certain policy reforms related to food systems, such as boycotting certain brands or joining public protests. NGOs can play a part by representing citizens' voices at local, national and international levels.
Our series: