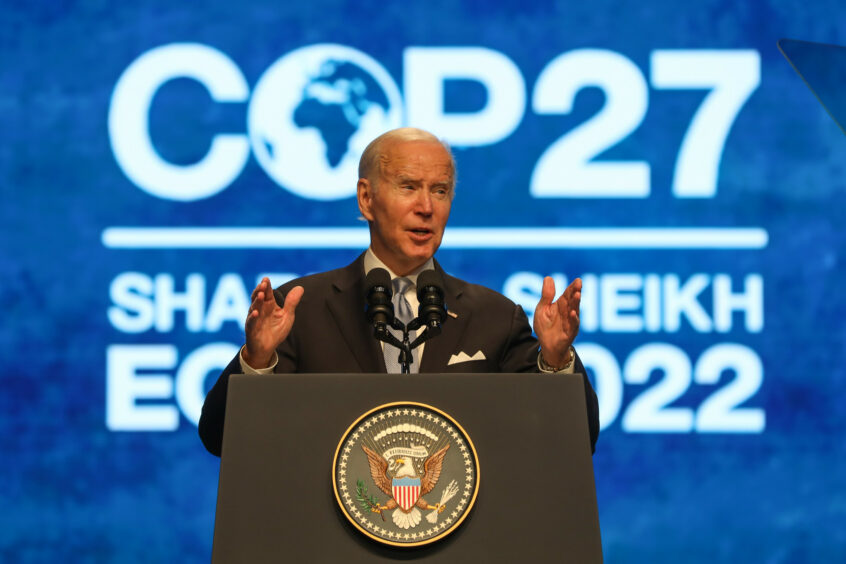 The publicly available draft of the Fifth National Climate Assessment says the US needs to make deeper emissions cuts to achieve net zero goals, which may be challenged by political polarisation on climate change.
The Fifth National Climate Assessment has identified a series of steps the US must take to reduce its emissions if it is to reach net zero by 2050.
The US is the world's second-largest emitter of greenhouse gases after China. 
Existing technologies can put the country on track with its goals, but there is significant polarisation on climate issues.
The US has released a draft of the Fifth National Climate Assessment, mandated every four years by Congress, which is open for public comments until 27 January 2023. The full report will be released in 2023.

Increasing the speed of emissions cuts
Researchers found that the US needs to make greenhouse gas emissions cuts of 6% per year on average to reach net zero by 2050. The country reduced emissions by 12% between 2007 and 2019, but the current progress is not enough.
The report recognised that "Americans are feeling the effects of climate change in their everyday lives" as intensifying extreme events, such as heatwaves, flooding and wildfires, hit public services and infrastructure, especially in vulnerable communities. In fact, climate change is exacerbating inequality for Indigenous peoples, people of colour, and low-income communities. 
The good news is that deep emissions cuts are achievable with existing tools, such as renewable energy and low-carbon energy options, which need to be deployed faster and more widely. Other solutions are promoting public transportation, boosting building efficiency, and improving cropland management in agriculture.
The report said the US must phase out fossil fuels, reduce energy use, and drastically cut emissions from land and food systems. This will be done by decarbonising the electricity sector, transitioning to low-carbon transportation and heating systems, and increasing the efficiency and sustainability of food production, distribution, and consumption.
Researchers stressed that immediate action to cut emissions is critical to slow the rate of warming. Alongside limiting future harm, these solutions have tangible, short-term benefits. For example, reducing emissions of short-lived climate pollutants such as methane improves air quality and human health. Improving cropland management can increase soil carbon uptake and storage and enhance agricultural yields, boosting profits for farms while also sequestering more CO2.
World's second-largest emitter committed to net zero
The US is the second largest emitter of greenhouse gases after China and is taking steps to mitigate its environmental impact. The Biden Administration committed to net zero emissions by 2050 at COP26, then in August 2022 passed the landmark Inflation Reduction Act, which allocates $370 billion to clean energy projects and adaptation strategies at a community level.
President Joe Biden also oversaw the Bipartisan Infrastructure Law, designed to upgrade the power grid and expand public transport; the Bipartisan Senate Ratification of the Kigali Amendment to the Montreal Protocol to phase down global production and consumption of hydrofluorocarbons; and the US Methane Emissions Reduction Action Plan.
New pledges announced at COP27
The Biden-Harris Administration unveiled a series of measures at COP27. For example, it launched the Green Shipping Challenge, the Climate Finance + initiative using public finance to unlock private investment, a Climate Gender Equity Fund, an Indigenous Peoples Finance Access Facility, and new exchanges to empower youth worldwide. It also doubled the US pledge to the Adaptation Fund to $100 million.
The Administration also released a Nature-Based Solutions Roadmap, which outlined recommendations to address climate change, nature loss, and inequity. This included agency actions to ensure over $25 billion in infrastructure and climate funding can support nature-based solutions, a new guide to using "the power of nature" for military bases, and a new technical working group for nature-based options in benefit-cost analysis.
Domestically, the government is working on measures to decarbonise key sectors such as power, transportation, buildings, industry, lands and waters, while focusing on environmental justice. Even though Biden's climate policies represent major progress from his predecessor Donald Trump, the majority of Democrat voters think the current administration could be doing a lot more, according to a Pew Research Center survey.
David Nicholson, Mercy Corps' climate officer, said: "Meaningfully addressing the climate crisis requires stronger action from both the US Congress and the Biden Administration to follow through on their existing commitments. This includes greater levels of adaptation funding and support for disaster risk reduction activities such as early warning systems, alongside mitigation efforts. Without this, we will face continued record highs– temperatures, extreme weather events and loss of life, livelihoods and property across the world, including in the US."
Climate is central to political polarisation
Climate change has been a major source of polarisation in US politics. Republicans are critical of Biden's policies, defining them "radical rush-to-green agenda". The survey by Pew Research Center found that 82% of Republicans interviewed believe Biden's measures are taking the country in the wrong direction.  
The financial sector has been dragged into the debate by ideological disagreement over ESG investments, resulting in several Republican States dropping investments in BlackRock for its perceived stance on sustainability. The Republican establishment claims ESG is an anti-free market and an anti-fossil fuel assault from the "woke left".
Climate policies must be prioritised to protect people and the environment, but there is substantial disagreement among policymakers who are willing to continue with business as usual. As such, there is increasing concern that having Republicans in power in the US may hinder or even reverse progress on decarbonisation.
Concerns over midterm elections
There are fears that the latest midterm elections would give Republicans a significant majority in Congress, potentially undermining Biden's climate efforts. Politicians that have positioned themselves strongly in favour of the green agenda, however, have won in some key states, such as Democratic Gov. Gretchen Whitmer in Michigan and Democratic Attorney General Maura Healey in Massachusetts.
The Democrats retained control of the Senate, but it is not yet clear what party will take power in the House. If it goes to the Republicans, it will still be a tight majority, therefore representing a relatively weak opposition to the green agenda.
Some people believe the existing policies will keep delivering results in decarbonising the country, regardless of the political setup. Dan Lashof, director of World Resources Institute United States, said: "Make no mistake, the Inflation Reduction Act will drive US emissions down for years to come, and more ambitious efforts from states, cities and businesses can get the United States even farther towards reaching its climate goals."
He added: "Some members of Congress may attempt to slow down how clean energy investments are rolled out, but they have absolutely no chance of repealing this major climate legislation."
As shown in the Fifth National Climate Assessment, the US needs to act much faster to achieve its net zero goals. While a Republican-controlled House may not reverse existing policies, new ones might be needed to accelerate climate efforts, requiring agreement on both sides. As such, the polarisation over climate change needs to come to an end.