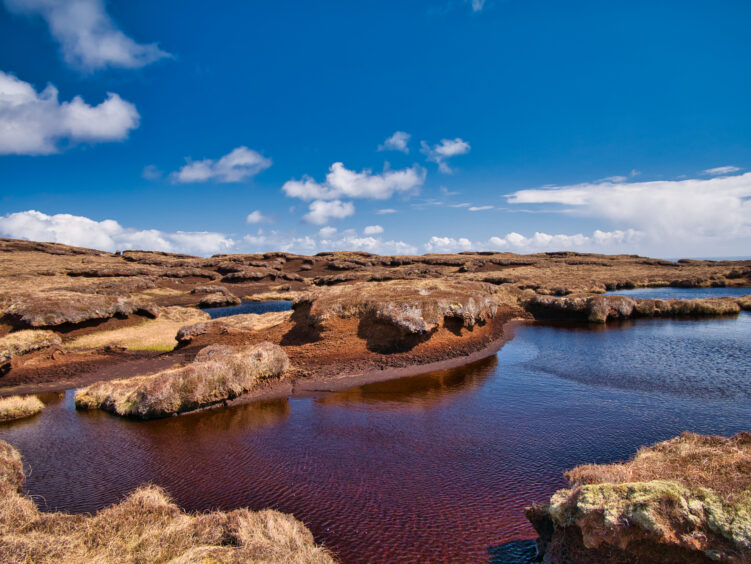 Peatlands act as major carbon sinks when in good condition, but if they are drained and degraded they generate significant amounts of emissions. Decision-makers must focus on the restoration and protection of peatlands in order to limit global warming.
Peatlands will either be part of the problem or a key element of the solution to global warming, according to a new report by the UN Environment Programme (UNEP).

Drained peatlands account for 4% of global human-induced greenhouse gas emissions each year.

Decision-makers must harness the opportunity provided by peatlands and focus on their protection and restoration.
What are peatlands?
Peatlands are ecosystems with a unique type of soil, known as peat, which is formed from plant material that has only partially decomposed. This is usually due to water-saturated soil conditions, or cold temperatures in polar areas. 
Covering 500 million hectares globally, peatlands only account for between 3% and 4% of the planet's land surface. Despite the small area of their coverage, however, peatlands store up to one-third of the world's soil carbon – twice the amount that is captured by all forest biomass. It is therefore crucial to keep this carbon, estimated to be in the range of 450,000 to 650,000 megatons, locked in the peatlands.
Peatlands provide several additional benefits. They are part of the water cycle as they store and filter water, slowing peak flows and reducing the impact of floods. They are also home to various animals and plants, and are important archaeological sites that provide insights into past environmental conditions and enable predictions of how the climate might change in the future.
Human activity has led to an increasing area of peatland being degraded. These ecosystems are drained for agriculture and forestry and eroded by overgrazing of livestock, mined for fuel and horticulture, as well as suffering from pollution. Infrastructure development disturbs their hydrology and many are deliberately burned.
This ongoing degradation releases significant greenhouse gas emissions.
The state of the world's peatlands
Previous studies have revealed that around 50 million hectares of peatlands, or 12% of the current coverage, have been historically drained globally. The degraded areas only account for 0.4% of the world's land surface, but contribute to 4% of global human-induced greenhouse emissions each year.
Around 500,000 hectares of peatlands are destroyed by human activities annually. If this trend continues, it will consume 12% of the emissions budget that remains to keep global warming below 2°C, and 41% of the budget to keep global warming below 1.5°C. 
Restoring degraded peatlands, conversely, would account for 10% of the total emission reductions and removals, provided by nature-based solutions across all ecosystems by 2030.
This highlights how important it is to take action and make the most of the resources that we do have to limit global warming. Peatlands are a nature-based solution to halt biodiversity loss, support climate change adaptation and mitigation and support local communities. 
UNEP has now published its Global Peatlands Assessment, undertaken by the Global Peatlands Initiative between 2020 and 2022 as decided by the UNEA-4 resolution on the Conservation and Sustainable Management of Peatlands in March 2019. It is said to be the first comprehensive global assessment of peatlands in almost 15 years.
Following researcher proposals that peatlands be defined as an ecosystem with peat soil of any thickness, providing an evidence base for their status and importance in the global carbon cycle, the report's analysis was based on spatial data and the best available information from 220 contributors in over 50 countries. 
What can decision-makers do?
UNEP's report focuses on potential solutions to ensure that peatlands are conserved or restored. For a start, the world needs to inject funding into these projects, keeping in mind that they will ultimately lead to significant savings.
For example, investing $40 billion to restore and conserve peatlands in tropical countries would cut 2% of global annual greenhouse gas emissions. A study in Scotland found that restoration may save the taxpayer £191 million a year.
Restoration costs, however, will continue to rise if healthy peatlands are not protected. Preventing the damage through conservation will always be the cheaper option.
According to the researchers, funding may come from a blend of public and market mechanisms, ensuring equitable benefits to local communities. These include green finance, ecosystem markets and carbon markets, such as cap and trade or emissions trading schemes in California and the EU, Germany's MoorFutures, or the UK's Peatland Code.
They said that countries should prioritise additional research and mapping of all lands with a peat depth threshold of 10 centimetres or more, to better measure their contribution to emissions reduction or generation and plan accordingly. Peatland-rich countries were also urged to include peatlands in their Nationally Determined Contributions (NDCs).
Farmers and the general public can also play a role, according to the report, by re-wetting drained farmland, using peat substitutes for horticulture and gardening, and using clean energy instead of burning peat for heating.
Inger Andersen, executive director of UNEP, commented: "If we're serious about acting on climate change, we must get serious about the protection, restoration, and sustainable management of peatlands. Wherever peatlands are allowed to be damaged or drained, harmful emissions will continue to be released for decades."