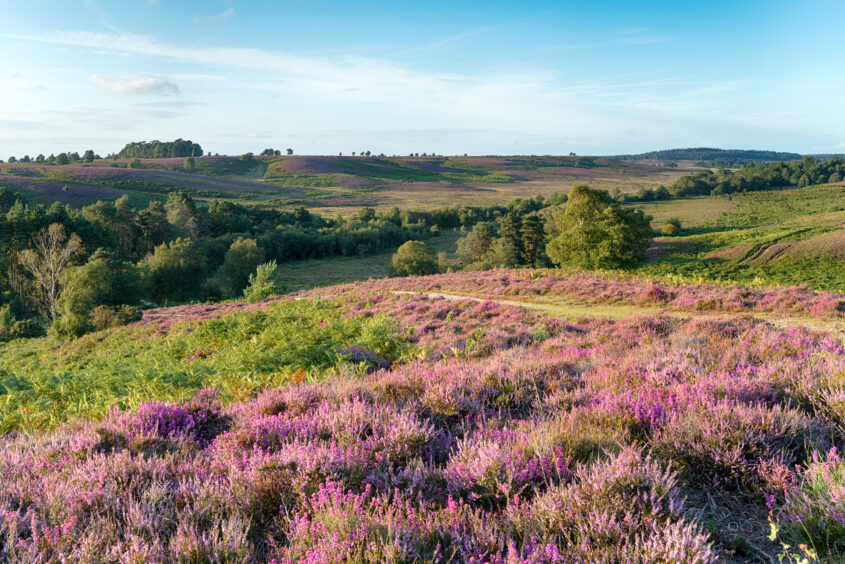 The National Trust, a charity and membership organisation for heritage conservation in England, Wales and Northern Ireland, has said that high temperatures and drought conditions throughout 2022 have resulted in severe losses of newly planted trees.
In certain areas, up to 90% of the trees planted in winter 2021 were lost due to drought caused by record-high temperatures.
The National Trust said that it will learn from this experience and plan accordingly for the future.
Nature-based solutions, like other ecosystems, are exposed to extreme weather events and therefore need to be tracked and updated over their lifetime.

 
Replanting efforts hampered by weather conditions
The National Trust said that the high temperatures and frequent drought conditions experienced during 2022 have had huge impacts on some of the planting projects it had launched over the winter of 2021. This is slowing down the organisation's plans to establish 20 million trees on its land by 2030.
Up to 90% of trees were lost in some small parcels of land on the Wimpole Estate in Cambridgeshire, with average losses of around 50%. There was an approximate 50% survival rate at the Buscot and Coleshill Estate in Oxfordshire, while the high levels of rain and soil moisture have supported an 80% survival rate in Wales.
Luke Barley, Trees and Woodlands Adviser at the National Trust said: "These young trees haven't had the chance to fully establish, and therefore unfortunately don't have the root system or mass to help them survive during periods of drought."
He added: "While it is normal to lose a small proportion of tree saplings in any given planting scheme, losing this many across so many sites has a real impact on our efforts to increase woodland cover. This impacts on our efforts to deliver Nature Based Solutions let alone targets for UK tree planting but we will learn from these past 12 months and adapt our plans accordingly."
For example, the organisation found that using mulch or kept grass long around the saplings was useful in locking in the moisture they needed to survive. Moreover, trees that developed from natural colonisation fared much better because they were able to establish strong root systems through their germination, giving them more built-in resilience in times of challenging conditions.
Barley added: "It's very likely we won't understand the full impact of this summer's temperatures until next spring when their ability to burst into new life may be hampered if they didn't manage to store enough sugars in their roots over the summer period. Bud burst is a very energy sapping process as they move from a period of dormancy into new life."
"Finally, some of the impacts of a severe drought like this will only become apparent over many years – even decades. Successive drought events in a changing climate will compound the stresses our trees face, including their susceptibility to tree disease which makes species diversification part of the answer to climate impacts."
UK's temperatures keep breaking records
Britain's wildlife also suffered the consequences of tumultuous weather in 2022. A warm January was followed by back-to-back tree-toppling storms in February, a dry spring, a summer of record-breaking temperatures and a prolonged heatwave causing severe drought, ending with December's cold snap.
A new record-high UK temperature of 40.3°C was recorded at Coningsby, Lincolnshire, during the heatwave in July, making the season the joint hottest summer on record. The UK is still grappling with drought as months of low rainfall have yet to replenish groundwater levels following the drying up of the country's rivers during the hot summer months.
The UK's weather conditions are yet another example of the rapidly-evolving effects of climate change. Many countries across Europe also baked in the summer heat, while wildfires, flooding, hurricanes and typhoons claimed countless lives around the world including in South Africa, Pakistan, California, Japan, The Philippines and Australia.
Protecting nature-based solutions 
Nature-based solutions are threatened by the rapidly evolving effects of global warming just as much as other ecosystems. As such, it is crucial to incorporate different scenarios in their planning, just as The National Trust is now doing.
A stark reminder of this was a study by San Francisco-based non-profit CarbonPlan, published in August 2022, which found that wildfires in California had depleted nearly all of the state's 100-year guaranteed forest offset reserves over the course of a decade.
An analysis published in November 2022, meanwhile, revealed that half of replanted tropical trees died within five years, although there was a huge variation in outcomes. The researchers behind the analysis stressed that seedlings must be chosen based on the characteristics of the area being reforested, such as altitude and local or projected climate. Nonetheless, they said that active restoration provides faster results than letting nature take its course, as the sites which included tree planting activities gained forest cover more quickly. 
Even though forest restoration is an important tool for capturing carbon, improving biodiversity and providing economic benefits to local communities, it is not a silver bullet to solving climate change. Projects need to be tracked over time to ensure that they are not only thriving, but also to assess whether they need to be updated to meet the goals they set out to achieve.