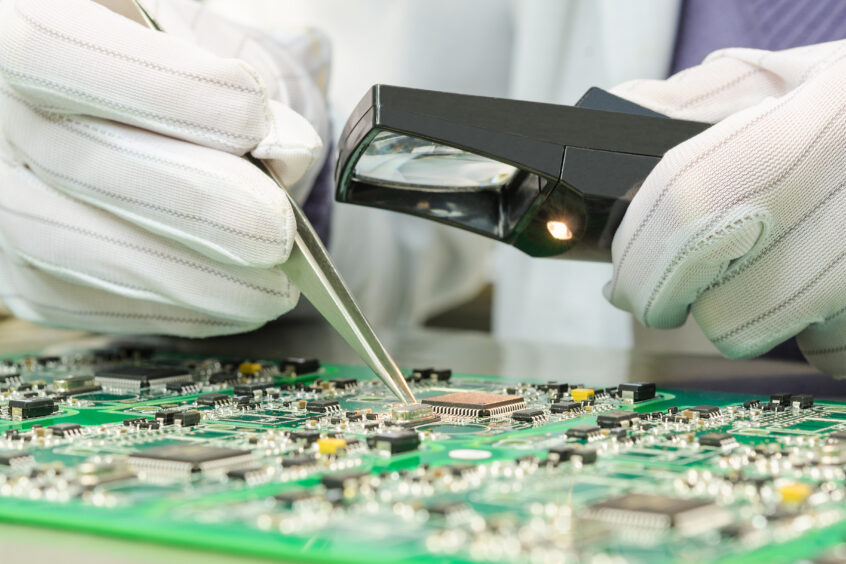 The information and communications technology (ICT) hardware sector has failed to address forced labour risks and impacts in its supply chain operations, according to a new report by KnowTheChain, a programme run by the Business & Human Rights Resource Centre.
KnowTheChain found that only four out of 60 major ICT companies addressed supply chain forced labour risks in an effective way.
The sector is a major driver of the world's economy but its expansion has come with human rights breaches.
With regulatory and ESG risks increasing, companies need to ramp up efforts to tackle forced labour risks. 
Tech sector is behind the curve
KnowTheChain analysed and scored 60 of the world's largest ICT companies' efforts to address risks of forced labour in their supply chain. It found most companies are not conducting even adequate due diligence or providing appropriate remedies for workers suffering from the worst form of human rights abuse, with the median score being just 14/100. 
Four companies, however, scored above 50/100, demonstrating that the implementation of policies, the prevention of abuse and relevant policies improved outcomes for workers. These were Hewlett Packard Enterprise, Intel (NASDAQ:INTC), Cisco (NASDAQ:CSCO) and Apple (NASDAQ:APPL).
Despite higher scores, the interconnected nature of the sector's supply chains means no company is immune from labour risks. For instance, Apple's suppliers include BOE Technology (SHE:000725), which scored 0 in the benchmark. Hangzhou Hik-Vision Digital Technology (SHE:002415) and NAURA Technology (SHE:002371) were also at the bottom of the ranking with 0 points.
The research also found inconsistencies between companies' policies and practices when it comes to ending forced labour. Although several companies have made human rights commitments, most failed to consider how their purchasing practices were exacerbating forced labour risks within their supply chains. This raises serious concerns about essential due diligence and companies' readiness for emergent robust regulation and tougher ESG investment demands, according to the report.
Benchmark highlights lack of transparency
KnowTheChain found a pervasive lack of transparency across the sector, which presents significant risks for the companies and their investors. Alongside the ethical issue, new legislation sanctions and incentives regimes under development will hold businesses accountable for human rights abuses in their supply chains, leading to legal, financial and reputational risks for those not complying.
Only a fifth of the companies in the benchmark, however, disclosed forced labour risks in their supply chains and just a third disclosed forced labour violations. This does not reflect the absence of risks and violations, but rather a failure to look for them, according to the researchers. In fact, 45% the companies assessed failed to disclose undertaking human rights risk assessments in their supply chains.
Companies performed most poorly on the theme of purchasing practices, with an average score of 2/100 and a top score of 50/100. Despite clear links between the suppression of workers' voices and forced labour risks, only two companies disclosed the percentage of supply chains covered by collective bargaining agreements and only one company reported working with a union, in collaboration with a supplier and a non-governmental organisation, to resolve a worker grievance.
Moreover, only 12% of companies disclosed data on the effectiveness of grievance mechanisms, despite that 83% disclosed the availability of a mechanism, indicating workers in the supply chains of the benchmarked companies do not have meaningful access to remedy. 
Sector continues growing
The ICT sector has more than doubled in size in the EU since 2002 and today accounts for 8% of the bloc's GDP. In India, this figure grows to 13%, in Taiwan it is 16.5%, while in Malaysia, the ICT sector contributes 22.6% to the country's economy.
Profits soared during the pandemic when many individuals and businesses turned to technology to keep connected while in lockdown. The largest global ICT companies have posted a record $4 trillion in combined annual revenue over the last 12 months, up from about $3 trillion in 2021, even though inflationary pressures have led to a sell-off in tech stocks as they are seen as riskier.
The expansion of the sector has come with human rights breaches in its supply chain: irresponsible purchasing practices encourage the suppression of workers' rights to freedom of association and collective bargaining, and frequently mandate a heavy reliance on cheap labour in repressive conditions, creating a breeding ground for exploitation, said the Business & Human Rights Resource Centre.
Áine Clarke, head of KnowTheChain and investor strategy at the NGO, said: "While ICT hardware profits are over £100 billion per year, efforts by these companies to protect their supply chain workers from forced labour remain dismal. With regulatory and ESG risks ballooning, companies must urgently ramp up efforts to tackle forced labour risks. They must now go beyond policy commitments and tick-box due diligence to demonstrate they know where their risks are and have taken effective action to address them by working with rightsholders – workers and their organisations."
What can companies and investors do?
Researchers issued a series of recommendations in the benchmark findings report. Companies should adopt and disclose responsible purchasing practices, including planning and forecasting, and ring-fencing labour costs, and support collective worker empowerment by promoting freedom of association and providing evidence of related improvements.
They should also adopt a worker-centric approach to due diligence by ensuring workers and other key stakeholders, such as unions and civil society organisations, play a central role in the design, implementation, and monitoring of key due diligence processes. Finally, companies should lend public support for the development of mandatory human rights and environmental due diligence regimes and robust Modern Slavery Acts.
Meanwhile, investors should conduct human rights due diligence of investee companies, both prior to investing and throughout the investment life cycle, to ensure they uphold International Labour Organization (ILO) core labour standards. 
They should integrate respect for fundamental labour rights as an engagement priority to hold investee companies accountable and adopt a stewardship policy and voting guidelines which specifically mention respect for labour rights, as defined by ILO conventions. They should also maximise leverage by joining investor coalitions and collaborative engagements, such as those of ICCR and CCLA's Find it, Fix it, Prevent it. 
The report also stressed that while engaging with companies is important, the role of governments is key. Investors should strengthen public policy functions and publicly commit to supporting the development of regulatory regimes that improve financial market transparency and facilitate responsible growth of capital markets, while mitigating financial market participant harm to society and the environment.