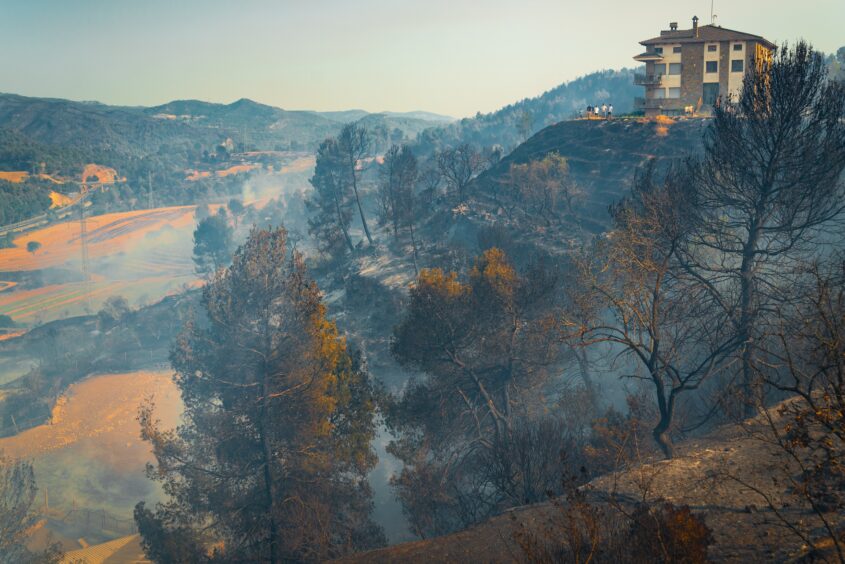 New data from the European Union's Copernicus Climate Change Service reveals that 2022 was the second warmest year on record for Europe and the fifth globally.
2022 was another year of climate extremes, with many high-temperature records and rising atmospheric greenhouse gas concentrations.
Global warming is already impacting many regions across the world and extreme weather events are expected to intensify.
Countries need to implement adaptation solutions to deal with climate change, and must stop with business as usual to meet the Paris Agreement target.
Weather keeps breaking records
The Copernicus Climate Change Service (C3S), implemented by the European Centre for Medium-Range Weather Forecasts on behalf of the European Commission, has released its 2022 Global Climate Highlights. It is a summary of the past year's temperatures, greenhouse gas concentrations and significant climate and weather events, which showed that several high-temperature records were broken both in Europe and across the world, while other extreme events such as drought and flooding affected large regions.
Europe experienced its second warmest year on record, exceeded by 2020 and only slightly warmer than 2019, 2015 and 2014. The summer season was the hottest ever recorded, while autumn was the third warmest. 
Globally, 2022 was the fifth hottest year, but only by a very small margin, according to the C3S ERA5 dataset. Other widely used temperature datasets are likely to rank 2022 slightly differently. So far, the hottest years on record globally are 2016, 2020 and 2019 and 2017 respectively – the last eight years have been the eight warmest on record. 
Atmospheric carbon dioxide concentrations increased by approximately 2.1 ppm, similar to the rates of recent years. Methane concentrations in the atmosphere increased by close to 12 ppb, higher than average, but below the last two years' record highs. 
Vincent-Henri Peuch, director of the Copernicus Atmosphere Monitoring Service, said: "Concentration changes are the result of both human and natural factors. Our ongoing efforts towards an operational verification support capacity of CO2 and CH4 emissions will provide immensely useful tools to assess more specifically the effectiveness of climate change mitigation measures."
Global warming impacts world's population 
Extreme weather events affected many regions worldwide. Prolonged heatwaves affected Pakistan and northern India in spring, and central and eastern China during summer, while Pakistan saw widespread flooding in August as a result of extreme rainfall.
Prolonged and intense heatwaves also affected western and northern Europe, while persistent low levels of rainfall, in combination with high temperatures and other factors led to widespread drought conditions. Total wildfire emissions in the summer were the highest recorded in 15 years for the EU and the UK, and in 20 years for France, Spain, Germany, and Slovenia.
In February, Antarctic Sea ice reached its lowest minimum extent in the 44-year satellite record, reaching record or near record low values for six months. These are only a few examples of how global warming impacts weather worldwide, with extreme events expected to keep intensifying.
Changing business as usual and adapting to the new reality
The report is yet more evidence that we must stop with business as usual if we are to meet the goals set by the Paris Agreement. Countries worldwide also need to design and implement adaptation strategies so that they are prepared for weather events.
According to ERA5, the annual average temperature was 0.3°C above the reference period of 1991-2020, which equates to approximately 1.2°C higher than the period 1850-1900, typically used as a proxy for the pre-industrial era. This makes 2022 the eighth year in a row of temperatures more than 1°C above the pre-industrial level.
"2022 was yet another year of climate extremes across Europe and globally. These events highlight that we are already experiencing the devastating consequences of our warming world," said Samantha Burgess, deputy director of the Copernicus Climate Change Service. "The latest 2022 Climate Highlights from C3S provides clear evidence that avoiding the worst consequences will require society to both urgently reduce carbon emissions and swiftly adapt to the changing climate."