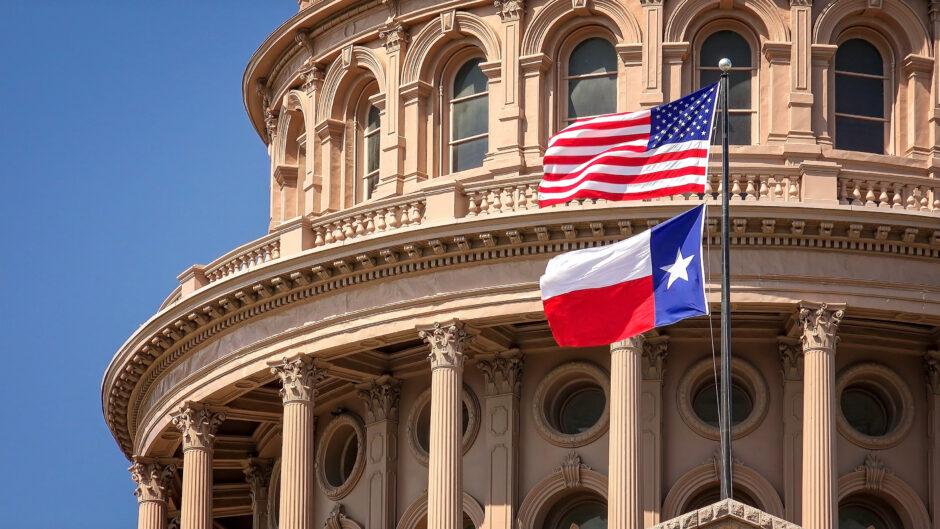 New research by economic and policy consultant firm Econsult Solutions has calculated the potential cost of the ideological battle over ESG in the US. 
Taxpayers of six states mulling anti-ESG laws could have faced up to $700 million in excess interest payments per year.
The analysis shows how the politicisation of ESG can harm the finances of regular citizens.
Legislators face increasing backlash over the management of public funds.
What is going on in the US?
Various Republican-led states in the US have passed or proposed bills that would pull state funds from investment managers, if their strategies are deemed by government officials to be adverse to the oil and gas and coal industries. These bills are based on a piece of model legislation, the Energy Discrimination Elimination Act, developed by the American Legislative Exchange Council. 
Some of these states, alongside many others, are considering punishing or blacklisting financial firms for having strong ESG standards in their strategies. There has also been action by other levels of government, such as state executive actions by treasurers and governors, legal action by state attorneys general, and even the threat of federal action in the next Congress. 
The threat of pulling state funds is pushing financial institutions away from assessing and acting upon the financial risks of such issues as climate change, gun violence, and workers' rights, according to research by economic and policy consultant firm Econsult Solutions.
How is this impacting US citizens and the wider market?
It is not fully clear how these legislative and executive actions can impact the residents and taxpayers of the states where they become law. There is also the question of how removing major, proven financial companies from the marketplace will affect competition. 
Restrictions on financial market participants alter the outcomes of municipal bond market transactions and modify contractual engagements with state governments. Researchers said it is of "tremendous importance" that we have the tools to estimate and anticipate these impacts.
The Sunrise Project, on behalf of As You Sow and the Ceres Accelerator for Sustainable Capital Markets, commissioned Econsult Solutions to use the econometric analysis of Texas, where a law of this kind has been already implemented, to estimate the potential financial impacts. The report found that taxpayers in Kentucky, Florida, Louisiana, Oklahoma, West Virginia, and Missouri could have faced upwards of $708 million per year in additional interest charges on municipal bonds.
This is because the legislation would force state treasurers to boycott major banks and asset managers that historically have bid on municipal bond issuances. As a result, less competition between finance firms for these bonds would cause higher interest rates. 
In addition, the anti-sustainable investing directives and legislation risk serious economic harm to state and local citizens' in other ways. According to the analysis, it could affect state and local treasury functions, pension investment performance and government banking functions.
The research was built on a previous study by Wharton Business School professor Daniel Garrett and Federal Reserve economist Ivan Ivanov. They estimated that the anti-sustainable investing law in Texas raised costs to the public by as much as $532 million in its first eight months. Both studies focused only on the municipal bond market – suggesting that the implications of these laws could spread much wider.
US legislators face continued backlash
The debate over ESG investing continues to intensify. Republican legislators are failing to consider the long term benefits of sustainable investments, and the fact that polluting industries are under pressure to change their ways from markets and governments worldwide.
The hope is that, once confronted with the costly consequences of this politicisation – especially on ordinary people – these states will make a U-turn and revoke the boycotts. Research such as the study by Econsult Solutions provides strong evidence for doing so.
"The firefighters', school teachers', and municipal workers' in these Republican controlled states are the folks suffering from the actions of their elected officials" said As You Sow chief executive Andrew Behar. "The legislators who passed these laws, forcing state treasurers to boycott financial institutions that have historically funded their municipal bonds, has led to reduced competition, a waste of funds, and an overall breach of trust. The fundamental job of a treasurer is to evaluate risk; including environmental risk, social risk, and governance risk. Legislators will face the backlash of their constituents for flushing hundreds of millions of dollars down the toilet for their own political games."