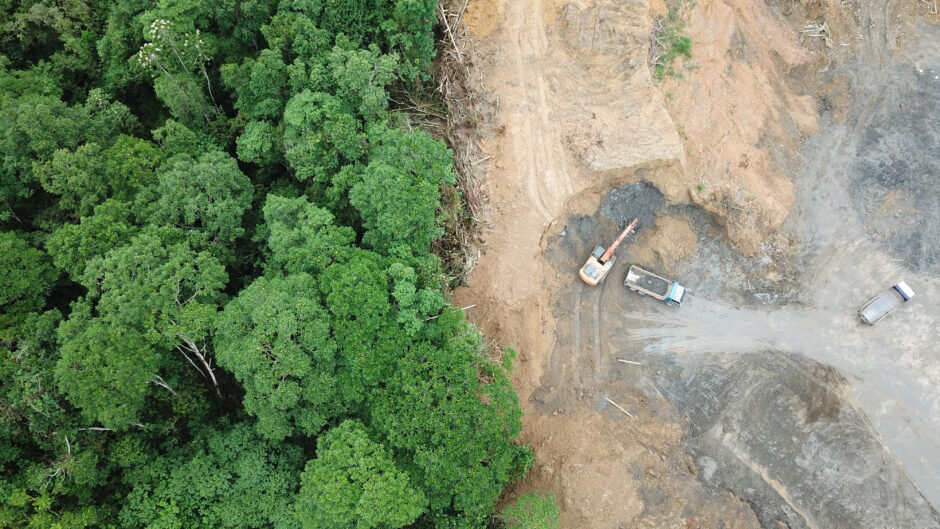 UK startup iov42 and Singapore-based DoubleHelix Tracking Technologies have announced plans for a new Due Diligence Management Platform.
A two-year feasibility study will explore how the technology can help drive supply chain transparency.
Deforestation in commodity supply chains is a difficult challenge to tackle due to complexity, inaccurate data and lack of accountability.
With over $79 billion in forest risk identified within supply chains, demand for effective and transparent data management is only going to increase.
The platform, co-funded by Innovate UK and Enterprise Singapore, will combine iov42's Distributed Ledger Technology (DLT) and DoubleHelix's science-based supply chain verification processes, to help tackle illegal deforestation in the sourcing and supply chains of commodities, such as timber, pulp, paper, beef, cocoa, palm oil and leather.
The platform is an evolution of blockchain, what iov42 calls "the identity platform for building trust". It combines distributed ledger blockchain technology with several other pioneering technologies that make it simple, fast and secure. The idea is to enable organisations, governments and societies to coordinate confidently in the digital space, by enabling trusted, transparent and secure transactions.
Dominic von Trotha Taylor, chief executive and chairman at iov42, said: "Distributed Ledger Technology (DLT) is one of the most innovative technologies that gives organisations the tools needed to meet due diligence requirements and reach sustainability targets.
"This, combined with the need to decentralise and secure commercially sensitive data across multiple parties, really puts DLT in the spotlight and we can't wait to show what we are able to achieve in collaboration with DoubleHelix and with the support of Innovate UK and Enterprise Singapore."
New legislation is driving demand for accurate and verifiable data
The platform is going to undergo a two-year feasibility study testing DLT as an innovative solution to help importers meet due diligence requirements brought about by new legislation.
News of the study comes as organisations importing into the UK are facing increasing expectations to comply with due diligence requirements set by the UK Environment Act 2021. The environmental legislation will establish clear statutory targets for the recovery of the natural world in four priority areas: air quality, biodiversity, water and waste. Doing this successfully requires a better way of managing data.
DLT can help cater to this growing need to decentralise and secure commercially sensitive data across multiple parties in order to create better collaboration in the effort to achieve sustainability.
What data is going to be managed by the platform?
What is being developed by iov42 and DoubleHelix will specifically target Schedule 17 of the UK Environment Act, relating to the "Use of Forest Risk Commodities in Commercial Activity". Similar legislation to the UK's will apply to organisations wanting to import into Europe under the EU Deforestation Regulation (EUDR) and the United States of America under the proposed US FOREST Act.
By combining iov42's pioneering technology – an evolution of blockchain – along with DoubleHelix's science-based supply chain verification processes, the companies will design, develop and test a digital "Due Diligence Management Platform" (DDMP), creating a shared, secure, and decentralised system that serves all impacted commodities and makes due diligence frictionless. The DDMP will also interact with other data sets and technologies such as geospatial imagery and additional science-based testing methodologies.
Darren Thomas, co-founder and chief executive at DoubleHelix added, "We have for some years offered a unique combination of on-the-ground expertise, global network, and extensive track-record of innovation in supply chain due diligence. Our engagement with iov42 takes us to a new level, harnessing DLT to deliver a solution that works across multiple forest-risk commodities. We invite those involved in sourcing for, trading in, and supplying these various commodities to join our trials and ensure their industry requirements are met."
Financial risk is also driving action
While environmental legislation is a key driver for investment in new solutions to old problems, it is also important to recognise that there is significant financial risk involved.
According to the Global Forests Report from CDP, in 2021, 211 disclosing companies identified over $79.2 billion of forest-related risks. This means risks around how they produce, source and use four key forest risk commodities: timber, cattle products, soy, and palm oil.
Of the 675 companies reviewed in the report, only 19 companies had set a target of 100% no-deforestation commodities, (i.e., no forest areas are cleared or converted). Where such targets are set, they will require certification to track, monitor and report on sustainable sourcing and production in the supply chain. So far only 13% of those companies that have set targets have done them in such a way as to align with best practices.
In turn, that means that most companies do not have sufficient traceability (77%) or monitoring systems (74%) throughout their supply chains to implement commitments made or assess progress against them. Given the speed at which demands for transparency and accountability are accelerating, the platform could provide a useful tool for companies trying to assess and understanding, if not address, deforestation within their own supply chains.