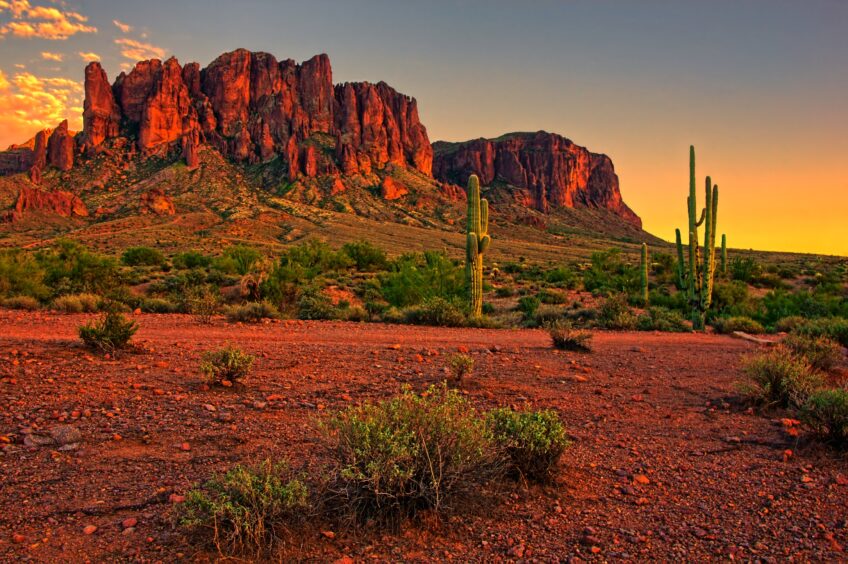 A lack of targeted protection has left 41% of US ecosystems on the brink of collapse, according to the latest research by NatureServe. 
NatureServe's report on US biodiversity reveals that 34% of plants and 40% of animals are at risk of extinction. 
Habitat degradation, invasive species, dams, and climate change have been identified as the main threats to biodiversity in the US. 
Comprehensive data will be vital in ensuring that investments in the conservation and restoration of nature are targeted effectively. 
NatureServe, a non-profit organisation with a focus on wildlife conservation, has published an alarming report on the rate of biodiversity loss across the US. Its findings reveal that 34% of the country's native plants and 40% of its animal species are at risk of extinction, while 41% of its ecosystems are at risk of range-wide collapse. 
"We are currently experiencing and causing the Sixth Extinction—the mass extinction of species across the planet. NatureServe's data highlight where the threats are right here at home," said Dr Sean T. O'Brien, president and chief executive of NatureServe.  
"The plants, animals, and ecosystems found in our state, tribal, and federal lands are key components of our cultural and natural heritage. We should be proud of the biodiversity in our backyard and should prioritize protecting what is here, now."   
Biodiversity in focus
NatureServe's report draws from almost 50 years' worth of data collected by the organisation and its network of over 60 research programmes. Since the data had been collected in a standardised way and was provided largely by local partners, the authors were able to examine the different locations in which threatened species and ecosystems were found. This allowed them to identify clear patterns and trends, which could then be linked back to specific threats. 
The researchers concluded that habitat degradation, invasive species, dams and climate change are the four biggest threats to biodiversity in the US. Where these issues were most severe, there was a high concentration of at-risk species.  
They went on to explore the different risks faced by the nation's ecosystems. By documenting centuries of land conversion and its follow-on impacts, they discovered that grasslands and wetlands were in particular need of conservation. 
Going beyond the quantification of biodiversity loss, the researchers questioned whether species and ecosystems are now receiving sufficient protection to prevent their further decline. Its analysis revealed that, although around 13% of the country's land is legally protected, the vast majority of at-risk populations and ecosystems were located outside of these areas. 
According to NatureServe, this lack of protection is largely due to the US Government's prioritisation of geological features and landscapes of cultural significance. While the conservation of these features had supported biodiversity in those specific locations, the rarest and most endangered species were left unprotected. 
This finding suggests that the US' current conservation efforts are not providing adequate support for the species and ecosystems that are most in need. As such, NatureServe reaches the conclusion that the Government must carefully consider the most up-to-date evidence and deliver more targeted solutions in future years. 
The world is waking up to biodiversity loss
Although NatureServe's report is focused specifically on the US, the challenges it identifies are not so neatly boxed up. Globally, wildlife populations declined by around 69% between 1970 and 2018, leading the International Union for Conservation of Nature to conclude that at least 42,100 species are currently threatened with extinction. 
Biodiversity loss threatens every aspect of human well-being, from the food we consume to the stability of the global economy. With the decline of ecosystem services such as carbon sequestration or the natural circulation of fresh water, we are also at risk of losing the fight against climate change. 
As the interconnections between these issues has grown clearer, governments, investors and corporations have begun to step up their action on biodiversity loss. Perhaps most significantly, December 2022 saw the agreement of a Global Biodiversity Framework that establishes four long-term goals and 23 interim targets for aligning capital flows with the preservation and restoration of nature. 
Without clear data, there is no guarantee of success
The Framework is expected to accelerate both state and non-state action, through the development of effective strategies that are backed by robust planning, monitoring and reporting. NatureServe's report highlights the importance of such mechanisms, as without clear evidence there is a risk that conservation initiatives may fail to deliver their maximum potential. 
"To make the best decisions possible, we need an understanding of our natural heritage. We need to know what biological resources exist, where they occur, and which ones are most at risk. As global change rapidly alters the environment, we need continued investment to ensure that we have the most comprehensive and current information," it warns. 
"Accessible and accurate data about the status and trends of our nation's biodiversity empowers all stakeholders to make decisions that positively impact species and ecosystems throughout the United States. This knowledge will ensure that our nation's biodiversity is protected for generations to come."