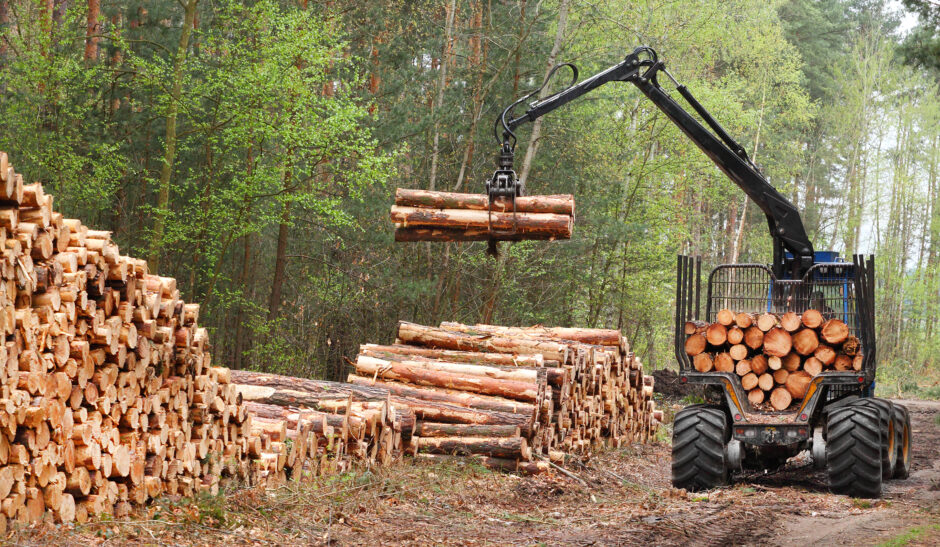 Global Canopy warned that the companies and financial institutions exposed to forest-based supply chains are severely lacking internal policies to address deforestation. This adds potential risk to the achievement of global net zero and biodiversity goals, as well as presenting significant business risks, explains Emma Thomson, lead of the Forest 500 report.
Global Canopy's latest Forest 500 report highlighted the risk to global net zero commitments and biodiversity loss from inaction on deforestation.
It found that 31% of the 350 companies with the most risks have no deforestation commitments, and most financial institutions funding them have no policies on deforestation.
Deforestation, conversion and associated human rights abuses need to be eliminated by 2025 in order to achieve global commitments on climate action and biodiversity loss, according to Forest 500.
Global Canopy is a data-driven non-profit organisation focused on market forces destroying nature with a specific focus on forests. It works to enhance transparency and accountability in corporate climate action through three different programmes: the corporate performance programme, which includes Forest 500, the supply chain transparency programme, and the nature-related finance programme.
What is Forest 500 and how is it acting to prevent deforestation?
Forest 500 is one of the key projects of Global Canopy. In 2014 many companies, governments and financial institutions made commitments through the New York Declaration on Forests to eliminate deforestation by 2020, and Forest 500 was founded to hold these stakeholders accountable. 
While the commitments made were missed in 2020, Forest 500 has continued to hold these companies and financial institutions to account. It assessed the 350 companies and the 150 financial institutions with the most exposure to tropical deforestation risk, with a focus on the strength and implementation of their policies on deforestation and associated human rights abuses.
The assessments are carried out annually, while the list of 500 companies and financial institutions is updated every two years. Companies are analysed through their supply chains and financial institutions through their financing of these companies.
"We know that companies and financial institutions have these net zero commitments, but they just aren't being supported by any kind of a fundamental deforestation policy that they apply to their supply chains or financing activities," said Thomson. "What that means is, not only will those commitments be unachievable, but it also means that deforestation is potentially continuing in supply chains or through that financing. And so are the associated human rights abuses linked to that. And so, not only are those climate commitments not achieved, but the impact of deforestation, on the climate, on freshwater ecosystems on biodiversity are continuing and pushing those targets further away."
What did the report find and where are the most glaring gaps in deforestation policy?
The Forest 500 2023 report found that 40% of the companies and financial institutions (FIs) being assessed had some sort of policy on deforestation. Among the 350 companies, however, 31% had no deforestation commitments for any of their forest-based commodities.
What was more disturbing is that, of the 100 companies that do have a deforestation commitment for every commodity that they are exposed to, only half monitored the suppliers or sourcing regions. The report estimated that 98% of companies with a net zero target are likely to miss it due to insufficient action on deforestation.
This speaks to two important points raised by the report – commitments without actions are worthless, and poor monitoring of supply chains raises the risks of human rights abuses, which are inextricably linked with deforestation.
The situation among financial institutions was even worse: 61% of the 150 FIs had no policy on deforestation for any commodities, and this was unchanged from the prior-year assessment. The total financing provided to forest-risk supply chains by the 150 FIs in the report was $6.1 trillion.
The 92 FIs that did not have any deforestation policies provided more than half, or $3.6 trillion, worth of the financing. This finding is alarming given that the Glasgow Alliance on Net Zero (GFANZ) and the UN's Race to Net Zero initiative both acknowledged previously that net zero goals are incomplete if they are not accompanied by policies on deforestation.
Thomson said: "There are some financial institutions that have very strong policies on deforestation as an individual issue. They have a strong deforestation commitment, with a 2025 target date, and it applies to all the commodities, but it isn't necessarily being backed up by those essential human rights commitments."
Was it all negative or are there elements of hope for deforestation?
While companies and FIs could be doing more to improve their policies and action on deforestation, never before have they had more and better data, more advanced tools and granular support and guidance to tackle the issue. 
While only 11% of FIs have a deforestation policy for all four commodities – soy, palm oil, timber and beef products – Global Canopy was hopeful that this proportion will rise. GFANZ and Race to Net Zero, for example, have only added deforestation to their criteria in 2022, which could result in more of their members making deforestation commitments in 2023. 
Thomson explained that there has been a huge increase in the amount of data and guidance, such as the Finance Sector Roadmap, that is available to companies looking to take action on deforestation. She also believed that the availability of data and tools, including the increased use of satellites and advanced communications, and incoming EU legislation for companies, should have a positive effect on deforestation. 
Thomson added that over the nine years the Forest 500 has been making assessments, some of the finance sector has shown a willingness to make progress voluntarily, which could be accelerated by enacting legislation for financial institutions. She said: "Next year will be our 10th year of Forest 500. It will be a big moment, we have been assessing these companies and financial institutions for 10 years. And hopefully, we will have some positive progress to share". 
What more needs to be done and where should that come from?
Even though deforestation, conversion, and associated human rights abuses pose a risk to FIs, there are currently no policies that require them to commit to acting on these issues. This signals a need for legislation imposing the acknowledgement and related action towards their exposure to deforestation risk. 
According to Global Canopy, due diligence legislation that applies to non-financial companies in the EU, as well as in the UK, should be extended to FIs. It said it hopes that legislation will add transparency to the supply chains of companies that use FIs for financing, helping the FIs in addressing their forest-related risks.
Leading up to the tenth year of the publication of the Forest 500 report, Global Canopy will engage with many of the companies and FIs it assesses throughout 2023, providing them with their scores, and encouraging more action to drive change.
It will also begin work on its next annual assessment. By working with other NGOs and stakeholders it hopes to make positive progress on the forestry issue after a decade of assessments.
Driving action through legislation and implementation can also be affected by individuals as consumers and investors, according to Thomson.  She concluded: "We need a strong deforestation policy that includes human rights abuses, and conversion, natural ecosystems, and ideally with a 2025 target. But crucially, that needs to be implemented. It's not just looking for that policy, it's looking for actual implementation."