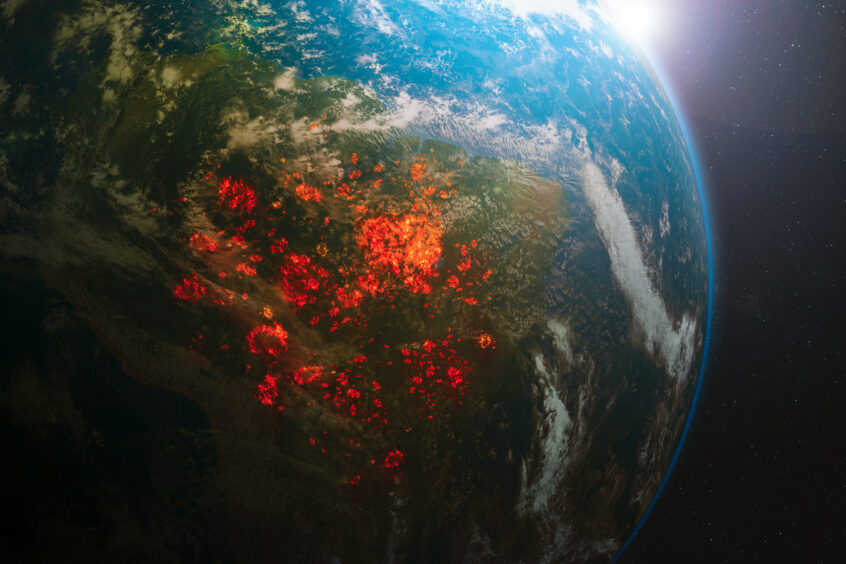 The worsening impacts of climate change may be reducing our chances of turning things around, according to a new report from two UK think tanks. 
The report warns that we are entering into a climate 'doom loop', in which our attempts to manage immediate crises are limiting the resources available for long-term solutions.

 

Unless we address the root causes of climate change, crisis events will continue to increase in both frequency and severity.

 

There remains some hope of escaping the climate doom loop, but only if policymakers focus on transformative solutions based on inclusion and collaboration.

 
Picture yourself aboard a ship, gazing out over the horizon. You see a disturbance up ahead and, before you know it, the storm is upon you. Whether you believed it 'wouldn't be that bad', or simply took too long to make your decision – changing course is no longer an option. Instead, you must struggle to survive the turmoil while being pelted by rain, engulfed by the waves and blinded by dark clouds. 
This is the analogy used by Chatham House and the Institute for Public Policy Research (IPPR) in their alarming report on how the worsening consequences of climate change are impacting our ability to manage the crisis. Warning that we may be entering into an ominous 'doom loop', the two organisations have outlined a series of recommendations on how we can manage the strategic risks of the sustainable transition. 
"It's too late to avoid the climate storm altogether, and the challenge of navigating around a storm is very different to the challenge of navigating through it. Our ability to steer out of the storm is frustrated by having to manage the impacts of the storm on the ship," explained Laurie Laybourn, associate fellow of IPPR and visiting fellow at Chatham House. 
"This is an analogy for the challenge facing environmentalism as we head closer to 1.5C of global heating. The worsening symptoms of the climate and ecological crisis – storms, food price shocks, conflict – will increasingly distract us from realising action to tackle its root causes," she continued.  
Net zero narratives negating future action
To give an example of how so-called 'doom loops' may emerge, the report focuses on the ongoing debate about whether the goals of the Paris Agreement are still within reach. With both the UN Environment Programme (UNEP) and the Intergovernmental Panel on Climate Change (IPCC) claiming that global temperature increases could still be limited below 1.5°C, the question remains controversial. 
Indeed, UNEP's conclusion relies on the rapid implementation of systemic societal changes, without which it concedes that the targets will not be achieved. The IPCC, meanwhile, appears to hold deviated opinions within its ranks. Despite its official stance, an anonymous survey revealed that over 75% of its authors believe that temperatures will rise by at least 2.5°C before 2100. 
According to Chatham House and the IPPR, such scepticism about whether the Paris goals will be met is having a political impact on future climate action. For some, this negative narrative can be extremely discouraging, and can therefore emerge as a barrier to ongoing efforts. For others, however, the evident urgency of the situation can inspire greater climate ambitions.  
Either way, according to the think tanks, vested interests seeking to delay climate action may be exploiting the debate by blocking transformational initiatives or by promising to deliver silver bullet solutions in the future. For those concerned that global climate targets are falling out of reach, the idea of currently untested technologies may be far more appealing than the uphill battle of systemic transformation. 
Crisis management vs. sustainable solutions
Building on this initial example, the report went on to explore the broader challenges of delivering transformational change. It suggested that the worsening impacts of climate change are detracting from the resources available to address its root causes. 
Echoing the warnings heard at COP27, the report stated that the rising frequency and severity of climate-related events are leading to a focus on immediate crisis management. Resources, time and capital are being devoted to recovery and adaptation measures, rather than supporting sustainable solutions that could limit the repetition of crisis events. 
This failure to prioritise the root causes of climate change risks creating a vicious cycle, as disastrous events are rarely constrained to a single point in time or space. Rather, they typically result in a domino effect with globe-spanning consequences for various social and economic systems. As these systems are impacted, the resources available for either long or short-term solutions become even more limited. 
In their report, Chatham House and the IPPR defined such a cycle as being a strategic risk to future climate action. They warned that societal reactions to worsening conditions may emerge as a determining factor in whether the sustainable transition can be achieved. 
Ultimately, the future will unfold according to what we do now and in the coming years. The current consensus is that our social and economic systems are in dire need of complete transformation, but we must consider how this can be delivered in the face of regular crisis events. 
Can we escape the climate doom loop?
With a little more optimism, the report also suggested that this doom loop may unlock certain opportunities. For example, the rise of environmental shocks and their cascading effects could feed into the rapid changes required. Those with the power to influence future climate strategies may be inclined to advance their efforts. 
It outlined a series of recommendations on how these opportunities can be leveraged without being overwhelmed by the worsening impacts of climate change. Its suggestions included the development of realistic yet positive narratives that can inspire greater ambition, and the development of 'emergency politics' that can deliver a more constructive approach to crisis management. 
The think tanks called for a renewed focus on inclusivity and collaboration. By addressing societal inequalities, they suggest that authorities can gain the trust of their citizens and receive their support in making practical changes. Collaboration, meanwhile, could incorporate various aspects ranging from the bridging of climate and finance policies to the breakdown of barriers between different industries. 
Finally, the report called for a number of measures that would increase our understanding of strategic risks to the sustainable solution. It recommended further efforts to improve our analysis of environmental tipping points, leading to the identification of potential threats and opportunities that may arise from the worsening climate crisis.  
This knowledge ought to seek insights from a range of different disciplines, as well as the perspectives of those with lived experience. It should then be shared with younger generations, ensuring that future leaders are as prepared as possible to deliver the green transition despite the distractions and chaos of the warming world. 
With this final recommendation, the report highlighted the importance of engaging the youth population in discussions on climate change. Despite the fact that younger generations are set to experience the very worst of climate change, they have rarely been given a seat at the table. 
Whether today's world leaders are willing to recognise it or not, the fact remains that they will not be in power forever. Sooner or later, they will be replaced by their younger counterparts, who appear to be far more invested in delivering actionable solutions.
By supporting this group and preparing them to cope with what is to come, while also listening to their perspective and recognising them as future leaders in their own right, there may be some hope that the world may escape the impending doom loop.