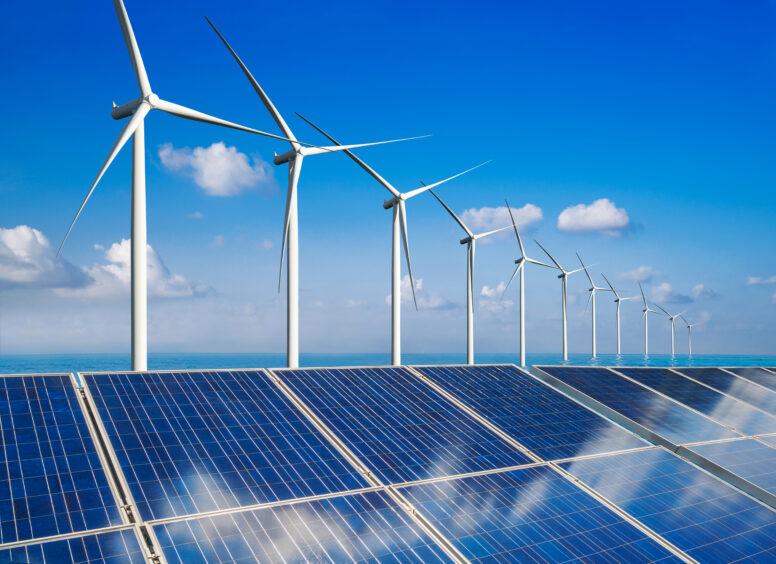 The Green Purposes Company (GPC), a special shareholder of the UK's Green Investment Bank (GIB), has released a report on how the renewable energy industry can overcome various barriers to its adoption of circular business models. 
The GPC is calling for dedicated action to ensure that clean energy investments do not result in unsustainable trade-offs.

 

Although it does not consume fuel, renewable energy is more resource-intensive than fossil fuels, raising a new range of economic and environmental challenges.

 

By addressing the barriers to circularity, the renewables industry could deliver a sustainable and prosperous energy system.

 
The GPC is responsible for safeguarding the GIB's mission to accelerate the net zero transition by channelling private capital into the green energy sector. In its efforts to ensure that such investments are truly sustainable, the GPC commissioned Gate C consultants to compile a report on the circularity of the renewables industry. 
Its report has now been released, highlighting current barriers to the adoption of circular business models. As things stand, the UK's renewables industry is extremely resource-intensive and worryingly wasteful. 
In light of its findings, the GPC is calling for a dedicated action plan to ensure that clean energy investments do not result in unsustainable trade-offs. Its report has been presented in Parliament, concluding with a number of recommendations on how the renewables sector ought to proceed with the support of investors and policymakers. 
From fuel intensity to material intensity
According to the International Energy Agency (IEA), renewable energy will play a vital role in the delivery of the net zero transition. If global temperature increases are to be kept below the limits of the Paris Agreement, then capacity must be quadrupled by 2030. 
As explained by the GPC's report, however, the industry's expansion comes as a major shift from a fuel-intensive to a material-intensive system. Although renewable energy plants do not consume fuel, their construction and maintenance consume far more materials than their fossil fuel counterparts.  
Indeed, research has shown that onshore wind plants require up to nine times more mineral resources than gas-fired facilities of the same capacity. Lithium, cobalt and nickel are essential in the production of high-performance batteries, while rare earth metals are needed when making the powerful magnets used in wind turbines. 
To achieve net zero by 2050, the IEA has warned that global mineral supplies must increase by around six times today's levels. At the same time, there will be a rise in demand for more conventional materials such as steel or cement, which will be needed for the development of modern infrastructure. 
Currently, most of the materials used by the renewables industry are wasted. Estimates suggest that the world will have discarded 43 million tonnes of wind turbine waste by 2050, as well as around 78 million tonnes of photovoltaic modules.  
Adding to the waste of renewable energy generation, the number of storage and vehicle batteries reaching their end of life is expected to surge from 2030, reaching 1,300 GWh by 2040. Although there are ongoing efforts to develop battery recycling systems, their collection infrastructure remains limited. Furthermore, the most widespread technologies are only able to recover certain minerals while others are simply burned. 
The risks of renewable energy expansion
As the energy sector's material demands continue to soar, so too does its exposure to a number of risks. For example, the tight concentration of mineral supplies is leading many countries to become overly dependent on the few with sufficient resources and manufacturing capabilities. As these supplies continue to dwindle, the prices of clean energy technologies have started to rise after years of decline. 
Excessive material consumption also poses a major threat to the wider environment. The mining of critical minerals is a significant driver of biodiversity loss, pollution and land-use conversion, while the cement and steel industries are each responsible for around 7% of global carbon emissions.  
So, although renewable energy can serve as a vital replacement for emissions-intensive fossil fuels, we would be foolish to believe that it is a simple solution. As warned by Trevor Hutchings, chair of the GPC: "It is critical that in helping to address climate change the renewable energy sector does not inadvertently drive environmental problems elsewhere." 
Roadmap for the development of a circular energy system
To reduce its demand for critical raw materials, minimise its supply chain risks and mitigate its negative environmental impacts, the GPC advised that the renewable energy sector should adopt the principles of a circular economy.  
Through such a framework, it could essentially decouple its expansion from the continued extraction and wastage of critical resources. Instead, its material components would maintain their maximum value throughout their use before re-entering the economy in a never-ending cycle. 
The GPC warned that the development of a circular energy system is currently constrained by several economic, regulatory and financial barriers. Renewable infrastructure is typically designed for durability rather than repair or refurbishment, while the prices of second-hand components are rarely competitive. Recycling infrastructure is neither technically suitable nor economically attractive, and administrative requirements can hinder the opportunities for lifecycle extension. 
In order to overcome these barriers, the GPC's report outlined a number of recommendations for policymakers, investors and industry players. Its suggestions were divided into three core strategies that could collectively enable the industry's circular transition. 
The first strategy focused on how assets are designed for a circular economy. Here, industry players were called to integrate lifecycle extension into their development processes and to create a set of internationally accepted design standards. Policymakers could provide funding for research and development, while the financial community could factor product design into its green investment decisions. 
Next, the GPC narrowed in on the development of circular value chains. Among its recommendations were an increase in cross-sector partnerships, joint ventures and collaboration, which should be initiated by industry participants and incentivised through supportive policy measures. Companies could also rethink their business models to secure alternative forms of revenue through shared ownership or the provision of services. 
Finally, the delivery of a circular energy system could be advanced through the establishment of favourable economic and policy conditions. This could include the introduction of new regulations, such as frameworks around extended producer responsibility, or investment ratings frameworks that consider critical material risks and the environmental impacts of the renewable energy sector. 
Ultimately, the GPC's recommendations outlined a clear action plan for the development of a circular energy system. Its transformational goals require the engagement of various stakeholders, highlighting the need for a collaborative approach. Though this will undoubtedly come with its challenges, it provided an optimistic outlook on the integration of circular principles with net zero priorities.