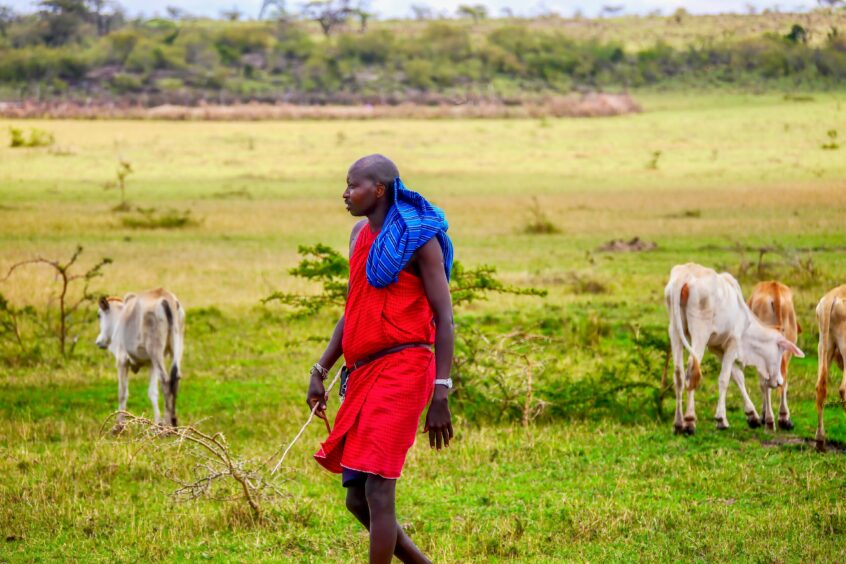 Survival International, a global human rights organisation, has launched its 'Blood Carbon' campaign against the sale of carbon credits generated in protected areas. 
The campaign is centred around a Kenyan offsetting project, which Survival International has accused of violating human rights and failing to deliver credible carbon savings.
Although there is little doubt that investment in nature must increase, carelessly implemented projects may have devastating impacts on indigenous communities and local ecosystems.
Ongoing controversy within the carbon market will force companies, governments and investors to reassess their climate strategies.
The campaign's launch follows Survival International's investigation of a Kenyan carbon offsetting project developed by the Northern Rangelands Trust (NRT). According to its report, the NRT's Northern Kenya Grassland Carbon Project (NKGCP) has exploited indigenous lands while failing to deliver its promised benefits. 
"This project is not just dangerous greenwashing, it's blood carbon: NRT is making money by destroying the way of life of those least responsible for climate change," said Fiore Longo, head of Survival International's Decolonize Conservation campaign. 
The Northern Kenya Grassland Carbon Project
The NKGCP covers 1.9 million hectares of a protected conservation area that is home to over 100,000 indigenous people. These communities follow a pastoral lifestyle, based on traditional practices of livestock migration and grazing. 
Launched in 2013, the NRT's project relies on the idea that replacing this traditional grazing with a planned rotational approach will increase the growth of vegetation. This would then increase the carbon storage capacity of the surrounding soils to deliver additional carbon savings. 
According to the NRT, the project could capture 41 million tonnes of carbon over the course of 30 years. When traded in the form of carbon credits, the gross value of this storage is estimated to be between $300 and $500 million. As the price of carbon continues to rise, so would this figure. 
In its first crediting period, the NKGCP generated around 3.2 million carbon credits, all of which had been sold by January 2022. Buyers included notable names such as Netflix (NASDAQ:NFLX) and Meta Platforms (NASDAQ:META), with Survival International estimating that total transaction value fell somewhere between $21 and $45 million. 
A further 3.5 million credits have since been brought to market via the Verra registry. As the largest worldwide issuer of carbon credits, Verra's approval is supposed to reassure investors that listed projects are meeting strict credibility criteria while upholding the rights of local communities. 
NRT stands accused of human rights abuse and lack of credibility
Upon investigation, however, Survival International has found several major flaws within the NKGCP. It has accused the NRT of abusing the rights of indigenous peoples while selling low-quality credits that do not translate into credible carbon savings. 
By changing the ways in which indigenous pastoralists have traditionally managed their land, Survival International claimed that the NRT has disrupted local livelihoods, food supplies, and cultural lifestyles. Furthermore, its report suggested that the NRT has taken the land without following the required legal proceedings or obtaining the informed consent of its residents. 
Adding to the social concerns of the NKGCP, Survival International said that the credits it generates do not live up to the expected standards. Its investigation concluded that the project has been poorly monitored, and that any carbon captured could not be considered either permanent or additional. 
"NRT's carbon project fails to comply with some of the basic requirements for carbon offsetting projects, such as showing clear additionality, having a proper baseline, and being able to measure carbon 'leakage' to other areas," said Simon Counsell, author of the report. 
"The mechanisms for monitoring the implementation and impacts of the project are fundamentally flawed. It is extremely implausible that the carbon credits being sold by the project represent any real additional storage of carbon in the area's soils." 
On the back of its findings, Survival International has launched its Blood Carbon campaign, calling on Verra to end its issuance of the NRT's carbon credits. The campaign uses the NKGCP as an example for its broader criticism of nature-based offsetting projects in protected areas. 
Indeed, Survival International believes that the exploitation of indigenous lands has emerged as a systemic consequence of the growing carbon market, with devastating impacts on local communities and ecosystems. It described the development of protected areas by external parties as a form of ongoing colonialisation, enabling corporations and governments to continue their business as usual based on a false notion that their carbon footprint has been balanced out. 
"Selling carbon credits from Protected Areas will be a disaster for people and the climate. It unites all the human rights abuses caused by fortress conservation, with all the environmental problems linked to greenwashing," the organisation concluded.
"Verra takes all concerns about projects registered in any of its standards programs seriously," said a Verra spokesperson in response to the allegations. The NKGCP has been put on hold, and a Section 6 review has been launched to investigate the issues raised. Verra cannot comment on this review while it is still ongoing, but its spokesperson has confirmed that no credits will be issued to the project in the meantime.
The NRT, meanwhile, has described Survival International's report as: "misguided, poorly researched and inaccurate in nearly all respects."
"As a result of Survival International's comments, Verra, the organization which validates the carbon credits, has begun a Section 6 Review to ensure the quality of procedures followed in verifying the credits issued from the project.The result of the Section 6 Review will be public, as will the detailed point-by-point scientific response. We welcome this review as it will only work to strengthen the project," said a company spokesperson.
"We are happy to share the documentation that supports the project model and more detailed evidence that Survival International's claims are unfounded and misguided, at best."
Implications for nature finance
Survival International is not alone in its criticism of nature-based carbon offsets. Given that more than half of the world's land is inhabited by indigenous peoples and rural communities, often without legal recognition, there is a significant risk that the expansion of such projects could lead vulnerable populations to be displaced, exploited or abused.  
Disrupting these communities may also have negative impacts on the environment, with research suggesting that their traditional stewardship of the land plays a crucial role in maintaining ecological health. Despite these findings, indigenous peoples are frequently excluded from participation in the carbon market while the revenue generated by carbon credits is awarded to external project developers. 
These arguments add to the ongoing debate as to whether nature-based markets can deliver credible climate benefits. Although there is little doubt that investment in nature must significantly increase, purchasers of carbon credits must carefully assess whether their investments can deliver the required results while maintaining a just and inclusive approach. 
Failure to do so could have significant consequences that span beyond the failure of chosen projects. The increased adoption of human rights law in climate litigation cases, for example, has intensified the legal and reputational risks of investing in nature-based offsets. 
In response to investor demand, both the International Sustainability Standards Board and the Task Force for Nature-related Financial Disclosure have promised to include indigenous voices in their development of upcoming standards. As companies come under pressure to provide transparent information regarding their activities, they will be forced to rethink their climate strategies and assess their reliance on nature-based offsets.