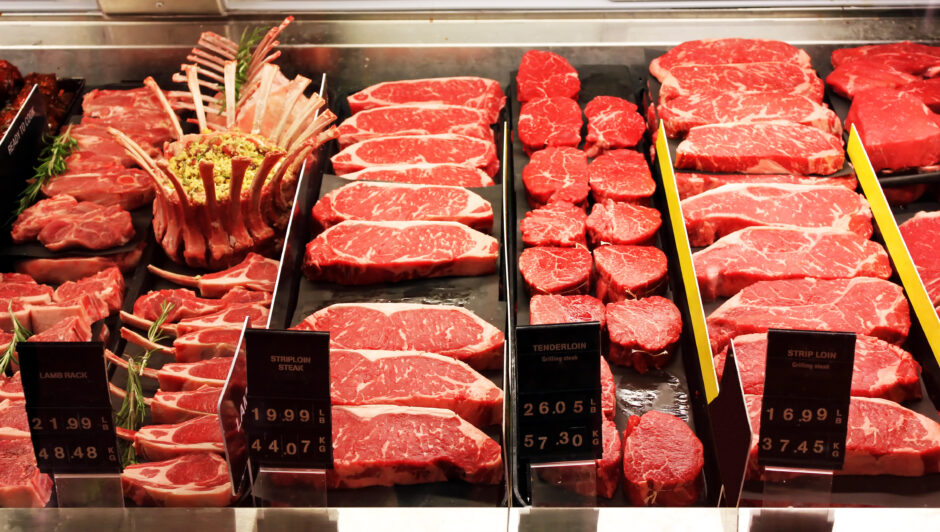 Lab-cultivated meat could be even worse for the planet than regular beef, according to the latest research from University of California, Davis (UoC Davis). 
Researchers have warned that the global warming potential of lab-cultured meat could be up to 25% higher than that of regular beef.

Animal agriculture is responsible for 57% of the greenhouse gas emissions associated with global food production, while lab cultivation has been championed as a sustainable alternative.
Contradictory findings highlight the need for more critical assessments of promised solutions.
Researchers from the UoC Davis, have concluded that the global warming potential of lab-cultured meat could be up to 25% higher than that of regular beef. Their study, which is yet to be peer-reviewed, calls for more critical analysis of emerging sustainable solutions. 
Animal agriculture in need of urgent transformation
Animal agriculture, including both the rearing of livestock and the cultivation of feed, is responsible for 57% of the greenhouse gas emissions associated with global food production. The beef industry alone accounts for almost a quarter of these emissions, with each kilogram of meat generating an estimated 70 kg of CO2 equivalent. 
The emissions of beef production include everything from the methane released through animal digestion to the carbon footprint of land-use conversion, but the industry's impact does not end there. Its conventional operations have been linked to biodiversity loss, deforestation, pollution and waste, as well as ethical implications including animal cruelty and the illegal use of indigenous land. 
Due to the complex, cyclical relationships between nature and the economy, the environmental impacts of animal agriculture pose a threat to the sector itself. With rising temperatures, the loss of fertile soils and the declining availability of freshwater, its operations are rapidly becoming unviable. Ultimately, the current trajectory of climate change would place more than a third of global livestock production at risk by the end of the century. 
Given that livestock accounts for around 34% of the world's protein supplies, such risks to production would come at a significant cost to global wellbeing. The number of people experiencing food insecurity is already on the rise, but overall meat demand is expected to increase by 14% between 2020 and 2030. 
Cultivated meat: A sustainable solution or an empty promise?
In recent years, the environmental implications of fulfilling an increase in meat demand have been a subject of great concern. Cultivated meats, which are made from living animal cells that have been reproduced under laboratory conditions, have been developed as a potential solution. 
Such products are beginning to gain significant traction. In terms of taste and texture, they are exactly the same as regular meat, but they are generally seen to be more environmentally friendly and ethical. These potential benefits have sparked the interest of various stakeholders, who may be motivated by their concerns around ecological sustainability, animal welfare, and food security. 
According to the latest figures, cultivated meat and seafood companies raised around $896 million in 2022, bringing the industry's cumulative investment to a total of $2.78 billion since 2016. This growth is forecast to continue, with projections to suggest that the market could be worth as much as $25 billion by 2030. 
 Investors are not alone in increasing their support of the industry, with Governments beginning to introduce a range of enabling policy frameworks.  
Singapore, for example has become the first nation to allow the sale of lab-grown meat. The US is close on its heels, while others including Israel, China, and South Korea are increasing their support for future developments. 
Much of the market's appeal has been driven by the apparent resource efficiency of lab cultivation. Indeed, previous analysis has indicated that cultivated meat products could be produced with just a fraction of the land, water and chemical inputs that are consumed by conventional farming.  
It has also been suggested that the shift towards lab cultivation would reduce the amount of animal manure and synthetic fertilisers that would otherwise contribute to various forms of pollution. This transition could also offer significant carbon savings, with prior studies concluding that lab cultivation could reduce the emissions of beef production by up to 98%. 
Unfortunately, however, these promises may be too good to be true. Having conducted a cradle-to-grave review of animal cell-based meats, the researchers from UoC Davis have reached a distinctly contradictory conclusion. 
Their lifecycle impact assessment considered greenhouse gas emissions as well as a range of relevant inputs including water, land and fossil fuels. Overall, their findings suggest that the global warming potential of the average lab-cultured meat product could be greater than the minimum estimates for regular beef. Depending on the specific production conditions, the increase in global warming potential was found to range from 4 to 25%. 
'Sustainable' solutions must be backed by sufficient evidence
It is worth noting that the UoC Davis research is yet to be peer-reviewed. This means that, although it has been submitted for publication, its conclusions are subject to change. Several limitations may emerge during the review process, such as the study's assumptions regarding cell culture media or the challenge of making accurate comparisons between complex ecological impacts.  
Nonetheless, the stark contradiction to previous findings ought to serve as a valuable warning. The benefits of 'sustainable' solutions must always be thoroughly questioned, else ineffective technologies may monopolise the support of relevant stakeholders. 
This lesson is gradually being learned across various industries. For example, the carefree expansion of renewable energy has been criticised for its inefficient consumption of material resources while championed recycling technologies have been linked to pollutant emissions and excessive energy use. 
So, although the UoC Davis conclusions cannot be taken as gospel, they should not be swept to one side. Rather, they should drive the momentum for further research to ensure that the growing support of cultivated meat would not be more useful elsewhere. 
As summarised by the study's authors: "Our environmental assessment highlights the need for critical, detailed environmental assessments of emerging technologies to guide governmental agencies and the private sector in advance of allocating substantial research funding."