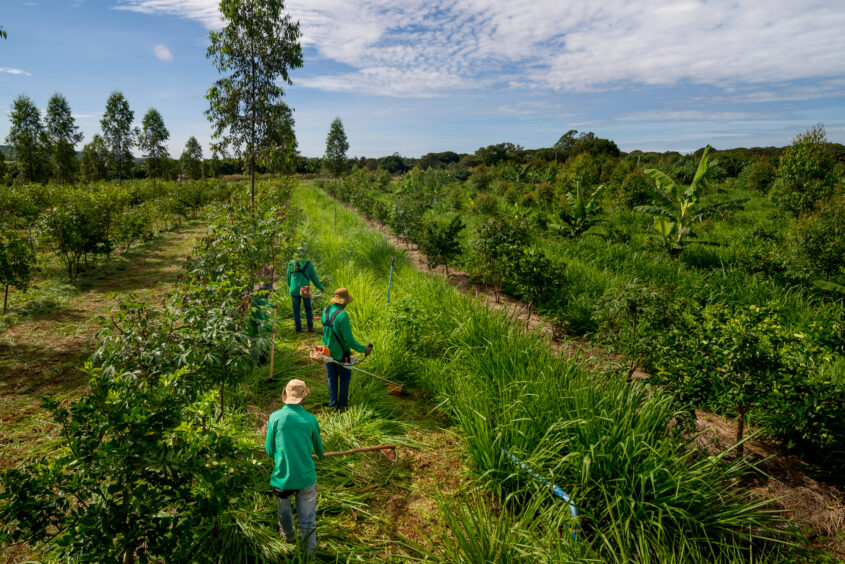 Sustainable land-use systems are widely acknowledged for their protection natural ecosystems, but they can also be useful in suppressing the emergence of violent conflict. By investing in support of such systems, companies could enhance their reputation while reducing their exposure to various risks. 
Recent research suggests that sustainable land management could help to reduce the risk of conflict.

 

Given that climate change, land use and armed conflict are intrinsically interconnected, they should not be tackled in isolation.

 

By prioritising solutions with multiple co-benefits, companies could align themselves with global development objectives while strengthening their resilience to long-term risks.
A recent publication from the Alliance of Bioversity International and the International Center for Tropical Agriculture (CIAT) suggests that the adoption of sustainable land-use systems (SLUS) could deliver a wider range of benefits than had previously been considered.  
Based on a Columbian case study, the research shows that SLUS can suppress the emergence of violent conflicts while reducing the carbon footprint of agriculture, forestry and similar land use. By creating resilient and dependable livelihoods, such systems could also support the economy of their surrounding community. 
Different vulnerabilities are intrinsically interlinked
The Columbian regions of César and Caquetá have endured a history of prolonged political violence, with many of their citizens being severely affected by armed conflict, illegal economic activity and the exploitation of natural resources. Each region is rich in biodiversity and highly sensitive to climatic changes, with limited capacity to cope with impending crises.  
With the combined effects of social unrest, widening inequalities and ecological degradation, these communities are among the world's most vulnerable. Their lifestyles and livelihoods are highly dependent on the surrounding environment, but its constant exploitation only worsens the situation. 
CIAT's research reflects the growing awareness that climate change, land use and armed conflict are intrinsically interconnected. Although their relationship can be hard to define, it is broadly accepted that unsustainable land use is among the main drivers of climate change, which then exacerbates the risk of violent conflict.  
Rising temperatures, extreme weather and ecological degradation can increase the competition for natural resources, prompting outbreaks of social unrest. This lack of cohesion and collaboration often fuels the development of illegal, corrupt or exploitative markets, creating a vicious web of environmental, social and economic disaster. 
Interconnected crises can be addressed by holistic solutions
Given the complex interconnections between these issues, it stands to reason that solutions in one specific area could have a positive influence on each of the others. This was the hypothesis of the recent study, which sought to explore the potential benefits of SLUS. 
The case study focuses on the adoption of sustainable cocoa production systems across César and Caquetá. Through a series of workshops, surveys and interviews, it concluded that opportunities in cocoa agroforestry were positively correlated with both carbon reductions and improvements in social cohesion. 
"Putting conflicting parties together to talk about environmental issues or agricultural practices typically reduces prejudice, enabling them to have a neutral space for dialogue," explained Héctor Morales-Muñoz, the study's leading author.  
"The farmers gained access to knowledge, seeds and different forms of capital," he continued. "In return they had to conserve part of the forest." 
He added that the mitigation of climate change had naturally arisen in conversation, with research participants expressing their support for sustainable land use. The introduction of cocoa farming also provided a viable source of income, which discouraged the local community from engaging with illegal markets. 
The study's results will now serve as evidence for the development of peacebuilding initiatives that are centred around the adoption of SLUS. Initially, the approach will be scaled to other conflict-stricken countries with the potential to reduce their land use emissions. 
Businesses can learn from development research
The Columbian research provides valuable insights into the relationship between sustainable land management, global peace and economic development. Its findings suggest that SLUS could accelerate global progress towards achieving several of the UN's Sustainable Development Goals (SDGs). 
Much like the issues explored by the study, the SDGs are deeply interconnected. They cannot be achieved in isolation from one another, nor will they be delivered by a single group of stakeholders alone. 
So, although the goals were developed with governments in mind, corporate entities are expected to make their contributions. In recent years, the convergence of several global crises has only strengthened this expectation. Investors and consumers are basing their decisions on environmental and social values, while regulators are introducing stricter and stricter requirements. 
With positive connotations for the planet, its people and their prosperity, companies that invest in SLUS may reap the rewards of an enhanced reputation and demonstrable compliance with new legislation. To give a few examples, they could support their suppliers in the adoption of sustainable agricultural techniques, engage with ongoing research initiatives or fund the development of nature-based solutions with transparent ethical safeguards in place. 
If the Columbian findings are to be believed, then such investments could also be critical in the protection of business operations. Indeed, climate change, unsustainable land management and violent conflict are among the major threats to the global economy. 
Key areas from which valuable commodities tend to be sourced are rapidly being destroyed, contributing to the scarcity of natural resources and the resulting violence of competition, corruption and civil unrest. Such conflict can be physically disruptive while also increasing corporate exposure to violations of human rights. 
The Columbian findings provide an example of how businesses can align themselves with global development objectives while strengthening their resilience to complicated long-term risks. By understanding the interconnections between social, environmental and economic factors, they can prioritise solutions with multiple benefits.