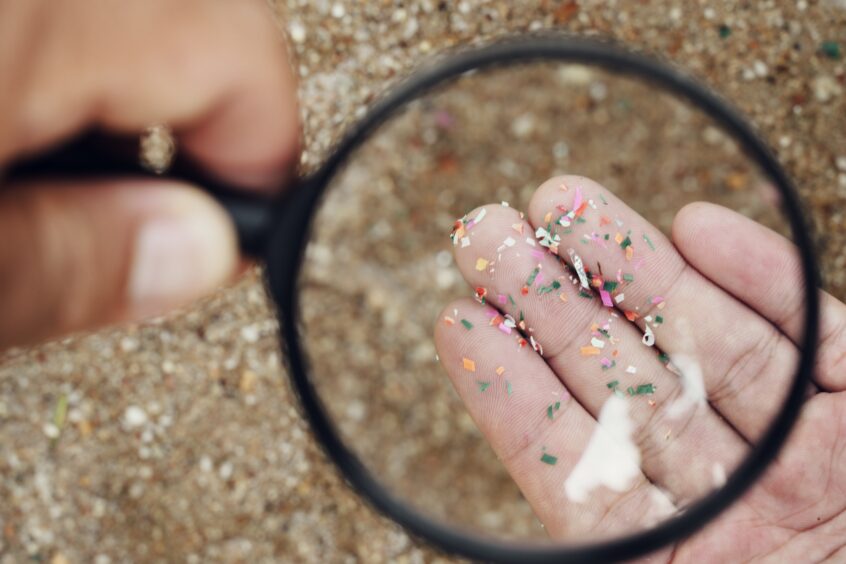 Plastic recycling facilities may inadvertently release their targeted pollutants back into the environment, according to a study from the University of Strathclyde. 
Researchers have found that some of the plastic being fed into recycling facilities may be re-released as tiny polluting particles.

 

Microplastic pollution is detrimental to human, animal and ecological health.

With the forthcoming agreement of a global plastics treaty, it is imperative that we understand the implications of the solutions proposed.
Having sampled the wastewater released by an undisclosed British recycling facility, scientists reached an alarming conclusion. According to their analysis, the water was brimming with billions of microplastics. 
Well-meaning recycling could be a source of invisible pollution
Of the total volume of plastic feeding into the plant, around 6% was spat back into the surrounding environment. Overall, the facility was found to be releasing up to 75 billion shreds of plastic for every cubic metre of wastewater churned out in a single year.
Notably, this calculation did not include particles over a certain size. Around 80% of the microplastics released measured less than 10 microns in length, while larger particles tended to be removed by a filtration system that was installed during the research period. Samples taken both before and after its introduction revealed that the device was unable to capture the smaller pieces. 
The scientists went on to analyse the air surrounding the recycling facility. They observed an abnormally high level of microplastics, 61% of which were below the 10-micron threshold.
Unfortunately, the tiny size of these plastic particles does not reflect their impact. Prior research suggests that smaller shreds can be particularly harmful to human health, causing respiratory illnesses including interstitial lung disease and certain forms of cancer. 
Sounding the alarm on microplastic pollution
When we think of plastic pollution, we tend to picture larger pieces of debris such as plastic bottles, shopping bags or food packaging. A more subtle form of waste, however, is microplastic particles that measure less than five millimetres across. 
These particles are typically released during the breakdown of larger plastics, such as the wearing of car tyres or when washing synthetic fabrics. Given the variety of potential sources, microplastics often carry contaminants. Due to their small size, they spread more easily than their larger counterparts and are more likely to be inhaled or ingested. 
Already, microplastics have been detected in soils, air, fresh water and oceans. Their ease of uptake has led to their discovery in animals, plants, food products and in the placenta, blood and faeces of human beings.  
This is more than merely unsettling. The ubiquitous presence of microplastics is associated with long-term consequences including biodiversity loss, health implications and even the reduction of carbon sequestration. 
With almost 400 million tonnes of plastic being produced each year, microplastic pollution will only continue its spread. Current projections suggest that G20 countries alone will be consuming over 450 million tonnes of plastic per year by 2050.  
At the current recycling rate of just below 10%, most of this plastic will be discarded, incinerated or landfilled while around 45 million tonnes will be fed into treatment facilities. If each facility were to release 6% of its input back into the environment, approximately 2.7 million tonnes of microplastic pollution would be produced.  
With global policies being developed, now is the time for plastics research
The findings come during a particularly critical period. Currently, world leaders are in the process of developing a global treaty that will serve as a legally binding framework for the production, consumption and disposal of plastic materials. 
With their conclusion expected by the end of 2024, there is little time remaining for scientists to make their voices heard. If they are unable to exert their influence, there is a risk that the plastics industry and associated corporations will be successful in advocating for ineffective solutions. 
Already, plastic-dependent companies are framing modern recycling technologies as a potential alternative to the reduction of plastic consumption. They claim that, if they are able to recover and recycle the same volume of plastic as has been used, then they ought to be allowed to continue their business as usual.    
These arguments come in direct contradiction to those of environmental organisations such as the Global Alliance for Incinerator Alternatives or the Basel Action Network. According to them, advanced recycling is merely "a fantasy beast that has yet to establish its efficacy and economic viability, while already exhibiting serious environmental threats".  
While their wording may seem extreme, it is not without its evidence. Recent studies have shown that modern recycling technologies result in a range of environmental trade-offs including pollutant emissions and excessive energy consumption. Traditional facilities may be less harmful, but they can only cope with certain types of plastic while producing a lower quality of recycled material. 
Still, the UN Environment Programme perceives recycling as being a potential solution. In a report intended to inform the global treaty's negotiations, it states that an expanded recycling industry could reduce the volume of plastic pollution by around 20% before 2040. 
Although it would be lovely to accept this conclusion as gospel, the revelations of the Strathclyde study suggest that we ought to be taking caution. With the forthcoming treaty expected to inform the behaviour of powerful actors for generations to come, the importance of carefully critiquing the proposed solutions cannot be overstated.