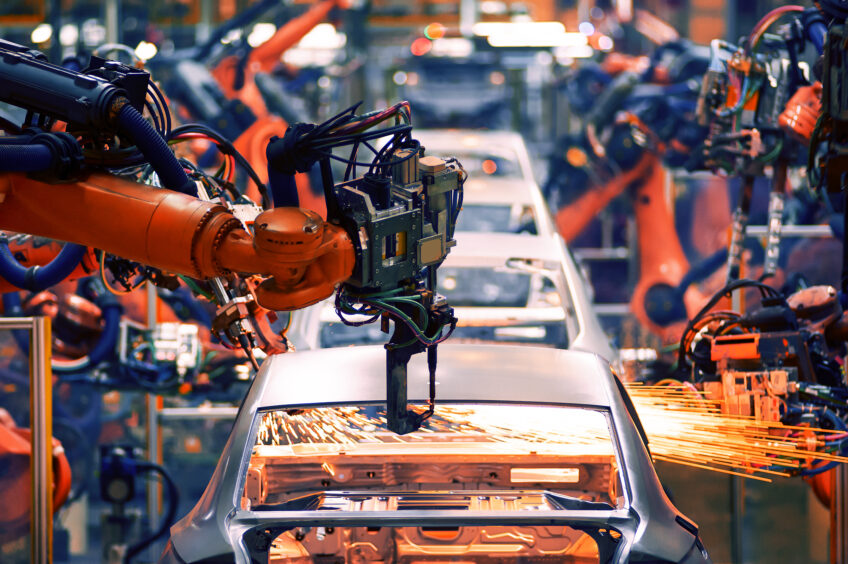 The steel used by automotive manufacturers is releasing almost 600 million tonnes of undisclosed CO2 emissions per year, according to research by Greenpeace East Asia. 
Greenpeace East Asia has published a report on the emissions associated with car makers' steel consumption.

 

The global steel industry accounts for around 7% of the world's emissions, but automobile companies are yet to acknowledge its impact.

 

Increasing scrutiny of steel's end-users could further the demand for low-carbon materials.
Automotive manufacturing is rarely thought of as an environmentally friendly activity, but the true scope of its impact may be far worse than previously imagined. According to Greenpeace East Asia, the sector's steel consumption alone is equivalent to the annual CO2 emissions across the whole of Australia. 
"Automakers are steering us toward climate catastrophe by failing to decarbonize their steel supply chains," said Wenjie Liu, senior analyst at Greenpeace East Asia. "If they are serious about decarbonization by 2030, automakers must halve their emissions from steel." 
Automobile manufacturing is highly dependent on emissions-intensive supplies
Despite a sector-wide ambition of achieving net zero by 2050, steelmaking continues to account for around 7% of global emissions. Three-quarters of the industry's energy requirements are met by coal, making it the largest consumer of one of the world's most damaging substances. 
Still, estimates suggest that the demand for steel will continue to rise in the coming years. Unless drastic changes are made, steelmaking's annual emissions are on track to increase by a further 2.7 gigatonnes from 2050. 
Unfortunately, the global steel industry is proving extremely difficult to decarbonise. Nonetheless, steel prevails as a ubiquitous material used in a wide range of products, including the vehicles we drive.   
In 2021 alone, industrial steel consumption was calculated at around 1,839 million tonnes. Automobile manufacturers were among the largest users, with their 300 million tonnes worth of orders representing 16% of global market demand. 
World's leading automakers are yet to account for steel emissions
According to Greenpeace East Asia, this substantial consumption of steel is poorly reflected by the disclosures and strategies of automotive producers. Its research suggests that leading industry players are yet to report on the emissions of their steel supplies or take action to reduce their impact. 
Using its own methodology, the non-profit concluded that the steel used by automakers accounts for around 573 million tonnes of CO2 emissions per year. If accurate, this footprint is equal to that of Australia. 
Having analysed 16 of the sector's leading players, Greenpeace goes on to say that the disclosure of steel-related emissions is distinctly lacking. While most of the companies had calculated their overall emissions, with several providing estimations of those associated with purchased goods and services, none had provided a specific disclosure of steel's contribution. 
Furthermore, none of the major automakers had targets in place for reducing their steel consumption. Several of the companies had declared their ambitions of achieving net zero, but their practical plans for doing so were found to be vague. 
With estimates suggesting that up to 22% of a vehicle's lifecycle emissions are generated through the production of its components, Greenpeace's findings are particularly alarming. Without acknowledging and disclosing the emissions of steel, there is little chance of succeeding in developing and delivering a credible approach to decarbonisation. 
"The first step is the disclosure of steel-related emissions, but we unfortunately haven't seen this happen yet," said Liu. "Automakers should also issue green steel procurement commitments, which would signal steelmakers to invest in new technology. In the longer term, automakers must achieve net zero emissions across their supply chains, both via reduced use of steel and a full transition to zero-carbon steel." 
Action on automakers' steel emissions could accelerate demand for low carbon alternatives
Under current projections, almost 500 million tons of low-carbon steel will be required by 2050. Global demand is gradually beginning to rise, with increasing support from both governments and downstream consumers. 
Already, countries including India, Canada, Japan and the UK have joined the Industrial Deep Decarbonisation Initiative to support the adoption of low-carbon steel in public procurement. Through industrial initiatives such as the SteelZero coalition, companies are making similar commitments to the sourcing and purchasing of responsible steel. 
As some of the largest end-users of steel, automotive manufacturers could help to accelerate this demand. With their relatively simple supply chains, they could maintain their relationship with global steelmakers and adopt low-carbon materials while keeping costs at a viable level. 
Indeed, research suggests that the incremental costs of a vehicle made with low-carbon steel would be less than 1% of the retail price for a new vehicle. By 2030, the automotive industry could abate 66% of the emissions associated with its material production at no extra cost whatsoever. 
By stimulating the demand for low-carbon steel, automotive manufacturers could support the innovation of nascent technologies and novel solutions. Steelmakers have already demonstrated their willingness to reduce the sector's emissions, but their progress has been limited by the enormous costs of new approaches.  
With increased demand, however, the guarantee of an end-consumer may bolster their commitment to continued innovation. From Greenpeace's report to the gradual introduction of mandatory disclosure requirements, the increased scrutiny of global automakers could serve as an initial step in driving this demand.