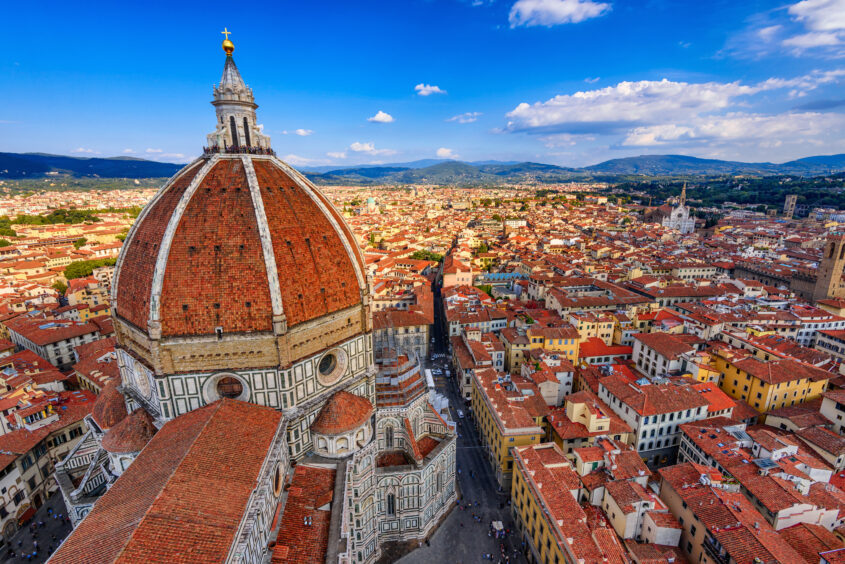 The first annual Eurocities Pulse Mayors Survey, run by the European city network, shows that over half of mayors see tackling the impacts of climate change as an imperative.
Just over a quarter (26.1%) of mayors report the climate crisis as the top issue, citing the impact of extreme weather.
Less than 7% of survey respondents felt they had sufficient resources to meet net zero challenges over the next five years.
There is little question that cities face enormous struggles in getting to net zero, but there is huge potential in the opportunity to integrate climate concerns into strategies addressing other challenges.
Despite short-term issues, such as the impact of Russia's war in Ukraine, mayors stress in the Eurocities Pulse Survey that they remain committed to longer-term priorities, focused on improving public services, tackling inequalities, and building more sustainable cities for their people.
Nearly 55% of mayors selected climate action as one of their top three priorities, as it is transformational for cities and supports other major priorities such as sustainable mobility and the energy transition. Mayors also highlight the importance of working together on climate action to achieve stronger results. They stress their strong support for EU legislation to promote the European Green Deal and initiatives such as the Mission for 100 climate neutral and smart cities.
The news that mayors continue to consider climate change to be an important issue is welcome, especially in light of recent comments from French President Macron that it might be time for the EU to consider a break from environmental regulation.
One of the concerns raised in the survey was the fact that more than half of mayors based in the EU see EU rules as a burden to implementing their local priorities, and feel that the EU institutions do not listen to them. Despite over 80% of European mayors believing they contribute to EU priorities, over 50% of mayors from cities within the EU find EU rules restrictive, hindering local objectives.
It's worth noting that the IPCC Sixth Assessment Report pointed out the huge impact that the transformation of cities can have on emissions reduction. It said: "The implementation of packages of multiple city-scale mitigation strategies can have cascading effects across sectors and reduce GHG emissions both within and outside a city's administrative boundaries."
At the same time, however, half said they feel overlooked by EU institutions, especially in managing post-Covid-19 recovery funds. That means that governments have got to work on the co-creation of city solutions.
André Sobczak, secretary general of Eurocities, said: "Alongside climate change and the energy transition, the biggest financial gaps for cities over the next five years are in areas linked to equality and social inclusion." He added: "Even though city and EU priorities seem often to be very much aligned, these are areas where European funding is falling short, and are held back by national governments. If we do not change this, we risk seeing a huge backlash in cities."
Tomer Shalit, founder of ClimateView, said: "The world is facing unprecedented climate risks, and societies cannot afford to put the brakes on now. It is essential that we unite, accelerate our actions, and leverage innovative solutions – and that includes retrospection within government, policy and regulations."
City ambitions play a crucial role in achieving net zero
Within the EU, cities are expected to play a pivotal role in achieving climate neutrality by 2050, the goal of the European Green Deal. They take up only 4% of the EU's land area but are home to 75% of EU citizens. Furthermore, cities consume over 65% of the world's energy and account for more than 70% of global CO2 emissions.
The EU set up a mission, 100 Climate-neutral and Smart Cities, which is intended to deliver 100 climate-neutral and smart cities by 2030, including Amsterdam, Florence and Paris. At the same time, it is intended to ensure that these cities act as experimentation and innovation hubs to enable all European cities to follow suit by 2050.
Dario Nardella, president of Eurocities and mayor of Florence, said: "The launch of the 100 Climate Neutral and Smart Cities Mission by the European Commission demonstrates a new attention at European level to the role of cities in achieving this, and a new partnership between cities and the EU. Going forward, Europe's strength will depend on the strength of its cities."
Are the EU's city ambitions under threat?
There are challenges however in achieving the EU's goals. According to the latest analysis from the Net Zero Tracker, while the number of cities and regions committing to net zero is increasing the rate seems to be slowing. In fact, the number committing to net zero seems to have fallen over the last couple of years. Today, only 252 large cities have set net zero targets, which together represent 37% of the 2.1 billion people living in large cities.
John Lang, project lead at the Net Zero Tracker, said: "Real-world realities are not yet being reflected in the robustness of regional, city and company net zero targets. More entities need to sign up to net zero, but those that have pledged to step onboard need only to look at the direction of travel."
And while there has been significant progress reported in the latest EU Joint Research Centre analysis on city performance, the data suggest that the transition to a greener energy system requires more time and additional efforts to reach EU climate targets.
The study Covenant of Mayors 2022 Energy figures analysed and compared energy data and actions undertaken by each individual reporting city, including energy consumption and energy supply, as well as estimates of energy savings and energy production by 2020 and 2030 in different sectors. It assessed nearly 7,000 action plans, developed by signatories of the world's largest alliance for city climate action, the Global Covenant of Mayors, mapping EU and non-EU cities' progress on energy savings and renewables generation.
At the same time, European mayors highlighted a significant funding gap for the next five years, particularly in climate action and energy transition, with only 6.45% anticipating sufficient resources. There is also a large shortfall in critical areas like migration, urban poverty, and housing.
Net zero will be a struggle for cities as they balance climate, health, welfare and more
There is little question that cities face enormous struggles in getting to net zero. A city strategist has relatively limited resources, yet needs stakeholder alignment, and is navigating through vast amounts of data and opinions, as well as having to deal with significant trade-offs in terms of city planning priorities.
Local challenges remain top of the agenda for many, with mayors focusing on plans to improve transport and housing, and tackle emerging new challenges, such as energy poverty. There is huge potential in the opportunity to integrate climate concerns into strategies addressing these other challenges.