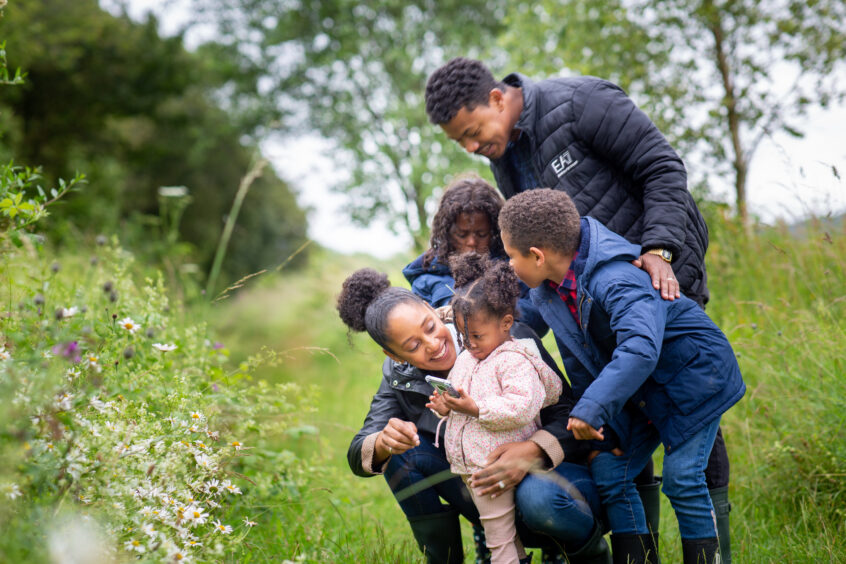 Wildlife charity, Butterfly Conservation, is today calling on people across the country to take part in this year's Big Butterfly Count (14 July – 6 August) to help scientists understand the impact of climate change on our most-loved butterflies.
Since the 1970's UK butterfly numbers have declined by 80%.
Loss of particularly sensitive species is the 'canary in the coalmine' for widespread biodiversity loss.
Including people in scientific attempts to track changes in biodiversity expands reach and helps individuals feel they are contributing to positive action.
The record temperatures, heatwave and drought in 2022 caused some of the plants that caterpillars feed on to wither and die. 2023 has already brought record breaking heat levels to the UK, which are likely to have an even more dramatic impact on butterfly numbers.
Butterflies are indicators of a healthy natural environment – with half of Britain's butterfly species already threatened or near threatened with extinction, it's never been more important to understand how our insects are responding to the changing climate and to take action to protect them.
Dr Zoë Randle, Senior Surveys Officer at Butterfly Conservation explains: "This is a vital year for the Big Butterfly Count. We know that the previous extreme summer droughts in 1976 and 1995 took a heavy toll on butterflies and numbers crashed the following year, taking almost a decade to recover.
"The data collected during this year's Big Butterfly Count will give us a valuable insight into what the effect of the most recent extreme weather has been, and how we might be able to better protect our beautiful butterflies. With climate change here to stay, we need people to take part more than ever before."
What is the Big Butterfly Count?
To help scientists discover what the ongoing impact of this extreme weather has been, the public are being asked to spend 15 minutes in any sunny spot and record the number and type of butterflies they see.
Butterfly Conservation's Big Butterfly Count is the largest citizen-science project of its kind and is a positive way that everyone can help. As well as contributing to important scientific data collection, taking part in the Count is a great way to enjoy time outdoors, connect with nature and have fun.
Whether done with friends and family, or in a moment of quiet calm and solitude, the Big Butterfly Count is free, fun and takes just 15 minutes. It is open to anyone, of any age, in any part of the UK – towns, cities or the countryside. No green space is too small – a back garden, a small terrace or balcony with some pot plants, a public park, allotment or country lane are all important spaces to explore, track and report.
Butterfly Conservation Ambassador, Dr Amir Khan is one of many famous faces supporting the Big Butterfly Count. He explains: "Getting outside in nature and watching butterflies is a wonderful experience, not only does it spark joy and lower anxiety, you also know that you're having a big impact on informing important conservation decisions. Spending time in nature is proven to be beneficial to our mental health, it can alleviate stress, boost mood and energy, and enhance feelings of happiness."
Last year almost 100,000 Counts took place up and down the country, with participants spending a combined 2.5 years counting butterflies in their gardens, local parks and in the countryside. The information gathered helps to inform conservation projects, government policies and supports other experts with their research and vital work to protect our planet.
Supporters of the Big Butterfly Count are everywhere
Dr Khan is not alone in his advocacy of nature's medicine, as President of Butterfly Conservation, Sir David Attenborough, has shared poignant messages in his support of the Big Butterfly Count over the years. Sir David said: "A few precious moments spent watching a stunning Red Admiral or Peacock butterfly feeding amongst the flowers in my garden never fails to bring me great pleasure."
Other famous faces to have taken part or supported the Big Butterfly Count over the last few years include His Majesty King Charles III, Her Royal Highness Princess Charlotte, Butterfly Conservation Vice President Chris Packham (who today launches this year's Big Butterfly Count), and even Winnie the Pooh!
Why does it matter?
Dr Zoë said: "We know 80% of butterflies in the UK have declined since the 1970s. Which means there are fewer butterflies to be seen than in years gone by. However, even if you don't see any butterflies during your Count, we still want you to tell us! We need to know where there AREN'T any butterflies just as much as where there are, so please still log your result and then pick another day or location and try again. There are no limits on how many times you can take part."
The count matters because estimates suggest that butterfly numbers may have already declined by a third – but those figures remain estimates because there simply aren't enough scientists to track the entire country.
The reason that butterflies, and indeed moths, are such good indicators of the impact of climate change are that they have short life cycles making them very responsive to changes in the environment. At the same they are an important part of the food cycle, and provide sustenance for a wide range of invertebrates.  Understanding what's happening with butterfly population provides an early warning system for wider ecosystems.
This year's Big Butterfly Count runs from Friday 14 July – Sunday 6 August. For more information and to take part simply visit www.bigbutterflycount.org or download the free Big Butterfly Count app.
The Big Butterfly Count is a UK-wide survey, run by Butterfly Conservation, aimed at helping us assess the health of our environment simply by counting the amount and type of butterflies (and some day-flying moths) we see. It's so easy to do and is a fantastic activity for people from 3 to 103 years. All you have to do is spend 15 minutes in an outdoor space during sunny conditions and count the types and amount of butterflies you see. To find out more go to www.bigbutterflycount.org.
SGV Take: