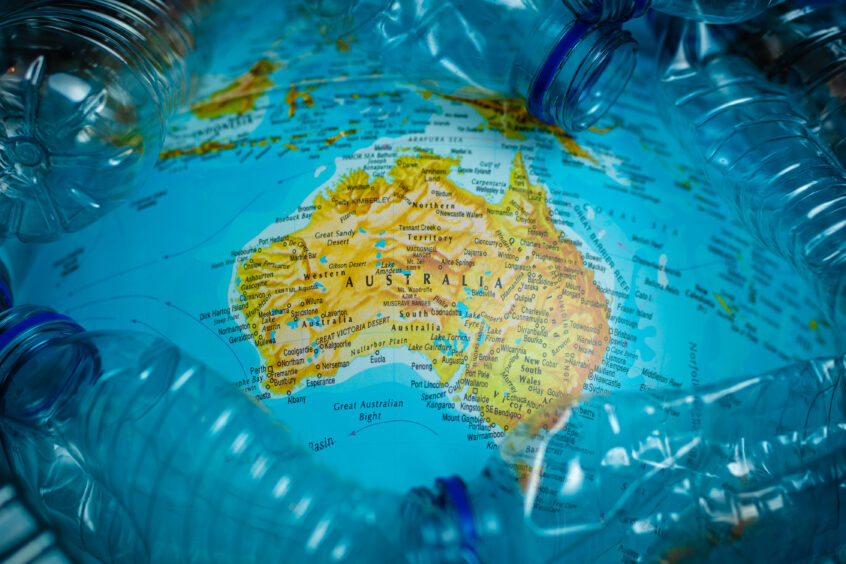 An Australian report on the production and disposal of plastic materials produces as much greenhouse gas emissions (GHG) as almost 6 million cars on the road. 
Plastics account for more Australian emissions than a third of the cars on the country's roads. 
With a combination of different measures, the future emissions of Australia's plastic consumption could be reduced by up to 70%. 
Quantifiable, contextualised data will be critical in achieving systemic change. 
Blue Environment, a specialised Australian consultancy firm, has compiled a report on behalf of the Australian Marine Conservation Society (AMCS) and WWF Australia. Its study explored the greenhouse gas emissions associated with plastic consumption, shedding light on the enormity of the challenge at hand. 
In 2020 alone, Australia's consumption and disposal of plastic accounted for more than 16 million metric tonnes of greenhouse gas emissions. This figure equates to the annual emissions of around 5.7 million cars on the road, but the situation is only getting worse. Without drastic action, the country's plastic-related emissions are set to more than double by 2050.  
"The findings are shockingly clear," said Shane Cucow, a campaign manager at AMCS. "We must use less plastic, stop using fossil fuels to make it, and stop using fossil fuels as an energy source for plastic production and recycling. If we don't, the emissions from plastic will only increase." 
Modelling the emissions of plastic consumption
When we hear of the plastics crisis, we tend to picture mountains of litter or the vulnerable creatures ensnared by discarded packaging. We focus largely on the pollution of natural ecosystems, the health risks of plastic contaminants or the economics involved in minimising plastic's cost to society. 
These issues are undoubtedly important within their own right, but they do not reflect the scale of the plastics problem. When we account for plastic's less visible impacts, the situation appears more urgent than could otherwise be foretold. 
Virgin plastics are derived from fossil fuels, the extraction of which is extremely emissions-intensive. Indeed, the current consensus is that this extraction cannot continue to expand if net zero is ever to be reached. With recent research to suggest that the methane emissions of natural gas extraction may be up to 40% higher than previously estimated, Blue Environment warns that the footprint of plastic production may be worse than we ever imagined. 
These methane emissions are around 80 times more potent than CO2 within the first 20 years of their release. In order to reflect this acute global warming potential, the analysts adapted their models to accommodate a shorter timeframe. Overall, they concluded that around 3,490 kg of CO2 equivalent are released for every tonne of virgin plastic produced.  
Currently, the vast majority of Australia's plastic is not produced within its own borders. Still, the country's population account for more plastic waste per person than any other country with the exception of Singapore. Much of this waste is incinerated or burned for energy, the two most emissions-intensive disposal methods. 
How to resolve the plastics crisis?
Blue Environment's modelling yielded several additional findings that may support the development of effective solutions. According to its calculations, for example, the global warming potential of recycled plastics or plant-based alternatives is far lower than that of virgin production. 
The report's exploration of different disposal methods is perhaps a little more surprising. Its findings suggest that 'advanced' chemical recycling is around 67% more emissions-intensive than traditional mechanical techniques, while burning waste for energy is entirely incompatible with efforts to decarbonise. 
These findings provide a clear example of why proposed solutions must be subject to thorough scrutiny. Chemical recycling has often been championed as a sustainable diversion from our plastics dilemma, despite a growing body of literature on its energy intensity and potential pollution. 
Having modelled a range of different solutions, the report concludes that the greatest impact could be achieved by just a 10% decrease in plastic consumption. When combined with a rapid increase in recovery and recycling, the adoption of renewable energy in both production and disposal, and a shift away from virgin plastics, Australia could reduce its plastic-related emissions by up to 70% by 2050. 
Systemic change to deliver a global solution
These conclusions echo the latest recommendations from the UN Environment Programme (UNEP). In a recent report, it warned that the plastics crisis will only be resolved through truly systemic change. Through a holistic approach based on international cooperation and stakeholder engagement, however, there is hope that a new world of plastics could be created. 
UNEP believes that this transformation of the plastics industry could provide around 700,000 employment opportunities while delivering substantial economic savings and reducing the risks and liabilities of the corporate sector. 
With international cooperation and stakeholder engagement, a new economy of plastics could create around 700,000 new jobs while delivering enormous monetary savings and reducing the risks and liabilities of the corporate sector. Countries could free themselves from plastic pollution, at a lower cost than would be required for the continuation of business as usual. 
There is growing support for this promising vision, with the first draft of a global plastics treaty expected later this year. Although there is likely to be pushback from certain stakeholders, the treaty has gained the support of governments and citizens alike. As State officials strive to achieve their climate goals, such as Australia's target of achieving net zero by 2050, this momentum will only continue. 
SGV Take
It could be argued that the value of Blue Environment's report lies less in its findings and more in its methodology. By focusing on emissions, rather than pollution or other social and environmental consequences of plastic consumption, it provides a quantified metric that can be directly compared against pre-defined targets. 
This opportunity is leveraged through an added layer of contextualisation. With the study's scope being constrained to Australia's boundaries, the incompatibility between its net zero commitment and its projected plastic emissions is particularly hard to ignore. 
Quantified data that can be traced back to specific contexts or entities will be critical in enabling the transformation of plastic consumption. New insights will inform the development of forthcoming legislation while ensuring that national governments are held accountable for addressing their direct impacts.  
Their measures will send an important signal to global businesses, mandating and incentivising the adoption of novel solutions. With further refinement, similar methodologies could allow plastic-related emissions to be traced right back to corporate entities, exposing them to significant risks if they fail to comply.