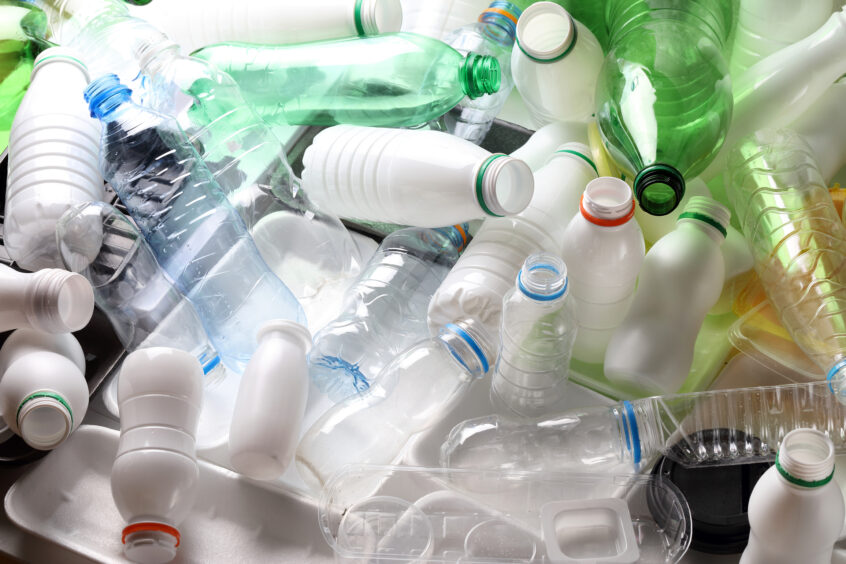 Systemiq has created a roadmap to the EU's adoption of a circular system for PET plastic and polyester materials.  
By combining six complementary actions, the EU could advance its transition to a circular plastics economy.
Despite the increasing awareness of plastic pollution, wasteful linear models prevail.
The call for holistic, systemic solutions is growing stronger, transcending traditional boundaries between industrial sectors.
Systemiq, a consultancy firm with a focus on driving systemic change, has published a study on how the EU could improve the circularity of polyethylene terephthalate (PET) packaging and polyester. By combining six priority actions, it claims that greenhouse gas emissions could be halved while unlocking thousands of job opportunities and around €5.5 billion per year in additional revenue. 
"Our study provides the first system-level analysis of how different circular economy solutions for PET and polyester could fit together," said Ben Dixon, Systemiq partner and head of Materials and Circular Economy. "The overall message is optimistic: we have the technologies and the policy momentum to build a circular PET/polyester system. Now, we need to scale up investment and action." 
The dominance of linear systems
Plastic bottles, packaging and polyester textiles are typically made from the same plastic molecule, known as polyethylene terephthalate or PET, which is predominantly derived from fossil fuels. Their virgin production therefore relies on the continued extraction of oil and gas, contradicting any hope we have of avoiding catastrophic levels of climate change. 
In 2020 alone, Europe's net demand for PET came in at around 5.1 million tonnes. More than half of its needs were met by virgin production, while just 1.3 million tonnes were produced from recycled materials. The same year, Europe recycled around half of its PET bottles. When accounting for the molecule's use in other products, its average rate of recycling fell just below 25%.  
The remaining 75% of the bloc's PET is landfilled, incinerated or burned and converted into energy. Each of these disposal methods has notable consequences, from pollution and health problems to hefty financial costs.  
Under the dominant linear pathway, resources are being extracted and converted into harmful materials that are used for only the briefest of periods before being discarded. The alternative model would focus on circularity, lengthening the product lifecycle and ensuring that resources are used again and again without sacrificing their characteristics or quality. 
All over the world, there have been calls for a transition to such circular systems. Still, the linear model prevails while circularity faces a number of key limitations. Previous research has identified several challenges in moving forwards, including the lack of effective collection systems and appropriate recycling capacity. Valuable resources are often contaminated or impossible to separate from other materials. Furthermore, the market's demand for recycled materials is somewhat constrained by high costs, uncertain regulation and technological restrictions in functionality. 
Multi-pronged approach could deliver transformative change
In its latest report, Systemiq provides an escape from the linear dilemma. Having analysed several potential solutions, it concludes that a multi-pronged approach is the best option on hand. 
The roadmap narrows in on six priority actions, equally split between upstream initiatives to limit the demand for new materials and downstream efforts to increase the rate of recycling.  
On the upstream side of things, recommendations include the extension of product lifecycles, the standardisation of product design and adoption of novel business models that do not rely on excessive consumption. The second set of suggestions are focused on stimulating the demand for recycled materials, improving the quality of recycling feedstocks and investing in suitable infrastructure. 
Ultimately, Systemiq believes that the EU could reduce the volume of landfilled and incinerated PET by up to 70% through 2040. Its associated greenhouse gas emissions could be halved while producing enough recycled material to meet the proposed requirements of draft legislation.  
According to the report, a circular system would also unlock a number of social and economic advantages. Its estimates suggest that transformative change would create almost 30,000 jobs across Europe within the next twenty years while increasing recycling revenues by around €5.5 billion per year. 
These findings are both ambitious and optimistic, but Systemiq acknowledges that true circularity can only be achieved with technological innovation and the cooperation of policymakers and industrial actors.  
Echoing the call for a connected approach
Systemiq is not alone in calling for a holistically integrated approach to the plastics crisis. The UN Environment Programme (UNEP), for example, has recently stated that a combination of three systemic changes would deliver the cheapest and most effective results. 
In 2022, a lifecycle analysis of the EU's PET market came to startlingly similar conclusions. It found that efficient waste management and an established market for recycled materials could reduce the bloc's emissions by up to 38 million tonnes of CO2 equivalent while avoiding €8.3 billion in societal costs from 2020 to 2030. Upstream efforts to limit consumption had a similarly profound effect, suggesting that a complementary approach would have an incredibly significant impact. 
The message is loud and clear. There is still some hope of turning the plastics crisis into a positive opportunity for sustainable growth, but only if we are willing to embrace a complete and utter overhaul of current systems. 
SGV Take
The lessons to be learned from Systemiq's report are not confined to the plastics crisis. Time and time again we are hearing that major industrial sectors can only achieve a sustainable transition through holistic and collaborative action. From fashion to food, construction to energy, systemic change could deliver incredible results. 
This message is continuously repeated, with various roadmaps, guidebooks and reports being launched on a regular basis. For the most part, however, these publications have reinforced the illusion of concrete boundaries between different sectors. As the lessons of connected approaches become more deeply engrained, we can hope that this belief will eventually be overcome. 
By acknowledging the value of integrated solutions, we can start to appreciate the blurred lines between our activities. Systemiq's report, for example, shows us how a rethink of plastics could improve the sustainability of fashion, food and beverage companies. These companies are also reliant on sectors including agriculture, transportation, energy generation and so on.  
Ultimately, there is no single industry that stands on its own, and this fact must be considered when developing holistic solutions.