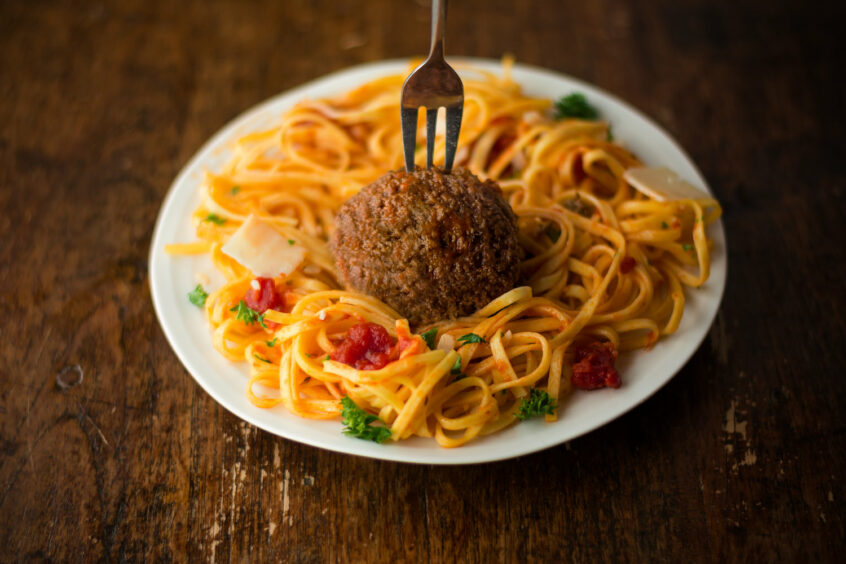 European governments have announced a grand total of nearly half a billion euros in funding for the development of sustainable proteins, according to new figures released by the Good Food Institute (GFI).
The EU and its national governments have announced a total of €477 million for the development of plant-based foods, cultivated meat and fermentation techniques. 
With national governments also considering restrictions on the sector, GFI Europe is calling for coherent a coherent strategy on  sustainable protein.
A clearer regulatory process would help the EU to scale the introduction of alternative protein sources without falling behind the US.
The GFI's new report The State of Global Policy on Alternative Proteins found that the EU and its national governments have earmarked more than €477 million for foods such as plant-based and cultivated meat, which can reduce climate emissions by up to 92% compared to conventional meat.
What is driving investment in alternative proteins?
Governments across Europe are expanding their reasons for investing in sustainable proteins, with Norway citing food security, Denmark and Sweden referencing climate concerns and the UK and the Netherlands focusing on their ambitions of becoming world leaders in biotechnology.
Animal agriculture has a significant impact on climate change, not only in terms of its overall GHG footprint, but also in terms of its impact on water, soil and biodiversity.  A study published in Nature Food in September 2021 calculated that global greenhouse gas emissions from animal-based foods were twice those of plant-based alternatives. Farmland management and land-use change accounted for 38% and 29% of the total, respectively, while rice and beef were the largest contributing plant- and animal-based commodities at 12% and 25%, respectively.
At the same time, there is growing concern that animal agriculture is an inefficient way of feeding a growing population – especially when the animals in question are competing with their consumers for food and water.
Benefits of alternative proteins
Various studies have pointed out that widespread dietary change will be needed in order to drive down the environmental consequences of the feedstock industry. This is because even the impact of the lowest-impact animal products is typically greater than those of vegetable substitutes. Reducing meat consumption is a key step in cutting individual carbon footprints.
A shift in protein sources could deliver a major reduction in greenhouse gas emissions. According to a report by Boston Consulting Group, plant-based proteins have the highest CO2e savings per dollar of invested capital of any sector, but investment in sustainable foods is still only a fraction of that committed to areas like renewable energy.
There is a perception that alternative proteins have a higher price than traditional sources, but that is beginning to change. A 2022 report from the FAIRR network suggests that plant-based products could reach parity in taste, texture and cost between 2023 and 2031. The alternative protein market size is forecast to represent 10%-45% of the total protein market by 2035, rising to 25%-50% by 2050.
It is also worth noting that the meat industry benefits from significant subsidies, which make alternatives appear more expensive. A 2022 report from the Oxford Martin School says that the meat and dairy industry receive direct subsidies of over $200 billion annually in public monies.
That makes state focus on the alternative protein sector disproportionately important, as the sector will need significant investment if it is to reach its full potential. Although the GFI report found that public support has now surpassed $1 billion, research funded by the UK Foreign Office and ClimateWorks shows that it will take more than $10 billion each year to realise the full benefits of the sustainable protein sectors. With appropriate backing, these sectors could create around 9.8 million jobs while adding $1.1 trillion in economic activity by 2050.
A paper from University College London found that public research and development funding could help to encourage further private investment, accelerating the pace of innovation, and delivering long-term economic benefits. Its evidence comes in support of an increase in government action.
Alternative proteins are facing a number of market challenges
Alternative proteins can be produced through lab cultivation, plant-based production or even microbial activity. Despite having several options available, there remains a cultural aversion to novel products, particularly in the Global North. This is shifting, as focus on the sustainability of protein supplies becomes more important, but it continues to present a challenge.
One of the most difficult aspects of getting market acceptance is what's termed 'mouth feel', making sure that the diner enjoys the taste and texture of the food they choose. Currently, it's said that most alternative products still have issues around taste and consistency.
At the same time, there is strong push-back from the agricultural lobby and in traditional countries like Italy, for example, where there is a belief that such alternative proteins are destructive to existing agriculture industries and practices.  Issues such as scale, which has a direct effect on pricing, are challenging, while regulation can often be an issue as regulators struggle to keep up with each wave of innovation.
What impact is policy having on EU protein investments?
The international nonprofit's latest report shows European governments are ramping up support for these more efficient ways of making meat, seafood, eggs and dairy, with €370 million invested in 2022 alone. The EU is also encouraging research in the sector, increasing sustainable protein research funding to €25 million through the Horizon Europe programme, while the EU-funded EIT Food platform distributed €1.8 million to plant-based meat, cultivated meat, and fermentation projects.
Global government investment in the sector doubled in 2022, but two European countries broke global records:
Denmark outpaced other countries by announcing nearly 675 million kroner (€91 million) to support the country's growing plant-based sector and incentivise farmers to grow protein-rich crops.
The Netherlands launched the record-breaking €60 million Cellulaire Agricultuur Nederland funding programme, designed to accelerate research and the commercialisation of cultivated meat and precision fermentation, as well as education and training to ensure workers are ready to take on the jobs this sector creates.
Other European highlights included:
Finland awarded a €34 million grant to fermentation startup Solar Foods, enabling the company to accelerate the progress of their first production facility and doubling the nation's investment in sustainable proteins.
France has committed up to €67 million. This included up to €56 million for research into sustainable protein production, as well as more than €10 million in grants to help plant-based food manufacturer Umiamibuy and retrofit a production facility – a project expected to create 200 jobs.
The UK committed to spending £20 million (€23 million) to build capacity, research, innovation, and business-led commercialisation in the sustainable protein industry, including developing fermentation-made foods.
The report, which comes just weeks after the historic approval of cultivated meat in the United States, estimates governments worldwide invested a total of $635 million in sustainable proteins in 2022 alone, with countries from Brazil to Oman getting involved for the first time and others such as Australia multiplying their investments.
It's important that regulators align in support of the sector to drive scale
Governments increased their financial, political, and regulatory support for alternative proteins in 2022, but they have yet to approach the annual support that will be needed in order to maximise alternative proteins' benefits to the economy, climate, and global food system. The GFI says that policymakers should consider increasing funding for research, development and product commercialisation, as well as for regulatory instruments that would ensure the safe, fair, and reliable entry of alternative proteins to the market.
Acacia Smith, senior policy manager at the Good Food Institute Europe, said: "Sustainable proteins can deliver the meat people love at a fraction of the environmental cost, so it's an encouraging sign for food security and climate change that Europe is increasing its investment in this field.
"But, with Italy trying to ban cultivated meat and other countries considering unnecessary plant-based labelling restrictions, Europe is sending mixed messages to researchers and companies who need certainty to deliver on their potential. The EU and national governments must develop coherent strategies to support the sector, and ensure regulatory processes are clear, to reap the benefits of their investments."
The Good Food Institute will be hosting a webinar on 20 July at 5pm CEST to explore the implications of the report in more detail.