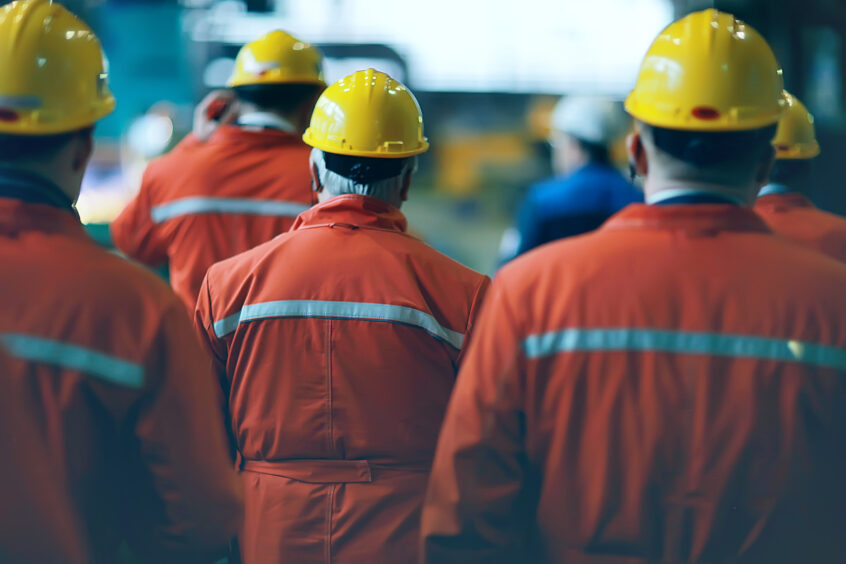 REN21 has published the last module of its Global Renewable Status Report, revealing that more jobs will be created by the energy transition than lost, while most oil and gas workers have overlapping skills.
REN21's report revealed that 70% of oil and gas workers have the skills needed for low-carbon jobs.
It refutes what many politicians think, including UK Prime Minister Rishi Sunak – that the shift to renewable energies will push thousands of fossil fuels workers out of work.
The findings should reassure the industry that the energy transition is coming with meaningful opportunities for workers, but we need reskilling and upskilling programme to ensure that no one is left behind.

 
REN21, a think tank focussing on renewable energy policy, has published the last module of its 18th Global Renewable Status Report (GSR). It claims it is the largest study of its kind exploring how renewables are faring in a fossil-fuel-dominated energy system. 
It found that, unlike what UK Prime Minister Rishi Sunak believes, more jobs will be created by the transition to renewable energies than will be lost. Yet, "most countries and institutions are still putting money into fossil fuel projects and resorting to fossil gas as a transitional fuel, leading to their citizens missing out on potential gains in development, jobs, security and health," said Rana Adib, REN21 executive director. 
"At the same time, greenhouse gas emissions and climate impacts are rising, and energy security and access for developing countries are worsening, which has devastating consequences for food security, migration, health care and ultimately global security. We cannot afford the losses we are currently risking".
Overlapping skills
Transitioning to renewables will make thousands of oil and gas workers lose their jobs, or so is what politicians believe. Recently, Sunak slammed the Labour party for its stance on North Sea oil and gas production, claiming it "jeopardises 200,000 jobs". But REN21's GSR found that the people in these jobs may already have overlapping skills to do low-carbon roles.
According to the report, the "skills of approximately 22 million workers in the oil and gas industry overlap with the skills needed for low-carbon jobs" or about 70% of all jobs in the sector. Governments are therefore using those workers to "adapt to a renewables-based economy".
Green jobs are also coming at a time when workers with a wide range of backgrounds are looking to align their careers with their values. Jobs based on purpose, rather than profit, are attracting all generations and as countries boost their efforts to achieve net zero, with the market booming with new opportunities.
More jobs, not fewer
A multitude of factors, including the Covid-19 pandemic, Russia's invasion of Ukraine, and the worsening climate emergency are pushing governments to revisit their plan to tackle the climate crisis. Walking away from fossil fuels is creating remarkable prospects for economic growth and jobs in the energy sector.
The shift has created more than 12.7 million jobs globally so far and is expected to create even more jobs than it will lose. "Despite a nascent renewable energy industry in Nigeria, an astounding 50,000 jobs have been created in the sector, which are expected to keep growing fast to reach the levels of the country´s deeply rooted oil and gas industry by the end of the year," said Kristina Skierka, chief executive of Power For All, a global coalition campaigning to give universal access to renewable energies.
"This clearly points to the huge potential of renewables to invigorate the economy and improve people´s livelihoods and quality of life," Skierka added. "Investing in renewable energy in developing countries can bring multiple benefits and a major return on investment in healthcare, access to development and energy and ultimately economic activities and benefits and global stability".
For instance, the US is expected to create about five million green jobs through the Inflation Reduction Act of 2022. The EU, whose solar industry grew an estimated 30% in 2022, will have to create around 3.5 million jobs between 2022 and 2030 to meet the targets of the REPowerEU, according to REN21's GSR. 
Pushing forward on transition
There is no playbook on how to transition to renewables. What counts is governments and businesses taking action towards it. 
And despite the agreements in place such as the Paris Climate Accords, which are designed to enhance global cooperation, governments are slower than they should be, according to REN21, and they are holding back on transferring the technology and finance required for the transition.
But transitioning to renewables means governments could stop relying on imports and use its own natural resources, while creating jobs, making the world a healthier place, and having a more stable economy. And while the investment costs may be frightening, the reduction of pollution and climate impacts alone could save the world up to $4.2 trillion per year by 2030.
SGV take
The REN21 report highlights the need for a just and orderly energy transition. While there are plentiful opportunities out there, it is crucial to roll out reskilling and upskilling programmes – being enforced both by companies and governments – to ensure that workers in the fossil fuel sector can successfully migrate to renewables, without leaving anyone behind.