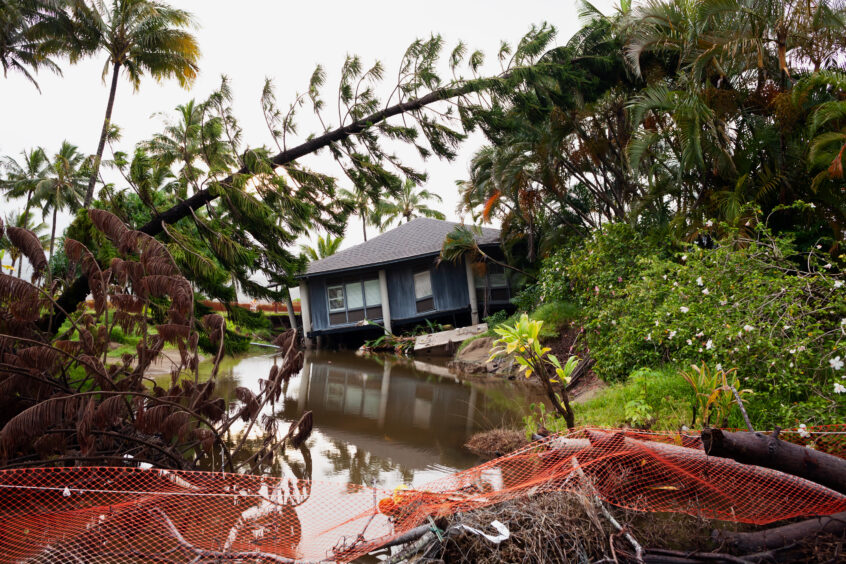 Nonprofit Ceres and the California Department of Insurance have released a joint report analysing how climate risk is managed in the US insurance sector.
The joint report highlights the importance of understanding climate risks and opportunities for the sustainability of the insurance sector.
The more frequent and severe climate-related disasters, such as hurricanes, floods, wildfires, and heatwaves, result in a surge of insurance claims and larger payouts for insurers.
Insurers are committing to tackling climate challenges with tailored strategies – comprehensive climate-related reporting for transparency and accountability is key.
Climate change presents both challenges and opportunities for the insurance sector. Insurers that proactively assess and manage climate risks can enhance their resilience and create innovative products to meet evolving market needs. On the other hand, companies that do not adapt to climate-related changes may face financial losses, reputational damage, and potential instability in the long run.
A new report by nonprofit Ceres and the California Department of Insurance underscores the urgency for insurers to understand and address climate risks proactively to ensure the industry's long-term sustainability and to support the resilience of communities and businesses in the face of climate-related challenges.
"Insurance companies face enormous and rapidly growing risks from climate-related disasters. This report shows the important progress they are making to account for these risks, but there is still more work that can be done," said Steven Rothstein, managing director for the Ceres Accelerator for Sustainable Capital Markets. "Managing climate risk starts with having consistent and transparent data. The results of this first-of-its-kind report will help insurance risk managers and regulators improve their risk management practices as they take on the vital work of maintaining a sustainable insurance sector".
What is the report about?
The report highlights the importance of understanding climate risks and opportunities for the sustainability of the insurance sector. Insurers face numerous risks associated with climate-related disasters, resulting in increased costs due to higher losses. These impacts have significant consequences for individuals and businesses, posing a threat to the availability and reliability of insurance, which is essential for facilitating recovery after such events.
The report evaluates the disclosures in alignment with the recommendations of the Task Force on Climate-related Financial Disclosures (TCFD), a framework for climate risk disclosure widely adopted across jurisdictions and economic sectors, indicating the increasing recognition of climate risks in financial reporting.
The report also serves as a guide for insurers to improve the specificity of their climate risk disclosures, and offers insurance regulators and interested parties a comprehensive reference to understand how companies are considering and responding to climate risks.
"Our strong new climate risk standard gives regulators powerful new tools to protect consumers and our planet," said California insurance commissioner Ricardo Lara, co-chair of the bipartisan National Association of Insurance Commissioners's Climate and Resiliency Task Force that adopted the TCFD standard in 2022. "This valuable report will help insurance regulators and the public better understand how insurance companies are preparing for climate-related risks to the US insurance market, which is the largest in the world".
"Insurance companies can learn from other industry leaders as they expand their reporting and adopt sustainable strategies including new products that can reduce risks and safeguard communities".
Impacts of climate change on insurance
Environmental shifts and their economic consequences have significant implications for the insurance industry. The increasing frequency and severity of climate-related disasters, such as hurricanes, floods, wildfires, and heatwaves, lead to a higher number of claims and larger payouts for insurance companies. This strains their financial resources and solvency, as the costs of climate-driven disasters continue to rise.
Florida's exposure to a range of climate-related disasters, including hurricanes, sea-level rise, extreme heat, and coastal erosion, makes it a compelling example of the challenges and complexities associated with climate change impacts in the US. 
The shifting risk patterns due to climate change pose challenges for insurers in accurately assessing and pricing risks. Climate change also affects public health, leading to an increase in health insurance claims due to the spread of vector-borne diseases, heat-related illnesses, and other health risks. The World Health Organization predicts additional deaths and health consequences due to climate change impacts, which could further influence the insurance industry's operations and investments. 
The report, however, reveals a broad engagement and diverse approaches in addressing climate-related risks. Insurers are taking proactive steps by introducing new products that promote risk reduction among customers and support clean technology. Climate scenario analysis and stress testing are becoming increasingly prevalent among insurers to assess forward-looking climate risks, according to the report.
Many firms rely on reinsurance as their primary strategy for managing climate risk, while some reinsurers are adjusting their offerings and pricing in response to climate risk. There is room, however, for improvement in reporting climate-related metrics and targets, as only a limited number of reports was found to provide comprehensive information in this area.
Insurers fleeing
Insurers may leave disaster-prone states due to higher risk exposure, leading to increased claims and financial losses from frequent and severe climate-related disasters. Escalating costs associated with hurricanes, floods, and wildfires strain insurers' financial resources, making it less attractive to operate in such areas.
Additionally, limited and expensive reinsurance availability further impacts insurers' risk management. Uncertain regulatory environments with potential new regulations and oversight add compliance burdens, influencing their decision to leave.
Market volatility resulting from climate-related disasters makes it difficult for insurers to predict future revenues and manage risks effectively, leading to hesitation in remaining in disaster-prone states. Reduced consumer demand arises as homeowners and businesses struggle to afford insurance or obtain coverage in areas frequently impacted by disasters.
Long-term sustainability concerns arise from doubts about serving disaster-prone markets due to persistent risks outweighing benefits. Capital constraints from significant losses hinder insurers' investments and expansion in the state, further incentivising their withdrawal.
SGV TAKE
The report demonstrates insurers' commitment to adapting to climate challenges and finding tailored strategies to manage climate risk effectively. But it also highlighted the need for more comprehensive reporting on climate-related metrics and targets to ensure transparency and accountability in the industry's efforts to address climate risks.
Dealing with climate change isn't just about saving the planet, but it's forcing the insurance sector to change radically. If firms don't take climate risks seriously, they could end up losing large sums of money, not complying with regulations, damaging their reputation, and scaring off customers. Conversely, those insurers which make climate change a top priority will be in a much better place to handle all the challenges and grab opportunities in this rapidly changing landscape.