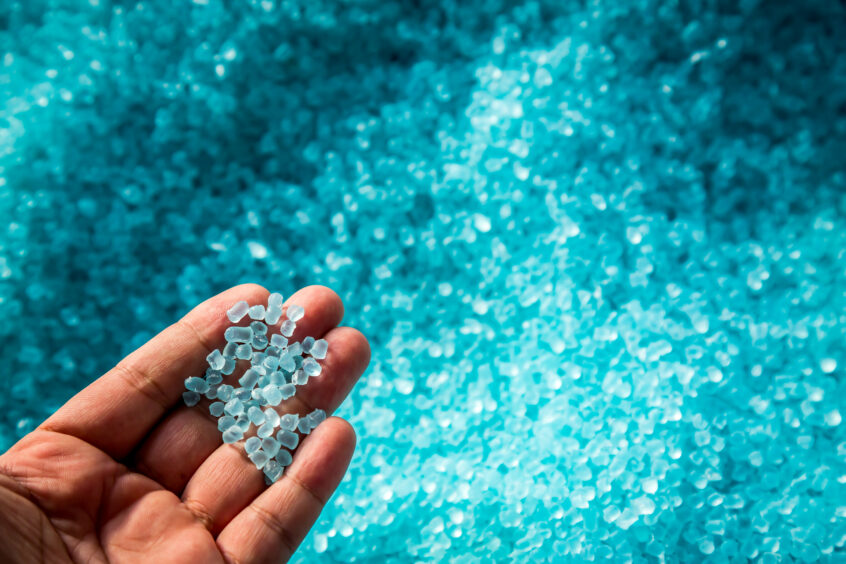 A week after Plastic Overshoot Day, a new report unveils "alarming tendencies" in the plastic value chain's risk management practices.
Top executives seem to ignore pressing risk-related issues, such as pollution and low levels of recycling and circularity, which could bury the sector in liability and mounting costs. 
Major plastic companies could be exposed to $20-100 billion in liabilities and litigation costs by the next decade if they do not act soon to reduce their environmental impact.
With the Global Plastics Treaty expected to be enacted imminently, business as usual will no longer be an option.
Planet Tracker has released a new report, Exposing Plastic Risk, which is the result of an in-depth analysis of 8,245 documents, transcripts and filings from 59 corporates across all areas of the plastic industry value chain. It reveals "alarming tendencies" in the plastic value chain's risk management practices, the financial think tank said.
It comes a week after Plastic Overshoot Day, which marked the date when the amount of plastic waste outweighs the world's ability to manage it, with environmental pollution occurring as a result.
What did the report find?
The vast majority (83%) of the documents being analysed did not mention any of the risks that the industry faces, showing scarcity of pressing risk-related issues, such as pollution and low levels of recycling and circularity, which risk burying the sector in liability and mounting costs. This was true across the value chain, from upstream companies such as Saudi Aramco (TADAWUL:2222) and Exxon Mobil (NYSE: XOM) and downstream players including Mondelez (NASDAQ:MDLZ) and P&G (NYSE:PG), which were contacted for comment.
Nonetheless, the amount of relevant plastic risk disclosures increased five-fold in the past five years, with a marked rise in 'high quality' disclosures. These are split fairly evenly over the three main segments of the plastic value chain: 35% for the upstream producers, 31% for the midstream plastic container converters and 34% for the downstream fast moving consumer goods (FMCG) companies. 
The companies that make the most plastic risk disclosures in each segment of the supply chain are Borealis with 17% of all upstream disclosures, Berry Global and Uflex (NSE:UFLEX) with 18% each of midstream disclosures, and Unilever (NYSE:UL) is a standout with 24% of all downstream disclosures.
The disclosures in transcripts, however, have dropped since 2020. This suggests that management rarely discussed plastic-related risks, and/ or participants expressed little interest in probing this line of questioning when given the opportunity. As plastic pollution and its environmental impact are globally recognised, this oversight could have severe financial and reputational consequences, the think-tank warned.
How much will it cost?
Of all plastic risk disclosures, 73% focused on circularity, while issues around feedstock and pollution appeared rarely, being featured in only 6% of disclosures in the FMCG sector, despite reports that pollution from the sector causes $350 billion per year in external costs from greenhouse gas emissions, ocean pollution and collection. References to microplastics, toxins, refillable, bioplastic and biodegradable rarely appeared. 
The report reminds the financial markets that plastic companies could face significant reputational and regulatory risks for not addressing their environmental and social impact quickly, particularly if the proposed Global Plastics Treaty is enacted soon. According to previous Planet Tracker analysis, major plastic companies could be exposed to $20-100 billion in liabilities and litigation costs by the next decade – under conservative estimates – if they do not act quickly to reduce their environmental impact.
Thalia Bofiliou, senior investment analyst (plastic) at Planet Tracker, commented: "In light of these findings, the responsibility falls on management teams and boards to acknowledge and address the risks associated with the plastic industry. Companies that fail to do so may face claims of being misleading to investors."
"The plastics industry today faces one of the longest lists of risks of any sector, which should be on the mind of every executive and every financier. The risk disclosures of these companies should include exposure to CO2 emissions, harmful toxic discharges, visible and invisible plastic pollution (for land, sea and air) and rising harm to people and nature through chemical additives exposure." 
What should investors, lenders and insurers do?
Planet Tracker encouraged stakeholders to ensure the various plastic-related risks are adequately priced into their investments, financial instruments and premia. They should also raise these issues with management and challenge their assumptions. 
Investors, in particular, need to fully understand these risks as they themselves could be litigation targets for failing to correctly assess these exposures – and should ask companies specifically how they are transitioning away from fossil fuel-based feedstocks and reducing their toxic footprint.
Bofiliou added: "Plastic companies across the value chain are displaying a dangerous complacency to very real, and very material, risks. We call for the capital markets to consider these factors in their investments, and push for more concrete change, challenging assumptions and raising these issues with management frequently".
SGV TAKE
Continuing with business as usual is no longer an option for any company, even those that are profiting from it in the short term. It seems that several business leaders across the plastics value chain are burying their heads in the sand, but they will be faced with reality sooner rather than later.
If the financial community follows the advice of Planet Tracker, costs for crucial items such as borrowing and insurance could balloon rapidly. The spending will pile up rapidly once the global plastics treaty is enacted, as it is expected to impose a mix of binding and voluntary measures to limit the damage of pollution.