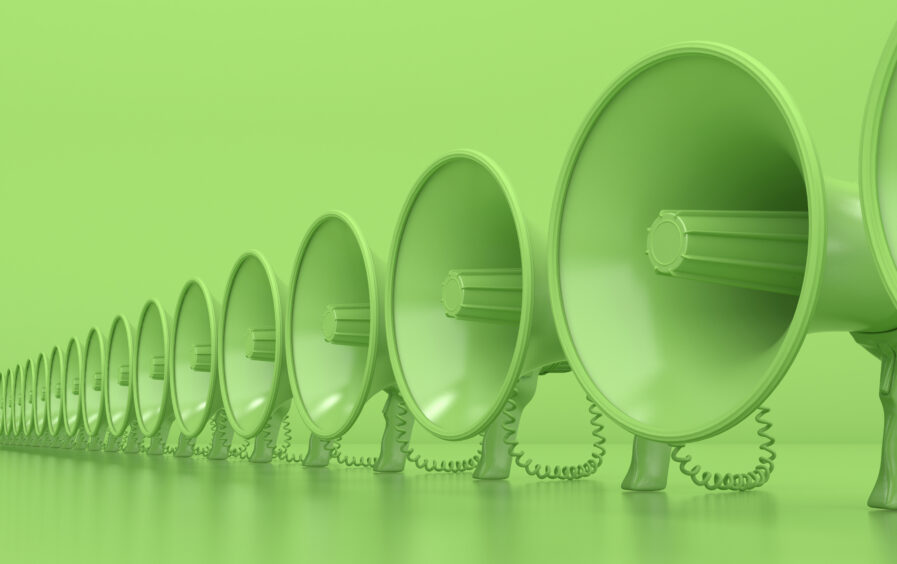 Marketers are under pressure to communicate their employers' commitments to sustainability, but many are living in fear that their lack of knowledge may lead to accusations of greenwashing. 
Marketing professionals are under pressure to engage in sustainable messaging, for which they do not feel that they have the appropriate skills.
Campaigns relating to sustainability tend to be scrutinised, but fearful silence may not be the answer.
Businesses ought to invest in the skills and knowledge of marketing teams, in order to share and advance their initiatives.
In today's society, brands that are perceived as acting sustainably stand to gain a significant market advantage. That advantage can quickly be lost, however, if perceptions do not live up to reality. 
This conundrum places new pressure on marketing professionals, as they are tasked with amplifying their company or client's sustainable messaging without tipping the scale towards inaccurate representation. Achieving this balance requires dedicated skills, which do not necessarily come with the job. 
Such are the findings of a recent report from the Chartered Institute of Marketing (CIM). According to its research, a lack of specified knowledge may be exposing brands to unnecessary risks while mitigating the positive influence of effective sustainable messaging. 
"As marketers, we are all responsible for being proactive in implementing positive changes and embracing environmentally friendly working," said Chris Daly, speaking as CIM's chief executive. "We must do more to address the sustainability skills gap and ensure that marketers are equipped with the skills they need to work confidently on environmental campaigns." 
"Marketers need to use their unique skill sets to influence, change behaviours, drive innovation and build communities where collective action makes a real difference." 
Marketers are wary of high stakes campaigns
The research underpinning the report was conducted by Opinium on CIM's behalf. First, an online survey was taken in 2021, exploring the views of 2,000 British adults and 210 marketing professionals. A year later, 1,193 respondents took part in a similar survey. Finally, a group of senior thought leaders took part in a series of in-depth interviews during the April of 2023. 
By surveying consumers, the researchers gained insight into the current context of marketing. The message could not be clearer – consumers want to know what brands are doing to be more sustainable. 
Almost two-thirds of the respondents agreed that brands should be more communicative about the sustainability of their products and services, with younger generations being particularly trusting of brands that engage in sustainable messaging.  
Still, there was a general lack of faith in the true intentions behind corporate marketing. A shocking 63% of the respondents felt that brands would only engage in green activities for commercial gain, rather than for ethical reasons. 
Whether or not this is truly the case, it certainly seems that more and more brands are keen to come across as sustainable. Within the past five years, 76% of marketers had been involved in sustainable messaging, and 45% had felt some degree of pressure to communicate their employer's sustainable credentials. 
Worryingly, 40% of the surveyed marketers said that they would like to have a specific qualification in sustainable marketing but did not currently have one. This suggests that a significant body of marketing professionals feel over-pressured yet underqualified to fulfil the growing demand for sustainable messaging.  
Indeed, many of the marketers recognised that sustainability is an increasing business priority, but 49% said that they were wary of working on sustainability campaigns due to the fear that their company or clients may be accused of greenwashing. 
Greenwashing gives way to greenhushing
Of course, there is good reason to be fearful of greenwashing allegations. Companies that are perceived to have acted deceitfully are likely to suffer reputational damage at best and legal action at worst. Sales are likely to drop, and it may become harder to recruit or retain employees.  
Greenwash can also be a danger to the wider economy, as it erodes the trust of consumers and investors alike. This scepticism, compounded with the confusion of not knowing which brands can be trusted, may prevent them from putting money towards sustainable choices.  
With so much at stake, companies are beginning to engage in the alternative practice of 'greenhushing'. Rather than shouting about their sustainable credentials, they are refraining from sharing their efforts. 
Although this may seem like a less risky option, it may not be as safe as it seems. When targets or initiatives are hidden from public view, they cannot be properly scrutinised. Consumers are unable to make choices based on their values, and investors may struggle to align their decisions.  
Greenhushing also means that companies cannot learn from what others in their sector are doing. If one presumes that the other is yet to take action, they may grow complacent themselves. 
Finding the middle ground
As regulators continue to crack down on greenwashing, brands must tread carefully while continuing to share their progress. Ultimately, this balance can only be achieved through a clear and consistent approach. 
CIM's report offers five recommendations that could help marketing professionals to further their skills. First, it advises that they educate themselves on core terminology and global targets such as the UN's Sustainable Development Goals, the Paris Agreement or commitments made during COP27. By identifying relevant publications or subscribing to regular newsletters, they can ensure that they are always kept up to date. 
It goes on to highlight the importance of clear and ambitious targets. Just as a brand or organisation should determine its goals, marketers too should have a measurable idea of how their messaging may incorporate more sustainable influences over time. 
One particularly vital recommendation is to keep up to date with new regulations. With a greater understanding of current guidelines, marketers may feel more confident in identifying and addressing potential mistakes. This knowledge could also empower them to raise discussions that could encourage their employer to try something new. 
From the company's side, CIM advises that a budget be set aside for specialised marketing training. This could come from external parties or through discursive internal sessions. While it may seem unnecessary, it could undoubtedly pay off in the long run. 
Finally, CIM encourages a collaborative approach. Marketers should talk to one another, but also to colleagues, friends and other associates. This will allow them to further their learning while gaining insight into other perspectives and how they can best be appealed to. With widespread engagement, they can begin to develop and discuss new ideas that go beyond the marketing sphere to create a cyclical system of sustainable initiatives and shareable stories. 
Through commitment and collaboration, companies may find the sweet spot between greenwashing and greenhushing. Dedicated effort, backed by suitable investment, can provide the necessary skills, while communication between departments can ensure that everyone is on the same page about initiatives and targets in place. Only with everyone on the same page can the rest of the story be told. 
SGV TAKE
Skilful marketing could play an enormous role in shaping our global future. With the right messaging, companies can counter misinformation, discourage overconsumption and foster new aspirations towards more sustainable lifestyles. Consumers can rebuild their faith in sustainable brands, regaining their sense of purchasing power. 
At the same time, businesses can succeed in telling their story without exposing themselves to the risks associated with greenwashing. Onlooking companies may be inspired to follow their path, either in friendly competition or through collaborative efforts. 
Given the multiple benefits of having an effective marketing force, businesses ought to ensure that their team is fully upskilled and engaged.