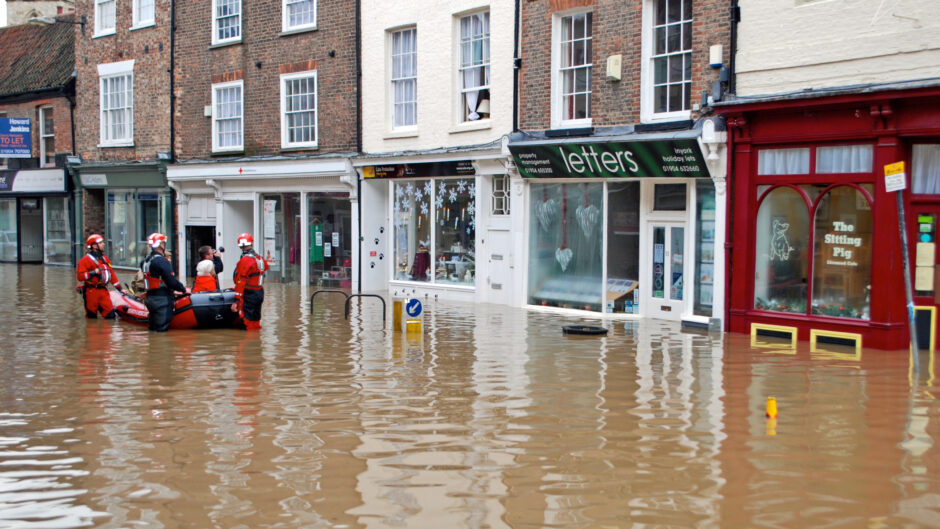 Verdantix, a London-based independent research firm, conducted a global study on business readiness for climate, sustainability and ESG risks. 
Verdantix's study revealed ​​how businesses must urgently integrate ESG considerations to effectively address climate risks and align with global sustainability goals.
It found that half of businesses are failing to act on increasing ESG and climate risks to operations, with only 50% of risk executives having incorporated ESG and sustainability factors into their risk management frameworks.
The study can serve as a wake-up call to the interconnectedness of these challenges and the necessity for a comprehensive and preemptive approach.
As the world grapples with the escalating threats posed by climate change, a recent study conducted by Verdantix, an independent research firm specialising in purpose-driven analysis, has underscored the critical importance of Environmental, Social, and Governance (ESG) considerations in combating the challenges of global warming. The study, which involved 200 senior leaders from diverse sectors including finance and industry, has revealed that a substantial number of businesses are falling short in adequately addressing ESG and climate risks, with potential repercussions for both their financial stability and long-term viability.
"While two-thirds of our survey respondents recognise the physical and financial risks of ESG and climate change to their organisations over the next seven years, they have yet to quantify these challenges and build them into broader risk frameworks," said Bill Pennington, vice president of research at Verdantix. "Our view is that risk professionals will now have to adapt rapidly, broadening their responsibilities, engaging with new stakeholders, and leveraging technological solutions and external expertise."
Pennington added: "In-house risk teams and their advisers are ideally placed to play a prominent role in helping their organisations navigate a changing operating environment. However, to meet these challenges, risk professionals will have to adapt their approaches, develop new skills and get buy-in from their boards." 
An urgent imperative and interplay between ESG and climate risks
In the face of increasing climate-related threats, businesses are confronted with an imperative to integrate ESG considerations into their operational strategies. The study revealed that 52% of surveyed firms acknowledged the significant impact of climate-related risks, such as the vulnerability of physical assets and the potential disruptions entailed in transitioning to sustainable energy sources. These risks have materialised in the last year alone, underscoring their immediacy and relevance.
One of the striking findings of the Verdantix study is the distinct interplay between ESG risks and the climate challenges that businesses are grappling with. While 37% of respondents projected that their operational activities would face considerable risks stemming from climate change by 2030, only 50% of risk executives have currently integrated ESG and sustainability factors into their risk management frameworks. This gap exposes businesses to financial vulnerabilities, especially considering that 64% of survey participants identified ESG risks as being among the top two most impactful risks for their organisations.
Verdantix's study echoed a 2020 report by the Chartered Institute of Internal Auditors in partnership with the Climate Group that looked into the preparedness of UK businesses for the challenges posed by climate change. It highlighted both the growing awareness of climate change as a serious threat among businesses and their lack of urgency in taking effective action to mitigate its impact.
Change needed
The inescapable reality is that ESG risks and climate challenges are inextricably linked, presenting a formidable tandem that businesses must address comprehensively. The mounting pressures from regulators, investors and consumers to address ESG concerns carry significant financial consequences, including fines, reputational damage and limitations on accessing capital. Equally concerning are the multifaceted climate risks, encompassing acute weather events, chronic climatic changes and potential litigation stemming from inadequate climate risk mitigation.
For instance, the FAIRR Initiative, a group focused on minimising climate-related risks in the livestock sector, published a report highlighting the urgent need for livestock companies to address climate risks, as failing to do so could lead to financial consequences for investors. The projected losses are largely driven by increasing climate-related costs, with potential operational losses by 2030 and declining profit margins. 
The report emphasises the potential impact on global food security and livelihoods and concludes with recommendations for transparent disclosure and consideration of material risks by investors and financial institutions. If not addressed, these risks could push investors toward alternative protein industries, potentially impacting the livelihoods of farming communities.
The study findings emphasised the necessity of businesses not only recognizing the gravity of these risks but also proactively engaging in measures that align with the global push towards sustainability and net-zero objectives. As the global community rallies behind initiatives aimed at curbing greenhouse gas emissions and limiting global warming, businesses stand to gain by integrating ESG considerations into their core strategies.
Empowering business leadership
In light of the study's revelations, businesses are urged to take a holistic approach to risk management that embraces both ESG and climate considerations. Chief risk officers, in particular, are poised to play a pivotal role in driving this transformation. However, the study also noted that currently, only 19% of organisations report that these officers hold leadership positions in devising climate and net zero strategies.
Adapting to these challenges demands more than incremental change. Risk professionals need to broaden their skillsets, engage new stakeholders and embrace technological innovations to effectively address the evolving landscape. 
SGV TAKE
The Verdantix study reinforced the urgency for businesses to step up their efforts in addressing ESG and climate risks. The study serves as a wake-up call, highlighting the intertwined nature of these challenges and the need for a proactive, integrated response. 
As the world moves toward a more sustainable and resilient future, businesses that prioritise ESG and climate considerations are better positioned not only to weather risks but also to thrive in an increasingly complex operating environment.