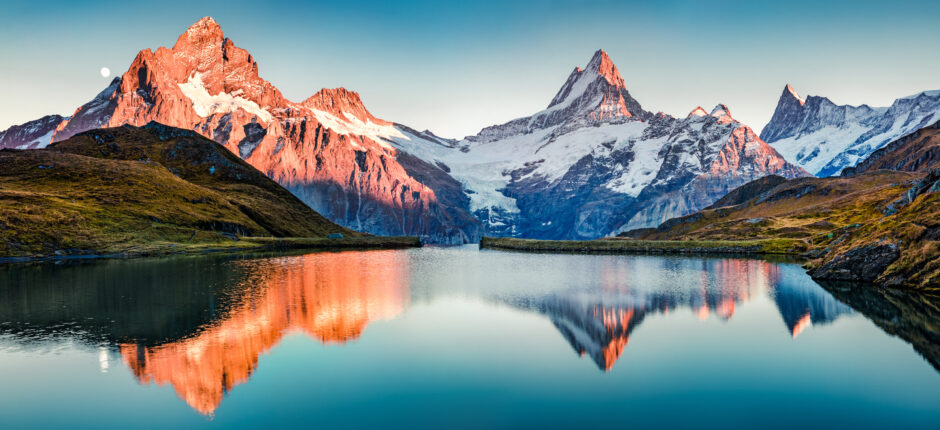 The CDP is emphasising the critical necessity for financial institutions to close the divide between climate-related considerations and the realm of nature within their strategies, risk management and investment decisions.
The CDP report highlighted the consistent neglect of nature-related factors in financial decision-making, despite the prominence of climate change considerations.
Financial institutions need to bridge this gap in their strategies, risk management and investment decisions.
They must understand the link between climate and nature, demand comprehensive data and act on it to lead the way toward a green and resilient future.

 
In a world where climate change dominates headlines and corporate agendas, a crucial component of the environmental equation has been consistently sidelined – nature. An August 2023 report by CDP, "Nature in Green Finance, shed light on a critical blindspot in the financial industry: the lack of integration of nature-related considerations in decision-making processes. 
As the urgency to address environmental challenges intensifies, this report underscored the imperative for financial institutions (FIs) to bridge the gap between climate and nature in their strategies, risk management and investment decisions.
What is the report about?
The CDP report is based on a comprehensive analysis of disclosure data provided by over 550 major banks, insurers and asset owners worldwide, which collectively represent $8 trillion in market capitalisation. While the report acknowledged the increasing attention given to climate considerations in financial planning, it painted a concerning picture of the industry's disregard for nature-related issues.
One of the key findings of the report was that, while approximately 95% of FIs now incorporate climate change considerations into their business strategies and financial planning, less than one-third of them do the same for forest issues and water security. This imbalance not only hinders FIs' ability to accurately assess and disclose their impacts, dependencies, risks and opportunities but also undermines their potential to drive positive environmental change.
The report identified critical gaps across various dimensions of financial decision-making. From governance and strategy to risk management and metrics, FIs are shown to lack the mechanisms to effectively integrate nature considerations into their operations. While climate-related metrics are more common, only one in ten FIs possess the necessary metrics to measure their portfolio's impact on forests and water, according to the report.
It also highlighted a substantial disparity between identified opportunities and risks. Over $5 trillion in combined climate, forest and water opportunities have been identified by financial institutions. Less than 30% of FIs, however, are actively capitalising on these opportunities.
The report underlined the pivotal role that FIs play in catalysing transformative change across the financial landscape. By implementing robust internal mechanisms and demanding comprehensive data, financial institutions can spearhead the integration of nature considerations into their decision-making processes. Several banks have already taken the lead in establishing governance structures and board-level expertise to address nature-related issues.
By exercising their voting rights and aligning their priorities, investors could influence corporate strategies to incorporate nature considerations. Collaboration with policymakers could accelerate the development and adoption of integrated environmental policies.
Claire Elsdon, global director, requesting authorities – capital markets at CDP, said: "It is encouraging to see that in the two years since we published the CDP Financial Services Disclosure Report 2020, financial institutions have made significant progress in integrating climate change considerations in their financial decision-making. Collectively, FIs must now integrate nature and elevate it alongside climate as a priority across their strategies and financial planning."
"The first step for financial institutions is to understand that climate is just one facet of environmental impact. It is important that they take stock of the extent to which their portfolio, operations, services and the businesses they support, rely on and are impacted by nature," Elsdon added.
"Financial institutions must fully commit to addressing environmental issues holistically to better position them to capitalise on emerging opportunities; offer green financing solutions that support businesses in mitigating deforestation and water-related impact; get ahead of upcoming reporting requirements; rapidly decarbonize their portfolio and meet net-zero ambitions."
Nature-driven investment opportunities
Incorporating nature considerations into financial decision-making opens up a realm of potential investment opportunities and brings to light critical risks that financial institutions must address. The report not only underscored the significance of these opportunities but also the potential consequences of overlooking the risks.
FIs have the chance to leverage their resources to drive positive environmental change while generating substantial returns. Initiatives such as reforestation and afforestation projects, sustainable land management and investments in renewable energy infrastructure could offer avenues for both financial growth and environmental impact. 
Innovative financing models for conservation efforts and nature-based solutions, such as wetland restoration and habitat protection, are emerging as lucrative markets. These opportunities can not only diversify investment portfolios but also align financial growth with positive environmental outcomes.
Industries reliant on natural resources such as agriculture, forestry and water-intensive manufacturing, face substantial disruptions due to deforestation, habitat degradation and water scarcity. These disruptions can lead to supply chain vulnerabilities, decreased product quality and increased operational costs.
The financial sector itself is not immune to these risks. Investments in companies associated with unsustainable land use practices and environmental degradation may become stranded assets as societies transition towards nature-conscious economies. Failure to adapt to these shifting dynamics can lead to financial losses and reputational damage.
Championing nature-integrated financial strategies
As the financial landscape evolves, institutions are taking proactive steps to integrate nature considerations into their operations, the report highlighted. Some of these institutions are setting precedents by establishing dedicated governance structures and board-level expertise focused on nature-related issues. These institutions recognise that nature's role goes beyond climate and acknowledge its inherent value in driving economic prosperity.
Financial institutions should engage in collaborations with policymakers to advocate for policies that align economic growth with nature conservation. By participating in policy dialogues and advocating for regulations that incentivise sustainable practices, these institutions can foster an environment conducive to nature-conscious decision-making.
The efforts of financial institutions in integrating nature considerations hold the potential to transform the industry's landscape. By pioneering nature-friendly financial strategies, these institutions are poised to redefine success in ways that align with the health of ecosystems and societies, while also securing long-term financial stability.
SGV TAKE
As the world strives for net zero ambitions and a resilient global financial system, the CDP report sends a clear message: the integration of nature into financial decision-making is not just an ethical imperative but also a strategic necessity. Only by recognising the intrinsic link between climate and nature, demanding comprehensive data and acting on it can financial institutions lead the way toward a green and resilient future.