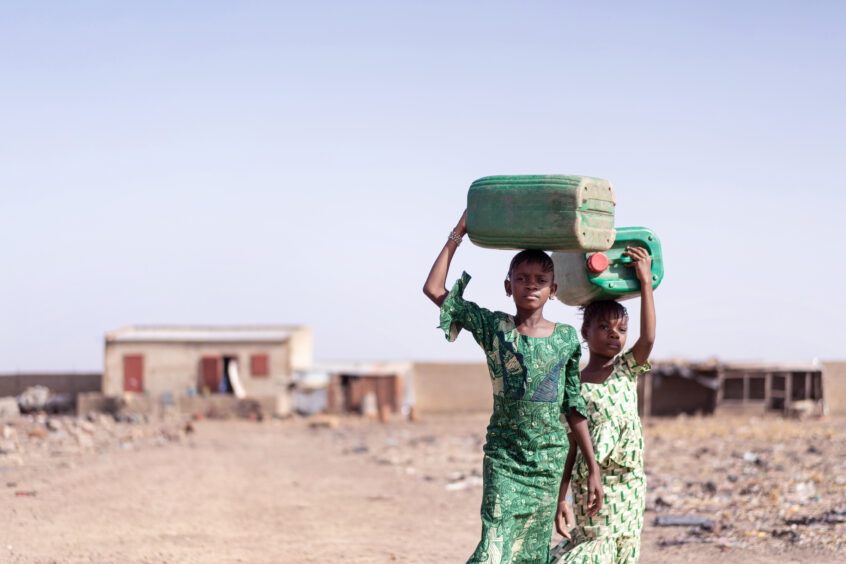 As World Water Week is underway, a collaborative research effort between the British Standards Institution (BSI) and NGO Waterwise highlighted the dire need to address water scarcity.
A report by the BSI and Waterwise highlighted the critical issue of water scarcity, particularly in major economies such as the US and China, where annual water consumption has surged significantly over the past century. 
The research suggested enhancing water circularity through global collaboration and innovation as a viable solution and stressed the significance of collaborative efforts.
Water scarcity needs to be addressed due to its profound impacts on health, environment, economies, societies and the pursuit of global sustainable development goals.
The challenge of water scarcity has reached critical levels in major economies such as the US and China, as global annual consumption surged by approximately 3,500 billion cubic metres over the past century. As the global community gathers for World Water Week, an annual event dedicated to addressing the pressing challenges of water scarcity and sustainability, a research partnership between the BSI and NGO Waterwise suggested that enhancing water circularity through international collaboration and innovative strategies could offer a viable solution. 
Nicci Russell, chief executive of Waterwise, stated: "Water is fundamental to life… It is increasingly clear that we can't go on as we have been. It is just not sustainable."
World Water Week
World Water Week is an annual event that focuses on global water-related issues and challenges. It is organised by the Stockholm International Water Institute (SIWI) and typically takes place in Stockholm, Sweden. It gathers professionals, experts, policymakers, researchers and practitioners from various fields to discuss, share knowledge and collaborate on finding solutions to the world's water-related challenges.
Its main goal is to raise awareness about water-related issues, promote dialogue and knowledge exchange and foster partnerships among different stakeholders to address water scarcity, water pollution, sustainable water management and other pressing water concerns. 
Each year, World Water Week revolves around a specific theme related to water and its role in sustainable development. 2023's theme is "Seeds of Change: Innovative Solutions for a Water-Wise World". Previous years have covered topics such as water and food security, water for sustainable growth and water and climate change. The event provides a platform for showcasing innovations, sharing best practices and promoting policies that can contribute to a more water-secure world.
World Water Week serves as an important platform for generating insights, sharing experiences and fostering collaboration among stakeholders to find solutions that can contribute to achieving the UN Sustainable Development Goal 6 – ensuring the availability and sustainable management of water and sanitation for all.
The report's findings
The findings in the report, Thirst for change: Securing a water positive future, underscored the broader benefits of such actions, including mitigating drought risks, supporting climate objectives and advancing social development aligned with the UN Sustainable Development Goals. It also stressed the significant role that water provisioning and usage play in contributing to around 10% of global carbon emissions. It forewarned that by 2050, a staggering 75% of the world's population could face the adverse impacts of drought if immediate steps are not taken. 
The study incorporated an assessment of water scarcity across 40 locations, ranking the US, China and India with the highest scarcity rating. While water is plentiful on Earth, merely 0.5% exists as fresh water. A confluence of factors – population growth, climate shifts, and economic expansion – drove water demand.
According to a BSI-commissioned poll, 66% of consumers and 80% of small business leaders consider clean water and sanitation integral to sustainability. Half of the former and 44% of the latter ranked water-related issues among the top five global priorities.
Martin Townsend, director for BSI centre of excellence for sustainability, emphasised the need to shift towards more sustainable water management. "Water is one [of] our most fundamental, precious and undervalued resources…but it is becoming increasingly clear that it is not sustainable for demand for water to continue to rise without action to ensure we are using it wisely and managing it efficiently," he said.
Recommended actions
The research outlined six actionable recommendations. Firstly, we should acknowledge water wastage as a critical issue, which means active involvement from water utilities globally, focusing on minimising leakage in their networks. Government intervention plays a crucial role in promoting change by creating incentives for reducing wastage. By doing so, individuals and organisations can be inspired to recognise their own contributions to the problem and take steps to curtail water wastage both at home and in workplaces.
The second recommendation is about simplifying the selection of water-efficient products. If countries grappling with water scarcity adopt mandatory water efficiency labelling, it can greatly expedite progress toward a sustainable future. By clearly labelling products based on their water-saving attributes, consumers can make informed choices that contribute to water conservation efforts.
Thirdly, there should be the integration of innovation and data utilisation in water conservation endeavours, for example by using smart water meters. Governments can play a key role by enacting legislation and regulations, setting standards, providing funding and enhancing workforce skills. These measures can collectively facilitate the widespread adoption of water-saving practices, making them a common practice.
The fourth recommendation focused on cultivating a cultural shift towards water conservation. By intensifying efforts to prioritise the issue of water availability, a positive water-saving culture can be nurtured. This applies to individuals, organisations and society as a whole, extending across various contexts such as homes, workplaces and different sectors. 
The fifth recommendation advocated adopting a circular economy mindset to address the challenges of water security. This approach involves reusing water, which presents a substantial opportunity to lessen the withdrawal of freshwater resources and meet the rising demand for water. By implementing strategies that emphasise recycling and reclamation of water, the underlying drivers of water scarcity can be effectively tackled.
The final recommendation, and one that is indispensable in the overall fight against climate change, underscored the interconnectedness of water as a fundamental element of our world. It stressed the importance of collaborative efforts involving a diverse range of stakeholders. By uniting different players in the water conservation journey, we can effectively confront the mounting challenges related to water availability. This collaborative approach recognises that addressing such complex issues requires collective action from governments, industries, communities and individuals.
SGV TAKE
Water scarcity should be at the forefront of decision-making globally due to its profound impacts on health, environment, economies, societies and the pursuit of sustainable development goals. Collaboration and the cultivation of a water-saving culture will be paramount to ensure a sustainable water future.
The recommendations call for recognising the seriousness of water wastage, simplifying consumer choices for water-efficient products, harnessing innovation and data, fostering a culture of water-saving, implementing circular economy principles and promoting collaboration among various stakeholders. Through these strategies, the goal is to mitigate the impacts of water scarcity and secure a more sustainable water future for all.