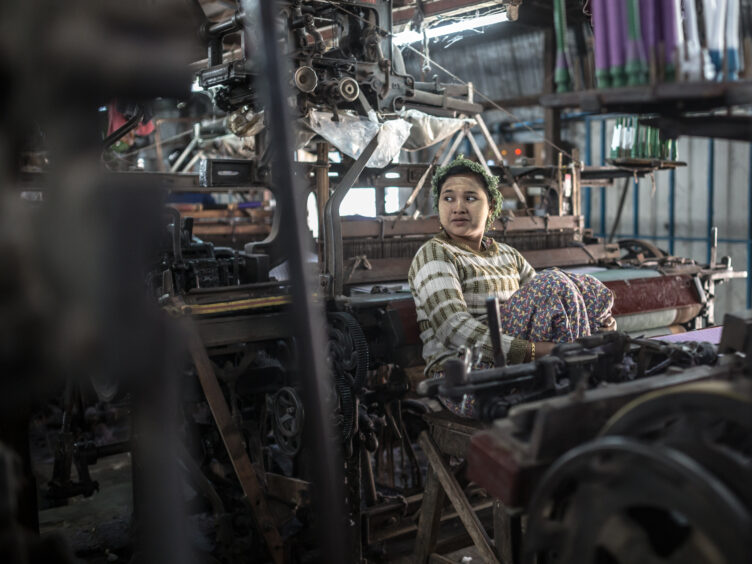 Migrations induced by climate change increase the risks of making people vulnerable to human trafficking and modern slavery, according to new research from Rights Lab.
The Rights Lab has examined the interconnections between migration, human trafficking and climate change.
Modern slavery is becoming an increasingly pressing issue on an international dimension, with campaigns urging companies to increase transparency and support human rights in their practices.
As the climate continues to change our environment, migration is predicted to become a growing phenomenon that will test commitments to sustainability and ethical practices.
As extreme heatwaves have gripped the in recent months, with July reaching the warmest temperatures on record, the state of the global climate comes with unpredictable events such as droughts, floods, marine heatwaves, unprecedented glacier melts and sea surface temperatures.
The consequences of such events can be assessed not only in environmental terms, but also social. As the planet continues to endure such changes, in fact, communities and populations across the globe are continuously subjected to increasing vulnerability and risk which drives them to migrate. Indeed, voluntary migration and displacement are predicted to become more frequent and urgent issues in the near future.
Climate change-induced migrations, however, are often interlinked with vulnerability to human trafficking, as highlighted in the research presented in a new report created through the collaboration of Rights Lab, the Catholic Agency for Overseas Development (CAFOD), Caritas Bangladesh, Caritas India, and OKUP.
The human trafficking-climate change nexus…
New findings from the Climate change, migration and human trafficking report highlight data on the "human trafficking-environmental degradation-climate change nexus" particularly focusing on communities in the Sundarbans region of Bangladesh and India. In this area, several climatic risk factors are combined with a series of social, economic and political issues that increase the vulnerability of its inhabitants, and thus their risk of exploitation.
Information was gathered through a series of in-country stakeholder interviews, evidence from organisations and officials, and over 1,200 household surveys from communities both in India and Bangladesh. The main findings report that there was clearly a link between livelihoods and migratory practices.
Bangladesh is predicted to be one of the countries most affected by climate change, pushing people to seek migration opportunities in neighbouring regions of India to escape the negative impacts of climate change risks that include extreme heat, cyclones, droughts, floods and many other hazards. 
According to the report, over one-third of surveyed households had migrated during the previous five years, with more than 88% of households in Bangladesh and 61% in India declaring that their livelihoods had been affected by climate change.
Issues of debt bondage, human trafficking, forced marriage, gender-based violence and labour exploitation represent only some of the risks that people are subjected to while migrating away from natural hazards due to climate change.
An important finding in the report was the presence of traffickers as nefarious actors operating via the same transport routes and avenues used by migrants, and the geographical exposure to further dangerous environmental risks along such routes. These present some of the overlapping risks for people who migrate.
…and how to address its issues
The report presents a number of ways to help resolve issues at the nexus of climate change, environmental devastation and human trafficking at a local, national and international level. 
Some of these include enhanced action on migration and human trafficking, to raise awareness and support migrant workers in their journey; or education and training opportunities, with a particular focus on gender-specific activities, to identify and prevent potential risks of exploitation.
Improving financial support for mitigation and adaptation, international migration avenues and climate action plans to provide the required support for vulnerable communities should also be implemented at the local and national government levels.
Finally, the international community's engagement with loss and damage programming presents an important contribution to providing support funds for vulnerable communities. Along with this, developing ways to appropriately identify, measure and understand the tackling of modern slavery and human trafficking remains essential to pave the way forward.
Hidden chains in the sustainability sector
Modern slavery is not as rare as one would think. Even companies at the forefront of sustainability, such as US-based producer of solar panels First Solar, have been found to violate labour standards and engage in modern slavery practices by exploiting foreign migrant workers in precarious conditions.
Corporate commitments to sustainability must therefore be paired with meaningful steps to subject working people's rights to ethical recruitment. Particularly in a time where extreme weather is pushing people to migrate and seek labour opportunities abroad, companies must understand the issues that lie at the intersection of climate-led migration and human rights, and be held accountable if they gain from it. 
Scrutinising businesses, particularly if their supply chains have global reach, is an essential step to make this possible. The engagement of civil society in demanding transparency and ethical behaviour from companies has proven a track record of success on many occasions, though comprehensive legislation remains a fundamental driver.
The EU's Corporate Sustainability Due Diligence Directive, for example, will require companies to identify, and where necessary prevent, end or mitigate the negative impact of their activities on human rights and the environment, thereby demanding scrutiny of labour practices in supply chains. Further, the financial community is becoming increasingly aware of the economic risks posed by unsustainable labour practices, with businesses potentially being restricted financing on this basis.
SGV TAKE
Slavery remains a contemporary issue that must be factored into the pursuit of a sustainable, fair and green economy. As this research sheds light on the connections between climate change and modern slavery, it also highlights the two-fold ethical responsibility that corporations hold in their position towards people and the environment.
Their initiatives must be monitored and regulated with regard to ethical practices from both an environmental and social perspective, in order to ensure they do not exacerbate climate-led migrations and to protect migrants from vulnerability to human trafficking, modern slavery and unethical labour. 
This can only be ensured by addressing the social issues that lie at the intersection of environmental change and migration, as well as establishing standards of transparency, accountability and codes of ethical practice.