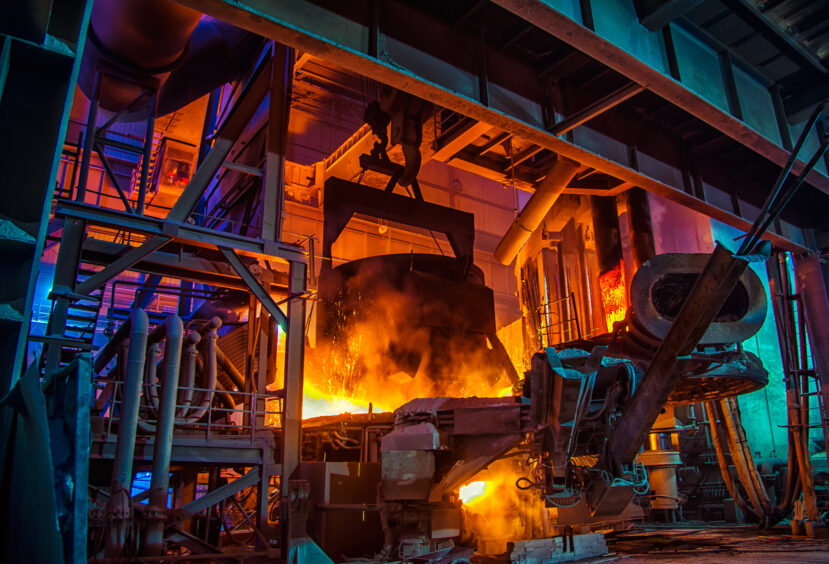 A new report by Aldersgate Group highlights that UK manufacturing is moving to net zero due to deindustrialisation rather than decarbonisation, and neglecting low-carbon opportunities in the industrial sector could cost £224 billion by 2050.
The report outlines the economic benefits of industrial decarbonisation for the UK as an opportunity for a prosperous low-carbon future.
Not securing these benefits, however, is estimated to cost around £224 billion for the UK economy by 2050.
Targeted policy support, smart regulation, industrial decarbonisation and nascent sectors could provide important contributions to the future of the UK economy.
The Aldersgate Group has launched a new report that outlines the role of industrial decarbonisation in ensuring that the UK economy remains competitive in a net zero world. This research was conducted by WPI Economics.
While net zero presents an important opportunity for economies around the world, not reaping its benefits is estimated to cost the UK around £224 billion (or 5.9% total gross value added) by 2050. The UK Government was called to endorse an industrial strategy that is beneficial to both the environment and economy.
Industrial decarbonisation arises from decline of the sector
Although the UK has made some progress in reducing industrial emissions in line with net zero targets, many of these achievements are due to the decline of the sector rather than the decarbonisation of industrial processes.
Among G7 countries, the UK has had the fastest rate of decarbonising manufacturing at 54% since 1990. This, however, came with a 47% fall in manufacturing jobs after many carbon-intensive industries moved overseas. The UK's net zero targets in manufacturing therefore are being achieved through deindustrialisation rather than decarbonisation.
Heavy industry is important contributor to UK economy
The heavy industry is a critical sector in the UK economy, contributing £152 billion in gross value added (GVA) to the UK economy and supporting over 1.4 million jobs. UK industry also makes up 21% of the UK's exports, compared to 22% globally.
The report's analysis also shows how nascent businesses in emerging low-carbon sectors such as hydrogen and carbon capture, utilisation and storage (CCUS) provide £1.7 billion and are expected to grow by 20% per year. These new technologies, however, must be paired with the deep decarbonisation of legacy industries in order to keep up with global competition.
In a worst-case scenario where no further support is provided for a net zero transition in the heavy industry, analysts estimated that the sector's share of national GVA could collapse from 6.4% in 2022 to merely 0.3% in 2050. The most optimistic case predicts a 6.2% maintenance of national GVA in 2050.
In sum, this means that providing no further support for deep decarbonisation in the industry is equivalent to losing nearly £224 billion (in 2022 prices), or 5.9% of total GVA in 2050 compared to the investment option.
Decarbonisation comes with significant benefits
Decarbonisation in the UK is a necessity, as well as an economic opportunity. The economic, operational and technological efforts involved will reap flourishing economic, social and strategic benefits.
Contrary to industrialisation, decarbonising will protect the UK's future economy and domestic supply chains, positioning the country as a world leader through sectoral growth. This will also allow the country to achieve self-sufficiency in the industrial net zero pathway, as a robust foundational industry is essential to renewable technologies, energy efficiency and low-carbon processes.
This could enable the UK to become a pioneer in the growth of emerging sectors such as advanced manufacturing, green technologies, life sciences and digital technologies. Additionally, it could increase the country's export potential on a global scale.
Recommendations for the UK Government
According to the report, the UK Government should develop a robust industrial strategy for decarbonisation which prioritises the use of limited technologies such as hydrogen and CCUS and invests in required infrastructure.
Secondly, it should address high electricity prices for companies in the heavy industry by rebalancing policy costs from electricity to gas over time and setting out a voluntary Contracts for Difference scheme.
Finally, it should make efforts to reform existing practices by introducing measures to promote green public procurement, and enacting an Emissions Trading Scheme aligned with European Union regulations. Targeted policy support, positive market signals and smart regulations will become essential interventions required to maximise the benefits for the UK economy and unlock private sector investment. 
This will not only save £224 billion being lost by 2050, but will also promote the development of a more resilient economy, the promotion of job opportunities and long-term commitments to sustainable goals.
SGV TAKE
This report presents a call to arms for the UK Government to endorse an industrial strategy that is able to reap the benefits of deindustrialisation while meeting global sustainability targets, rather than bear the costs of poor decision-making in favour of short-term benefits.
Recognising the business opportunities offered by net zero is essential to promoting a path towards a sustainable future without renouncing the economic benefits that this could bring. In the face of international competition from the Inflation Reduction Act (IRA) and the European Green Deal, the UK must take clear actions to attract and retain investment in the net zero transition and maximise its economic benefits. 
For this reason, the creation of a thriving green industrial sector can become an enriching prospect only by bartering today's conveniences for the benefits of tomorrow.