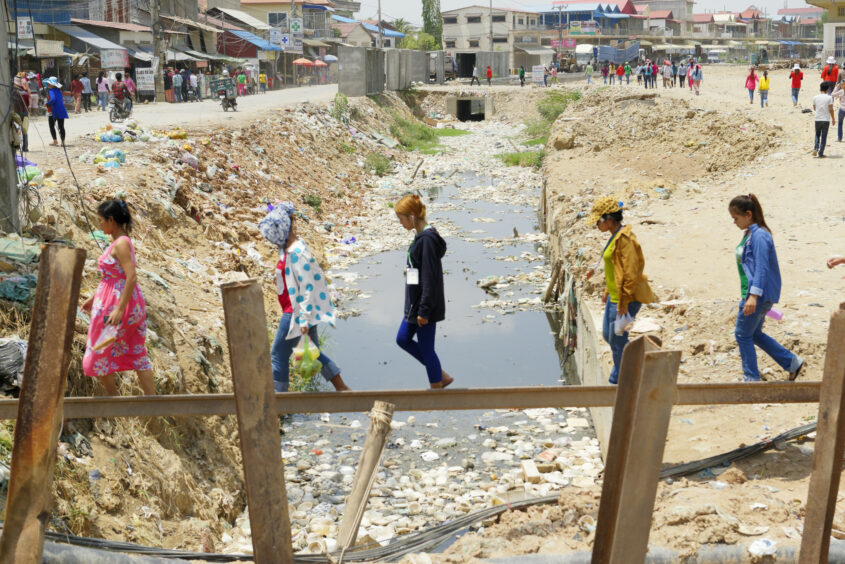 Economies that rely on the production and export of apparel are at risk of losing $65 billion in earnings by the end of the decade, due to their increasing exposure to extreme heat and flooding. 
Researchers have calculated the economic losses that could hit the apparel sector as a direct result of rising temperatures and volatile weather conditions.
The four countries representing almost 20% of global apparel production could lose up to $65 billion by the end of the decade.
Companies operating within the global fashion industry ought to take steps to protect their suppliers while simultaneously preserving their business. 
The impacts of climate change have far reaching consequences. As temperatures rise and extreme weather conditions become the new norm, physical disasters are accompanied by social and economic upheaval. 
For many sectors of business, this poses a significant threat. The $2.4 trillion global fashion industry, which employs around 300 million people worldwide, stands out among the crowd as being highly exposed to significant risks. 
According to new research, published by asset manager Schroders (LSE:SDR) and Cornell University's Global Labor Institute (GLI), extreme heat and flooding events could see vulnerable economies losing $65 billion in earnings by the end of the decade. Alarmed by their findings, the partners have called on brands, investors and regulators to ensure that adaptive measures and social safeguarding mechanisms are rapidly adopted at scale. 
Apparel production to suffer major climate disruption
Based on projected scenarios, the researchers analysed the impacts of extreme heat and flooding on the booming apparel industries of Pakistan, Vietnam, Bangladesh and Cambodia. In these four countries alone, they found that the current trajectory would ultimately lead to $65 billion in losses from 2025 to 2030. 
This figure equates to a 22% decline in earnings from exports, creating an enormous dent in vulnerable economies that have yet to fulfil their potential. Job creation would fall by around 7%, leaving more than 950,000 people without the opportunity to secure a sustainable livelihood in apparel manufacturing. 
Still, this would not be the end of their suffering. By 2050, the researchers predict lost earnings of almost 70% and more than 8.5 million fewer jobs on the market. 
Although the study narrows in on these four main hubs of production, which collectively account for around 18% of global apparel exports, its analysis covered 32 countries in total. Several areas across Sri Lanka, Nicaragua, Mauritius, Myanmar, China and India were found to be highly exposed to extreme heat, humidity or flooding. 
"Climate nightmares are already in evidence," said Jason Judd, executive director of Cornell's GLI. "Life, let alone work, will become very difficult in these and many other hotspots that apparel brands and retailers depend on." 
Focus on mitigation could accidentally exacerbate risk
"These issues pose material risks for brands, retailers and investors as they manifest either through productivity losses, stranded assets or both," added Angus Bauer, Shroders' head of Sustainable Investment Research. 
Indeed, by mapping the supply chains of six global apparel brands across the four focus countries, the researchers found that extreme heat and flooding are likely to have an enormous impact on productivity levels. For one of the companies in question, productivity costs were projected to reach around five per cent of the group's annual operating profits, due to disruptions in just two of Vietnam and Cambodia's cities.  
Although most of the brands had introduced some sort of sustainability strategy, they tended to focus on mitigating climate change by reducing their emissions, managing their resource consumption and tackling pollution. While these measures are undoubtedly necessary, they offer little protection from consequences already being felt. 
"No one is factoring the on-the-ground costs of climate breakdown into their planning," Judd explained. "The apparel industry and regulators have mostly framed their climate responses around mitigation issues—emissions, water usage, and recycled fabrics. They are ignoring the climate issues that are dramatically and directly affecting suppliers and their workers now." 
In addition to the productivity lost due to climate change, brands may find themselves exposed to legal and reputational risks. Regulators, consumers and investors alike are unlikely to look kindly on those who are associated with dangerous and unethical working conditions.  
Now more than ever, supply chain secrets are being exposed by new regulations and innovative technological solutions. Companies are expected to engage in due diligence, reporting their progress through frameworks and standards designed to enable stakeholders' scrutiny. They must also meet the changing demands of consumers, who are increasingly calling for greater transparency and alignment with ethical and sustainable values. 
"Climate 'loss and damage' for manufacturers and workers are treated by brands as externalities — someone else's problem," Judd continued. "New Due Diligence rules in Europe shift some liability to brands and retailers can lead to bigger investments in adaptation – cooler workplaces, flood prevention and basic social protection systems. However, heat and flooding measures do not appear in initial drafts, due to the industry's focus on mitigation." 
Preserving business and protecting suppliers
 "This research highlights the urgent need for action," according to Bauer. "Investors must begin to engage with apparel companies and their stakeholders to ensure they start to measure and address the significant challenges of physical climate impacts on workers and business models."
"Furthermore, apparel companies must look to partner with suppliers, and work with peers, worker organisations and policy makers to design suitable adaptation strategies that consider the impact on workers. Adaptation planning could have positive returns on investment for the industry and is a critical addition to mitigation."
Ultimately, the research calls for greater consideration of today's climate costs and the implementation of adaptive solutions. Companies must play a critical role, but investors and policymakers must also show their support.
"Key will be introducing set standards and protocols for working hours, effort levels, rest and hydration to be collected and reported daily, as well as enforcing meaningful sanctions for violations of standards," Judd advises. 
"Workers need these investments now because extreme heat standards and flood protections are non-existent, or the systems are easy to game. And, in order to deal with the day-to-day costs of climate breakdown, workers need social protection systems in place and living wages. And ultimately, regulators and brands need to treat heat and flood events as health hazards."
These measures will help to maintain productivity, thereby supporting economic activity, while simultaneously serving as vital protection for vulnerable workers. Not only is this the just thing to do, it is also strategically valuable when appealing to conscious consumers and reporting to relevant stakeholders.
SGV TAKE
The research by Schroders and Cornell ought to be taken as a warning. Companies operating within the fashion industry should evaluate their supply chains and account for the unavoidable costs of climatic changes that are already well underway. By adopting adaptive solutions, they may well be saving their business as well as the lives of their workers.
It is also worth noting that the impacts of extreme heat and flooding are not confined to the apparel sector. Any firm with links to vulnerable areas should consider similar factors.