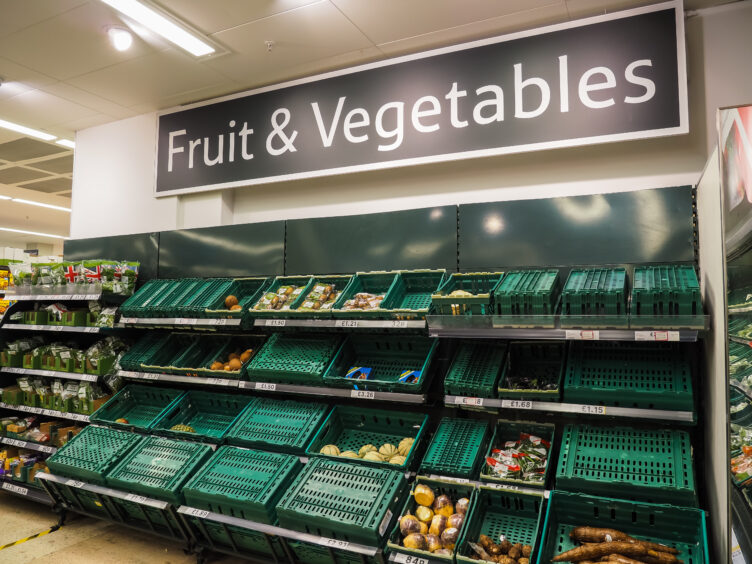 Price rises and supply shortages are predicted for crops including bananas, tea, avocado and coffee, threatening food security, as global agriculture faces increasing climate risks.
A Christian Aid report shows that a significant proportion of grocery products consumed in the UK, Germany and Italy comes from countries at high risk of climate breakdown. 
This poses a serious threat to future food security as well as straining supply chains and fuelling inflation, exacerbating the cost of living crisis. 
Measures such as the $100 billion climate finance pledge to low-income countries must finally be delivered to ensure that farmers can adapt to the changing climate. 
New research by Christian Aid in its latest report Cooking up a Storm has revealed that a significant proportion of the fruit, vegetables, pulses and meat products used by households in the UK (22%), Italy (23%) and Germany (15%) originate from countries at high risk from the climate crisis. 
Researchers mapped key food imports from the latest data of the World Integrated Trade Solutions database and identified which goods in a typical weekly family shopping basket are likely to be affected by the increasing extreme weather events.
These include tea, avocados, grapes, berries, bananas, cashews, cocoa, peas and canned tuna for the UK, mainly avocado, coffee and cocoa for Germany, and pistachio, bananas, cocoa, coffee, grapes and canned tuna for Italy. The products were chosen to reflect a five-day diet typical for a four-person family in these countries.
The threats include not only harvest-destroying extreme weather events but also prolonged heatwaves and drought in some areas such as the Horn of Africa, extreme rainfall and unreliable weather. The main meat and dairy exports currently originate from countries with moderate climate change vulnerability within the EU. 
Food security at risk
The issue of food security becomes even more pressing as we need to feed the world's growing population in a healthy and sustainable way. 
The UK Government's five-year adaptation plan published earlier in 2023 already highlighted that climate change threatens the UK's food supplies and national security. It is also the biggest medium to long-term risk to the UK's domestic food production, according to the UK Food Security Report of 2021. 
Gareth Redmond-King, head of international programme at Energy and Climate Intelligence Unit, UK, said: "Last year, the UK imported 37 million tonnes of food worth £58 billion from nearly 200 countries. Around half of that comes from climate impact hotspots and so is vulnerable to increasing extremes of heat, cold, drought and flooding. Those extremes are devastating for people's lives and livelihoods, with nearly half the world's population living in areas of climate risk."
According to the Christian Aid report, eight out of 25 of the UK's top import trade partners are countries with high climate vulnerability and low climate readiness: South Africa, India, Vietnam, Peru, Colombia, Cote d'Ivoire and Kenya – where the UK imports majority of its tea.
Indeed, climate change is exacerbating existing supply chain issues in the food industry. For example, in 2023 the UK faced a supply crisis in tomatoes, cucumbers, lettuce, peppers and citrus fruits as droughts hit parts of Spain and Morocco. Prices of other staples such as sugar, olive oil, pasta, coffee and risotto rice have also increased due to extreme weather events in the same year.
In August 2023, the National Farmers Union President, Minette Batters, said: "Climate change is wreaking havoc on food production across the world, with farmers in Southern Europe literally fighting fires while farmers here are despairing as they now must spend thousands of pounds to dry sodden grain." 
Global solutions for secure food systems
The Christian Aid report recommends some solutions to address this crisis and ensure food security. Moving to net zero was identified as a key way to mitigate climate change; Simon Lewis, Professor of Global Change Science, University College London, said: "Everything we do to cut our emissions in the UK, including not licencing new oil and gas projects, reduces the level of the coming chaos."
It also highlights the need to transform agricultural and food practices for sustainability. Although the UK has made some progress in energy transition, Dustin Benton, policy director of Green Alliance, noted that agricultural emissions from UK farms have not decreased, highlighting the need for further reform. 
He said: "The government needs to urgently support farmers to restore peat and grow trees on low-quality farmland, which will cut carbon emissions, store water and manage rising temperatures. As the National Food Strategy said, supermarkets need to replace processed meat with plant-based proteins in ready meals and prepared foods. These are cheaper, often healthier, and much more resilient to climate disruption."
The report recommends not only supporting farmer welfare but also investment to close the 'adaptation gap' for farmers to adapt to the changing climate. This refers to a promise made by high-income countries at the COP26 conference to double adaptation funding by 2025 to around $40 billion. 
Alexander Carnwrath, Fairtrade Foundation's head of public affairs, emphasised the need for sustainability, ethics and fair pay for farmers throughout the supply chain to support climate action, highlighting the fact that smallholder farmers in low-income countries suffer the worst impacts despite contributing the least to climate change. 
Finally, the report recommends enforcing international pledges of support to developing countries, for example, to deliver on the pledge to provide $100 billion of climate finance to developing countries, as well as the loss and damage fund agreed at COP27.
SGV TAKE
International food security is at critical risk from climate breakdown, threatening not only the livelihoods of smallholder farmers but also global supply chains, consumer health and nutrition. While the move to net zero is central to mitigating climate change, the question of food security also requires systemic change including resilient agricultural practices, climate justice, efficient food distribution and waste prevention. Globally, almost one-third of food production is discarded as food waste and loss across the supply chain, and tackling this is crucial for food security.
The report serves as a call for a shift to regenerative agriculture, as well as the exploration of climate-resilient varieties of crops for short-term solutions. The rights of farmers and food security should be at the forefront of national strategies, and developed countries should fulfil their pledges for climate finance aimed at adaptation.