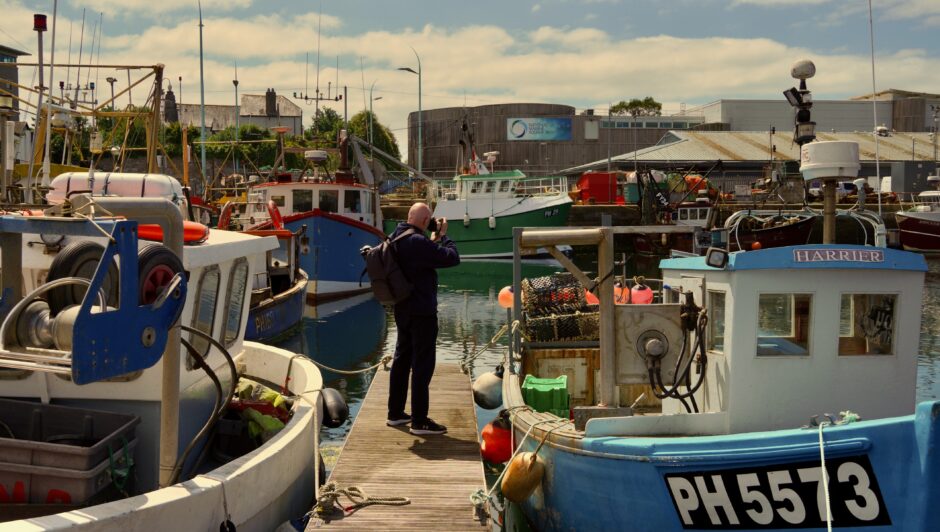 Cod, mackerel, scallops and anglerfish are among the fish species deemed overfished or at critically low levels, posing a risk of future stock collapses in the fishing industry.
A new report by Oceana has found that over a third of analysed stocks in the UK are being overfished and a quarter have hit critically low levels.
If not addressed, this could mean a collapse in fish populations for the threatened species, putting not only the UK fishing industry but entire local ecosystems at risk. 
Experts urged the UK Government to act urgently to end overfishing, and enforce sustainability regulations to meet its national and international biodiversity commitments. 
Oceana, a US-based NGO, analysed 104 fish stocks in the UK and found that more than a third were overfished and a quarter had hit critically low levels. Half of the UK's 10 most important fish stocks for the industry are in crisis, including North East Atlantic Mackerel, North East Atlantic blue whiting, North Sea anglerfish, North Sea cod and Eastern English Channel king scallops.
Less than half (41%) of the overall fish stocks were deemed of healthy size and only 45% were sustainably fished. The highest proportion of stocks subject to overfishing is now in the West of Scotland (42%), and the Irish Sea (41%), while two cod species are among the worst-performing stocks.
Hugh Fearnley-Whittingstall, a chef and environmental campaigner, commented: "Today, destructive bottom trawling is allowed in 90% of UK offshore marine 'protected' areas, destroying key habitats vital to ocean health while making a mockery of the concept of ocean conservation."
"Around the coast, local, lower-impact fishers, who could be thriving, are seeing their livelihoods dwindle as decades of overfishing by super-trawlers take its heavy toll."
These findings are in contrast with the UK's 2019 commitment to sustain "clean, healthy, safe, productive and biologically diverse seas" as part of its Marine Strategy. In fact, the Oceana report compared the most overfished and low-size stocks from a 2020 baseline and found that four of them still face these issues at critical levels in 2023. They are in such a state of crisis that the International Council for the Exploration of the Sea advised a total ban on all catches, including those of cod and whiting, the NGO noted. 
Overfishing and TACs
According to the report, one of the primary reasons why this is happening is that the Total Allowable Catches (TACs) set by the Government are higher than scientifically advised sustainable catch limits, which effectively allows overfishing. In fact, for four of the five worst-performing (overfished and low-size) stocks – cod from the West of Scotland and the Celtic Sea, Lemon Sole and Witch and Whiting fish – the TACs surpassed the scientifically advised limits. Of the top 10 most caught fish in the UK, six species are being captured above their recommended limits as well. 
Since leaving the EU, the UK Government has the power to set its own TAC for each stock and area across UK waters as per the Fisheries Act 2020, which also includes a new licensing system for foreign fishing vessels, fisheries objectives and quota allocations, among others.
Ongoing threat to marine ecosystems and fishing
The overfishing issue is one example of several threats to the UK's marine ecosystems and the fishing industry. Climate change is playing a major part, as UK coastal waters experienced a marine heatwave in June 2023.  According to data from the Met Office, April, May and then August 2023 witnessed the highest-ever recorded global sea surface temperatures, damaging critical ecosystems such as coral reefs, seagrass beds, kelp forests, and fish and oysters in the UK.
In all of this, the UK stands to lose an industry worth around £1 billion. as its fish is not only consumed domestically but exported at more than 400,000 tonnes a year.
Fearnley-Whittingstall said: "Restoring and protecting these fish populations is even more urgent as the climate crisis escalates. Marine heatwaves are ripping through UK seas like wildfire through a forest, with scientists warning of mass mortality of ocean life."
This is also reflective of global crisis as well, with the Food and Agriculture Organization estimating in 2019 that world marine stocks within biologically sustainable levels decreased from 90% in 1974 to less than 70% in 2013. The effect of greenhouse gases and the acidification of oceans form large-scale threats to ocean health, which is becoming a pressing matter globally.
Indeed, small island nations disproportionately affected by climate change, including Tuvalu and Antigua and Barbuda, have brought a case to the International Tribunal for the Law of the Sea in Germany. They are seeking a verdict on whether greenhouse gas emissions can be considered marine pollution, and what responsibilities countries have to mitigate them.
Solutions recommended to sustain future fishing in the UK
The Oceana report recommends solutions focussed on catch limits, and sustainable use of fish stocks as per the Fisheries Act 2020 to fulfill its obligations under the United Nations Convention on the Law of the Sea, the Convention on Biodiversity and the United Nations Sustainable Development Goal Target 14.
Firstly, it emphasises the need to develop a clear strategy to end overfishing, and impose catch limits that do not exceed the scientific advice of the International Council for the Exploration of the Sea. Ideally, accounting for bycatch, discard, and harm due to climate change and the wider ecosystem, the catch should remain below these specified limits. 
Secondly, it highlights the need to fully implement the Fisheries Act objectives for sustainability, including ensuring that all Fisheries Management Plans contain clear measures, targets and a specified timeframe to achieve them. More specifically, it recommends that the fishing opportunities for mixed fisheries are consistent with sustainable use of the most depleted stocks. When foreign or domestic fishing vessels are given access to a country's waters and fishing, also termed reciprocal access, the report advises ensuring a high standard of sustainability, transparency and legality of fisheries. 
Finally, it advises the phasing out of non-selective, carbon-intensive and destructive fishing practices such as bottom trawling that catches a wide range of species at once, in all marine-protected areas and an inshore zone within three nautical miles of the coast. 
Moreover, separate research published in 2023 also showed that 'balanced fish harvesting', which is fishing of a larger range of species in proportion to their natural abundance and productivity, could be used to tackle food security and biodiversity issues. 
SGV TAKE 
To maintain its fish stock for economic and food security reasons, the UK needs to take a closer look at how it enforces its own fishing caps and regulations in the wake of Brexit. Since the sustainable catch limits are already known, they must be enforced immediately to prevent further stress on already fragile and threatened marine ecosystems. This will not only ensure marine health and resilience to other threats such as climate change but also a sustainable future for the fishing industry.