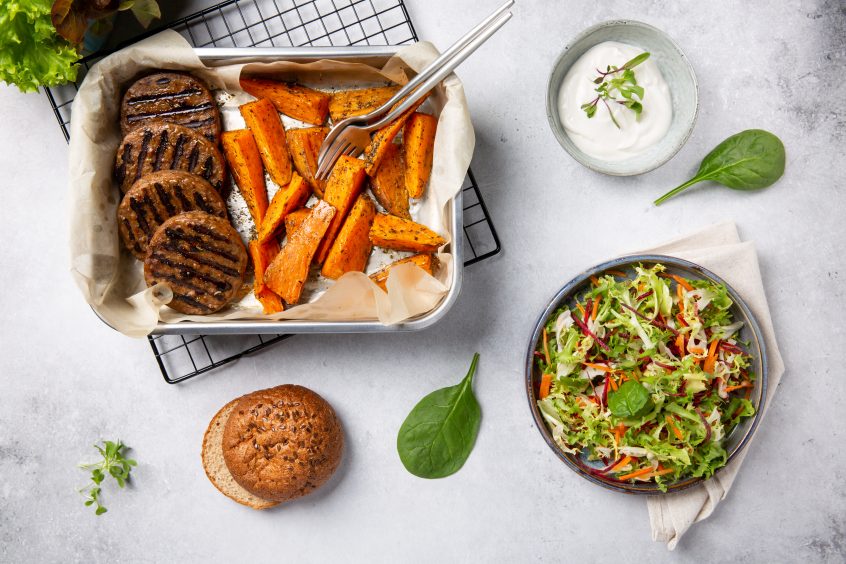 The current food system is not fit to feed the world's growing population – there are many reasons why we need to switch to alternative proteins.
The food system as we know needs to change to ensure a prosperous future for our society. 
Beyond satisfying personal choices, alternative proteins play a crucial role in ensuring food security for social, health, environmental and ethical reasons.
In a changing food system, there is still a place for sustainably sourced animal products.
When picking up a box of eggs at the supermarket or ordering a beef burger at a fast food chain, it's difficult to fathom the consequences of how that product was made. As Greenpeace says, the meat industry relies on hiding its operations from consumers – the more we learn about production, the harder it is to enjoy it. 
Of course, there are some good players out there that treat their people and animals well. But industrial-scale production is much less bucolic than the pictures of happy cows on cheese packaging want us to believe.
The food system as we know needs to change to ensure a prosperous future for our society. Companies are coming up with new products as more and more people turn vegetarian, vegan or reduce their consumption of animal proteins. But, beyond satisfying personal choices, alternative proteins play a crucial role in nourishing people for decades to come – for a range of reasons.
To learn more about the different types of alternative proteins, check out our explainer.
Social 
While most consumers are aware of the suffering of animals and the damage to the environment, many are oblivious to the fact that the livestock industry hurts people too. Its sprawling supply chain is rife with modern slavery, human rights breaches and land displacement.
Workers are being exploited all over the world, not just in lower-income countries. Many people are employed illegally, underpaid and forced to live in undignified conditions, or held in debt bondage, where their money is being taken to pay for living and working expenses. Working in meat production can be a dangerous job with a high risk of injuries and illnesses.
Progress in addressing these issues is moving slowly as companies turn a blind eye to what's going on in their supply chains. According to a report by the Anti-Slavery Commissioner and the University of Nottingham, just 50% of agricultural companies falling within the Modern Slavery Act's corporate reporting requirement had published a modern slavery statement in 2018, one year after the requirements came into force. 
Upcoming legislation such as the EU due diligence directive will force more meaningful disclosures on companies in the sector, but there is much to work to do as other jurisdictions catch up.
Moreover, Indigenous Peoples across the Americas have historically had their land stolen by farmers, and this continues today in Brazil with companies establishing illegal farms on protected reserves, according to Greenpeace. The Amazon is also being deforested to create new transport routes to transport soya, which is used for animal feed, which not only damages the environment but also violates Indigenous land rights.
Food security
As the world's population keeps growing, and the climate rapidly changes, food security remains one of the key global issues of our time. The Covid-19 pandemic, conflicts and extreme weather events are exacerbating the problem: acute food insecurity rose from 135 million in 53 countries pre-pandemic, to 345 million in 79 countries in 2023. Livestock farming is extremely vulnerable to higher temperatures, extreme weather conditions and changing patterns of pestilence and disease. 
In this context, using land to rear animals and crops to feed them is not an efficient way to produce food for humans. Indeed, a staggering 80% of global agricultural land is employed for livestock, while only providing 20% of the global supply of calories.
In the UK alone, 40% of the most productive farmland is used to grow food for animals, while nearly half of all wheat grown domestically (enough for 11 billion loaves of bread) is used to feed livestock. The combined land area for rearing beef and lamb for consumption both in the country and overseas is larger than the UK itself. And, because the nutrients in soils are lower than they used to be, it means that animals absorb less from those crops, in turn becoming less nutritious for humans. 
Declining marine biodiversity, meanwhile, has a vicious cyclical effect on the seafood industry, as it reduces the availability of fishing stocks. Global warming is also causing marine heatwaves, which are further affecting the health – and ability to provide food – of our oceans. 
Health 
Many scientists believe that the next pandemic will be caused by antimicrobial resistance (AMR). Antimicrobial drugs are used to fight various infections, including those caused by bacteria (antibiotics), viruses (antivirals), fungi (antifungals) and parasites (such as antimalarials).  
Eating animal proteins is a major contributor to AMR. Already in 2017, the World Health Organization recommended that farmers and the food industry stop administering antibiotics to healthy animals, which is done routinely to promote growth and prevent disease. Usage, however, is expected to increase by 8% by 2030 – while we wait for policymakers to take meaningful action, consumers can protect themselves by reducing their intake of animal proteins or checking AMR usage at the source.
Moreover, research has found that plant protein is less likely to cause issues such as cardiovascular issues and cancer compared to its animal counterpart. There is also concern over the use of growth hormones, risks of inflammation and worsening of gut health.
Plant-based diets have been shown to be a healthier choice. As for cultured meat, while it is developed as a replica of its traditional counterpart, it has been found to have less risk of pathogen contamination and can be produced with lower levels of saturated fat, which means it provides a healthier profile.
Although it has been approved by a few countries worldwide and is safe to eat, it remains a relatively new product so many effects on the human body that remain unclear, such as the control of its nutritional composition. Other types of alternative proteins, such as plant-based products, are made with widely used ingredients so it is much easier to predict how they impact human health. 
Environment
Livestock farming and fishing have major effects on the environment, due to their large scale and the more or less sustainable methods being used.
Animal agriculture is responsible for almost 60% of the total greenhouse gas emissions generated during food production, mostly due to biological processes such as enteric fermentation, through which ruminant animals digest their food. Along with methane, it is estimated that around 7,100 million tonnes of CO2 are released into the atmosphere by the livestock sector alone, alongside the consumption of fossil fuels along the supply chain.
While most alternative proteins tend to have a much lower carbon footprint than animal products, some studies are calling for more detailed environmental assessments to understand whether it is the case for lab-grown meat too, as there are concerns it may be just as emission-intensive.
It's not just about carbon emissions, however. Animal proteins are contributing to biodiversity loss and deforestation by removing biomass and transforming large patches of land into grazing areas for livestock.
It is estimated that around 80% of global deforestation comes from agriculture, which includes livestock and animal feed production. Another issue is the high water consumption at a time of water scarcity, as well as the pollution of water sources: the manure of cattle, pigs and chickens has been linked to 74–88% of nutrients and oocysts in rivers worldwide. 
Fish can be a more sustainable way to provide the world's population intake, but the overexploitation of global fish stocks is hitting biodiversity and causing profound changes in the structure and function of marine ecosystems – whose consequences are not clear yet as our knowledge of the oceans remains limited. What we do know is that these changes compromise the oceans' ability to deliver crucial natural services, such as carbon sequestration or nutrient cycling. 
Unsustainable fish farming, meanwhile, poses a threat to biodiversity as chemicals and excess nutrients from feed and faeces can enter aquatic life, as well as deprive waters of oxygen. Viruses and parasites transfer between farmed and wild fish as well as among farms, threatening wild populations or other farms, while escaped fish can compete with wild fish and interbreed with local wild stocks of the same population, altering the overall pool of genetic diversity.
Ethical 
One argument that people make when struggling to switch to alternative proteins is that they don't "feel natural" – but neither is the reality of most factory farming. In order to maximise production and save costs, animals are crammed in narrow, unsanitary spaces, with little to no access to natural light or the outdoors, and are separated from their offspring prematurely. They are given growth hormones, are genetically modified or fed excessively, causing unnatural growth that harms or even kills them.
It is estimated that 99% of US livestock, or 10 billion animals, was in factory farming in 2017. In China, companies are operating pig farms in skyscrapers to boost efficiency and save space – as well as preventing the pigs from seeing daylight and risking disease outbreaks.
While alternative proteins are not linked to animal cruelty, the cell growth media used to make cultivated meat may come into question, as it is normally based on foetal bovine serum (FBS), a substance derived from the blood of unborn calves.
To maximise the collection of blood per foetus, it is usually extracted from the beating heart. According to an academic review of the process, "the fetal calves may consciously experience pain and discomfort during collection for FBS, including being extricated from their mother's corpse, puncture of their heart and the blood withdrawal itself, which leads to their death". 
This issue is being addressed by companies such as Multus Biotechnology, which is exploring ingredients to produce animal-free growth media.
SGV TAKE
Agricultural production should shift to ensure efficiency and resilience against climate change, while the world's protein intake could be covered by alternative sources such as plant-based and fermented foods, lab-grown meat and insects – as well as sustainably sourced animal products. The current state of the industry creates far too much damage, and business as usual is not a viable way to feed the world's growing population.