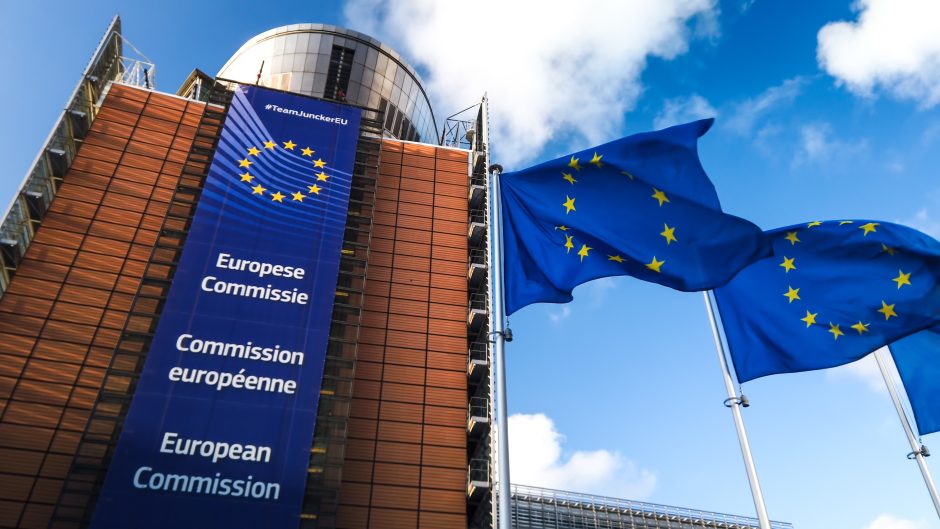 The European Commission has identified the buildings, transport and agricultural sectors as needing to dramatically accelerate their emissions reductions if the bloc is to achieve its upcoming targets. 
The EU Commission has released a damning review of the bloc's emissions reductions to date.
Buildings and agriculture are among the worst culprits, and must be prioritised in coming years. 
Having been identified as being particularly problematic, companies involved in these sectors ought to keep an eye on forthcoming policy measures and consider how they can innovate, adapt and collaborate in support of their industry.
Under the European Climate Law and 'Fit for 55' package, formally adopted in 2021, the EU must meet an intermediate target of reducing its net greenhouse gas (GHG) emissions by at least 55% by 2030, compared to 1990 levels.  
According to the new 'State of the Energy Union' report, the bloc has been making steady progress for the past 30 years. In 2022, its emissions decreased by around 3%, bringing its total reductions to date to 32.5%.
Still, the current policies of Member State governments are only expected to deliver a 43% reduction overall by 2030. Even if all proposed policies are included, reductions would reach just 48%, falling far short of the 55% target.  
If the bloc's goals are to be met, then it must treble the pace of emissions reductions delivered within the past decade. In its Climate Action Progress Report, released alongside the energy review, the Commission has offered some suggestions as to how the current shortfall can be overcome.  
"One, significant emissions cuts are needed in buildings and transport," said Wopke Hoekstra, the EU's new climate commissioner. "Two, the natural carbon sink needs to grow. In certain places, the carbon sink has become a source of emissions, and that is worrying. Three, we need much more substantial progress in cutting emissions in agriculture." 
Progress among Member States 
 The report provides estimates of each Member State's progress from 2015 to 2022. It reveals that net emissions have declined in Czechia, Italy, France, Denmark, Hungary and Croatia, but only at a slow pace. In Finland, Latvia and Lithuania, net emissions have continued to rise. The same can be said for Cyprus, Malta, Estonia, Poland and Ireland. 
 Among the key reasons behind these shortcomings were a 'sharp decline' in the capacity of land use and forestry to act as natural carbon sinks, and the increasing emissions of transportation, buildings and agriculture. 
Each of these industries are included under the EU's Effort Sharing Regulation (ESR), established in 2021, which sets a collective ambition of reducing emissions by 40% from 2005 to 2030 in a number of specific sectors. Under the ESR, each Member State was given its own national targets, but it appears that progress to date has not been sufficient. 
Decarbonising the buildings of Europe
The built environment accounts for around 40% of the EU's energy consumption and 36% of its emissions footprint. Recognising the industry's footprint, the bloc has already put a number of policies in place to reduce these emissions.  
Examples include the Energy Performance of Buildings Directive (EPBD), adopted in 2006 and revised in 2018. Under the EPBD, any new buildings will have to be net zero-emissions from 2028. For projects being constructed by public authorities, the rules will apply from 2026.   
From 2027, the EU also plans to include the buildings industry alongside transport in a parallel scheme under the EU Emissions Trading System, which places a cap on the total GHG emissions allowed by each sector included. 
These measures have resulted in some steady progress, with the Commission's latest report suggesting that the construction industry has reduced its emissions by just under 10% since 2021. The number of new and renovated buildings reaching close to net zero has also increased at an average rate of 80% from 2020 to 2021. 
Nonetheless, the reports highlight the need to continue tracking the evolution of the bloc's building stock. Given that around 80% of Europe's 120 million buildings in total will still be standing by 2050, the Commission has backed a proposal to update the EPBD.
Suggested revisions include setting new requirements for renovation plans and the establishment of national databases of buildings' energy performance that would feed annual data into the EU Building Stock Observatory. 
It is also imperative that  energy efficiency measures are widely adopted. Clean technologies such as solar panels and heat pumps are expected to play a critical role, with around 100 million new installations required before the end of the decade.
Prioritising livestock emissions
The agricultural sector is another colossal contributor to the EU's emissions, accounting for 31% of its overall total in 2020. Over 96% of these emissions come from methane and nitrogen dioxide, rather than carbon dioxide (CO2), with just under half being released by the digestive processes of livestock animals and around 17% coming from their manure.  
All in all, the livestock industry is solely responsible for almost two-thirds of the EU's agricultural GHG emissions and around half of its emissions of gases other than CO2.
To date, the sector's progress towards reducing its emissions has been somewhat limited, only decreasing by 3% from 2005 to 2020 according to the Commissions latest reports. Agricultural emissions have declined in 14 Member States, while continuing to rise in the remaining 13. 
The main regulations affecting the sector include the ESR and its associated national targets for Member States, as well as the EU ETS' coverage of emissions from fertilisers and energy use. In 2022, agricultural emissions fell by just 2%, but the Commission believes that additional policies under development could deliver annual reductions of around 8%. 
Indeed, the Climate Action Progress Report indicates that Member States are currently working on over 300 measures targeting the agricultural centre. Almost a quarter of these are aimed at reducing the use of fertilisers and manure for the treatment of cropland, while 16% are expected to improve livestock management. Many are supported by funding under the EU's Common Agricultural Policy, while others are backed by Member States individually. 
A statement attributed to EU sources claims that: "First assessments of the CAP Strategic Plans shows that Member States have planned multiple measures to enhance the contribution of EU farming sector to the EU climate objectives." 
"New projections from Member States which will include planned measures in the CAP Strategic Plans will show us if EU agriculture will be on track to achieve the 2030 climate objectives. In addition, Member States are assessing the need to review their Strategic Plans considering the new LULUCF and Effort Sharing Regulations' targets.   However, it is clear that additional efforts are needed beyond 2027, including from agriculture." 
Furthermore, the carbon removal potential of agriculture is increasingly being recognised under 'carbon farming', which is a key part of the Sustainable Carbon cycles section of the European Green Deal. Currently, the bloc is developing a Carbon Removal Certification Framework to facilitate the adoption of carbon farming techniques.
What next for the EU?
Ultimately, the Commission warns that EU Member States must 'significantly increase the pace of change' if the bloc is to achieve its upcoming targets. Even then, the '55%' goal has been called into question. Climate Action Network, for example, says that the EU should cut at least 65% of its gross emissions, or 76% of its net total, by 2030 in order to fairly account for its historic contributions and relative wealth. 
Commissioner Hoekstra has also called on Member States to eliminate fossil fuel subsidies that do directly support a just transition or provide some relief from energy poverty. Although he said that the bloc is 'on track' to meet its targets, he went on to emphasise the urgency of making the changes suggested. 
SGV TAKE 
The Commission's reports provide valuable insight into the bloc's progress to date, highlighting the sectors that must be prioritised. Although its warnings are stark, there is some hope to be found in identifying the areas where the most progress is needed. Only by understanding the challenge at hand can appropriate solutions be developed and put in place. 
With this in mind, the reports ought to spur the EU into action on buildings and agriculture. Companies involved in these sectors should therefore be aware that additional policies may soon come into play. Those that wish to remain competitive ought to prepare for compliance while also considering how they can innovate, adapt and collaborate in support of their industry.