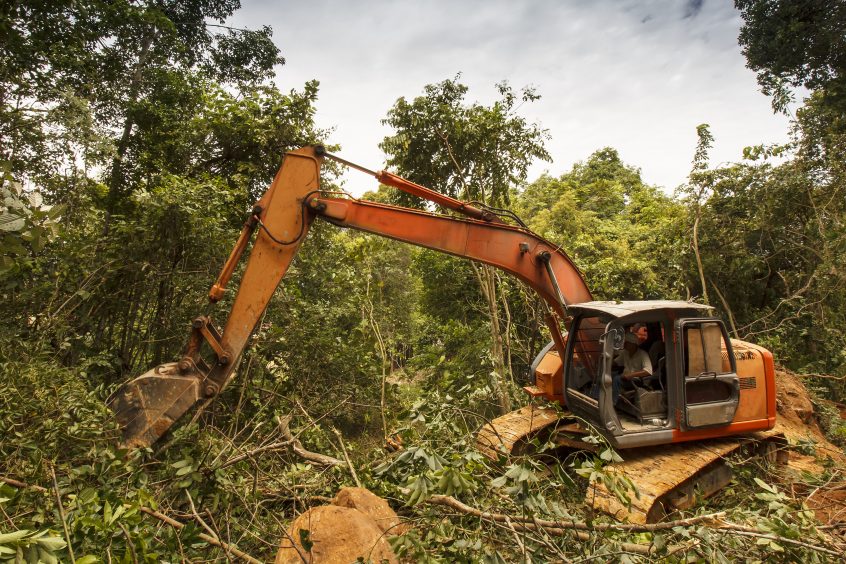 At least 20,400 hectares of tropical forest have been cleared to make way for products that made their way into the UK, despite commodities linked to deforestation were banned more than two years ago.
UK imports have continued to drive deforestation, despite legislation brought in over two years ago.

Tropical deforestation must be halted by 2030 at the absolute latest if we are to avert a global climate catastrophe.
Campaigners and corporations alike have urged the UK Government to enforce stricter rules.
In November 2021, the UK Environment Act was brought into action. Under the new legislation, any commodities linked to illegal deforestation in other countries were banned from entering into the country. 
Now two years on, an investigation by Global Witness and Trase has exposed a continuous flow of imported goods that would have been refused if the Act had been properly refined and enforced. Between its introduction and July 2023, the UK's imported commodities have been found responsible for around 20,400 hectares of tropical deforestation. 
"We passed the Environment Act with much fanfare, not least so we could present ourselves as a world leader at COP26," said Zac Goldsmith, who formerly served as the country's Minister for the Environment.  
"It was a genuinely landmark law to cut illegal deforestation caused by commodity production from our supply chains. But there has been virtually no progress since the law passed and not a single tropical tree has yet been saved." 
UK imports are driving deforestation
The investigation focused on seven commodities commonly associated with deforestation, including palm oil, soya and cattle products such as leather or beef. Upon analysing the UK's imports of these commodities, they were able to estimate how much forest had been illegally cleared to make way for production.  
In total, the researchers estimate that UK imports have been responsible for at least 20,400 hectares of tropical deforestation within the two years since the Environment Act was officially passed. To put this alarming figure in context, 20,400 hectares is equal to around 28,572 football fields or an area twice as big as the city of Paris. 
Palm oil imports were the worst culprit, representing 43% of the overall total. Soya was next with approximately 3,470 hectares, while around 2,950 hectares were cleared for the farming of cattle. The remaining 5,180 hectares were associated with imports of cocoa, pulp and paper, rubber and timber. 
Given that the investigation only included imports of commodities in their raw form, rather than when incorporated into processed items like chocolate, it seems safe to presume that the true extent of deforestation may be even worse than reported. 
Without tropical forests, all hope is lost
More than 90% of the identified deforestation took place in just six producing countries. Indonesia and Brazil were by far the worst hit, followed by Papua New Guinea, Malaysia, Colombia and the Ivory Coast. 
The tropical forests within these countries are among the most biodiverse habitats on the planet. Teaming with life, they are also known to sequester more carbon than other types. Water released through the pores in their leaves provides a cooling effect, making them a critical ally in the fight against climate. As well as their role in stabilising the climate, they often support the lifestyles and livelihoods of indigenous and local communities. 
When these forests are cleared to make room for intensive production, all of their benefits are immediately lost. Carbon is released into the atmosphere, biodiversity begins to decline, natural cycles are disrupted, and vulnerable people are forced to uproot their homes and adapt to a new way of life. 
The loss of nature also comes at an inordinate cost to the global economy. If deforestation continues, then the thriving ecosystems that support more than half of the world's GDP will begin to fall one by one. 
Indeed, the World Economic Forum has previously warned that tropical deforestation must cease by 2030 at the absolute latest if we are to have any hope of averting a global climate catastrophe. Ultimately, it is in everyone's interest to end this destruction.  
So, how has it persisted in the face of new legislation? 
Pointing the finger of blame
"For two years, the government has been dithering about which deforestation-causing commodities to include in these regulations," explains Veronica Oakeshott, head of Global Witness' Forest Campaign. "In this time, tropical forests have continued to be destroyed." 
Oakeshott is far from alone in blaming the Government. The Department of Environment and Rural Affairs (DEFRA), responsible for refining and enforcing the Environment Act, has yet to publish an official list of the commodities that ought to be covered. As such, there has never been enough clarity to ensure that the new laws are followed.  
Even if the details were clear, the ruling would only apply to commodities from land that had been illegally cleared. This means that goods could still flow freely into the country for as long as deforestation was permitted in their place of origin. 
While one might expect that Global Witness and fellow environmental organisations would be calling for more stringent regulation, it is worth noting that major corporations are in agreement. Just one month before the investigation's release, a group of 16 prominent companies sent a letter to the current Secretary of State for Environment, Food and Rural Affairs, urging DEFRA to align with the more ambitious measures of the EU. 
The group included a number of recognisable names including Mondelēz International (NASDAQ:MDLZ), McDonald's UK and Ireland (NYSE:MCD), Nando's, and all of the UK's largest chain supermarkets. By referencing the EU's Deforestation Regulations, they argued that the UK's legislation should apply to all major commodities and any level of deforestation or degradation, even if it was legal within the country of origin. 
"The government must listen to UK retailers and fully align with the EU's deforestation regulation," Oakeshott continues. "It is outrageous that Defra is failing to press the green light on simple regulations needed to stop the UK importation of forest destruction." 
"This delay is tainting the UK public's products – from the beef on our dinner plates to the palm oil in our shampoo." 
SGV TAKE
The investigation by Trase and Global Witness has essentially quantified a problem that seems all too inevitable considering the fact that the UK's legislation has never been fully developed. With concrete evidence of the sheer scale of continued deforestation, we can hope that the Government will be shamed into action. 
On a more positive note, it is reassuring to see major businesses joining the call for stricter protection of the world's forests. Evidently, they are starting to recognise the risks associated with nature's destruction, from the devastation of their supply chains to the disfavour of conscious consumers and cautious shareholders.