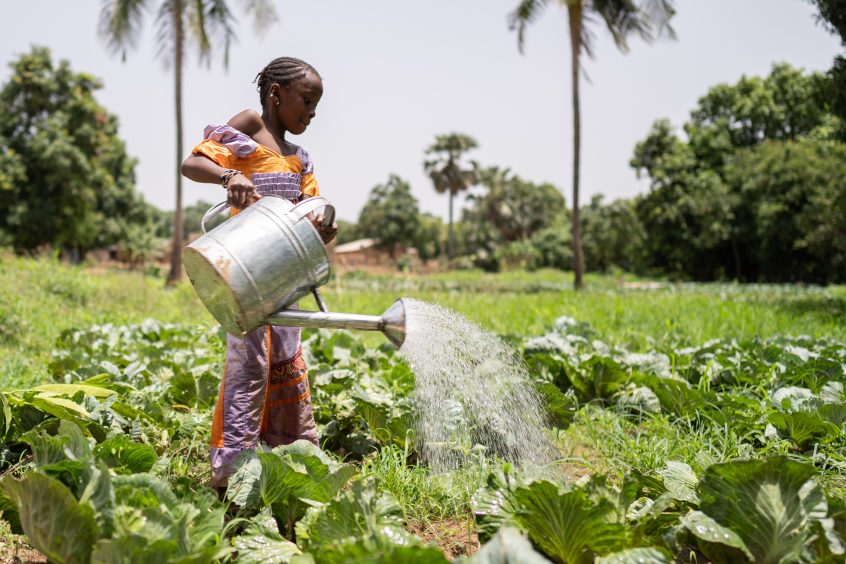 Vulnerable smallholder farmers are spending more to protect global food supplies from the impacts of climate change than world leaders combined, according to research by the International Institute for Environment and Development (IIED). 
Smallholder farmers are struggling to keep up with the costs of adapting to climate change, but those in power are doing little to help.

 

More than a third of all global food production takes place on smallholder farms.
Both private and public sector investors must grasp COP28 as the prime opportunity to double down on their financial commitments.
A new report by the IIED reveals that smallholder farmers are spending around $386 billion per year on measures to help them adapt to the impacts of climate change. When compared to the $2 billion invested by international governments, this figure seems grossly unfair. 
"Farmers working small plots of land around the globe are the unsung heroes of the battle to adapt to the climate and nature crises," said Xiaoting Hou-Jones, senior researcher at the IIED.  
"Climate change has already had profound impacts on their ways of life. They are also investing significant amounts of their time and money to adapt, often in ways that can help people and nature thrive together, dwarfing the contributions from rich governments." 
Food supplies are threatened by climate change
Smallholder farmers, those that operate on less than two hectares of land, are responsible for just over a third of global food production. As the population continues to rise, their contributions will be utterly critical in ensuring that all mouths are fed. 
In today's changing world, however, these contributions are far from being guaranteed. The impacts of climate change are all too apparent, wreaking havoc on smallholder farms all over the world. 
Rising temperatures are drying out soils, reducing the availability of freshwater supplies and contributing to the spread of pests and diseases. Biodiversity is declining rapidly, reducing the fertility of agricultural soils and limiting crop pollination. These worrying trends are further compounded by the increasing frequency of disastrous events such as flooding or wildfires. 
As well as posing a threat to global food security, these conditions are exacerbating the vulnerability of the 510 million smallholders that rely on their agricultural livelihood. In the countries worst hit by climate change, where resources and support are particularly scarce, the situation could not be more urgent. 
Climate adaptation comes at a significant cost
Having surveyed more than 1,800 smallholder farmers from 13 different countries across Asia, Africa and Latin America, the IIED has revealed that the average agricultural household spends almost $900 each year on adaptive measures to protect their operations from the impacts of climate change. 
This typically amounted to between 20% and 40% of their annual income being spent on the learning, testing and implementation of measures including scheduling amendments, pest control and the enhancement of biodiversity. Upon extrapolating the data, the researchers estimate that the world's smallholders are investing a combined total of at least $368 billion per year. 
On top of their financial costs, adaptive measures require a huge amount of time and resources. According to the IIED, 41% of its survey respondents currently dedicate more than two-fifths of their time to adaptation, rather than to their primary purpose. On average, each smallholder household spends 107 days of the year simply trying to protect themselves and their produce. 
Just over a third of the survey's participants said that they had received external support for adaptation. In most cases, assistance was provided by non-governmental organisations, cooperatives or associations. Still, the vast majority of smallholders farmers felt that they still needed help, both financial and educational. 
A call for support from those in positions of power
In light of the evidence that smallholder farmers are breaking their fragile backs to secure global food supplies, one has to wonder why those in power are not contributing more. 
At 2022's COP27 convention on climate change, attending parties committed almost $243 million in support of adaptation. Though this may sound like a lot, it pales in comparison to the $368 billion invested annually by some of the world's most vulnerable citizens. 
Furthermore, research suggests that just 0.3% of international climate finance from both public and private sources actually translates into tangible support for smallholder farmers. In 2021, this amounted to a measly $2 billion in total. 
Unfortunately, these findings are of little surprise. The United Nations' latest report on the matter has already made it clear that more money is needed for adaptation. The financial needs of emerging economies are over 50% higher than previously estimated, and wealthier nations are yet to invest as required, despite being responsible for more than their fair share of the problem. 
SGV TAKE
With 2023's COP28 convention set to take place just two weeks from the IIED's release, the message could not be clearer. Those with the power to support the world's smallholders must up their game, or else we will face the consequences. Vulnerable farmers cannot be left to carry the costs of protecting the supplies we depend on.