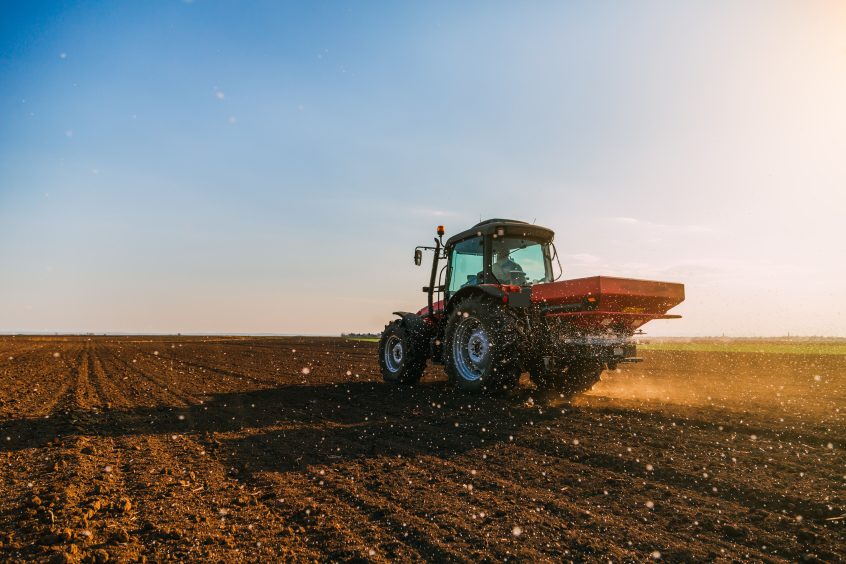 Planet Tracker has found that nitrogen fertiliser production outstrips global needs and exceeds planetary boundaries, costing billions in losses. 
We are using nitrogen at a pace that the Earth cannot sustain, incurring colossal costs from inefficiency, environmental and health harm. 
Nitrogen fertilisers generate up to 5% of global greenhouse gas (GHG) emissions, while global food production is expected to rise by 60-70% by 2050. 
The report calls on financial institutions to drive efficiency improvements that can meet up to nine Sustainable Development Goals and reduce food prices by 19%. 
Toxic overproduction and inefficient use of nitrogen fertiliser are forcing enormous costs on global businesses, consumers and the environment, according to the report Fixing Nitrogen: Financial markets need to focus on nitrogen by Planet Tracker, a non-profit financial think tank. 
Chris Baldock, head of data methodology at Planet Tracker and lead author of the study, said: "At present the industry pollutes at an alarming rate and contributes to billions of dollars of economic losses and social harms from fertiliser run-off and associated issues such as algal blooms. Investor complacency on this issue will surely come back to haunt them."
"We are calling on investors to be a proactive part of this process and push for change across the whole value chain, assessing their portfolio companies for nitrogen and fertiliser-related risks. A better, more equitable system for distributing and producing fertilisers could have significant economic benefits."
The bedrock of global food production
Synthetic nitrogen fertilisers are essential for today's high-yielding global food systems that are worth over $14 trillion globally, and contribute over 34% of annual GHG emissions. They are used to boost the productivity of crops such as corn, wheat and rice that were bred to absorb higher nitrogen, powering the success of the Green Revolution in the 1960s – when technological advances improved crop yields.
At the same time, air and water pollution stemming from its use risks destroyed ecosystem and soil health, high global warming potential and drives associated financial losses. Applying these fertilisers on soil can cause the release of nitrous oxide – a potent GHG with 265 times more global warming potential than CO2 over a century. It produces up to 5% of global GHG emissions and its production process also consumes 2% of the world's energy. 
Its use is also acutely inefficient: only 30-35% of fertilisers applied are actually taken up by the plants. The rest – a staggering 70% – is washed away with irrigation into water sources, poisoning marine life and feeding toxic algal blooms that cause oxygen-less 'dead zones'.  
If business as usual continues, agriculture could push the world past 1.5°C on its own. As the world needs to raise its food production by 60-70% to feed an estimated nine billion people by 2050, addressing the role of nitrogen in the sustainable transition is crucial. 
Overproduction costs businesses, consumers and the environment
The report found that, globally, we are applying over 162 million tonnes of nitrogen fertiliser a year – two to three times more than the required amount. This outstrips the safe planetary boundary for nitrogen by two times, exacerbating the damage made by the breach of several other boundaries. 
For example, the report estimates that China is applying five times as much nitrogen for its maize production as planetary boundary limits would suggest, while also exceeding its boundaries for rice, wheat, and soybean production. Meanwhile, efficiency is also decreasing: the ratio of nitrogen inputs to nitrogen contained in the plant has dropped to only around 42% globally and as low as 25% in China.  
The biological nitrogen fixation by plants that should take place in a year is set to be 62-82 million tonnes. If used efficiently, nitrogen fertiliser demand may only reach 61 million tonnes in 2050, or even drop to 35 million tonnes if we shift to diets with less meat. 
Nitrogen production capacity is, however, forecast to continue growing to 6% to 202 million tonnes by 2027 – a dangerous level for ecosystems and agrifood production. 
The pollution caused is also driving financial loss. The report cites that algal bloom events between 2013 to 2018 caused losses of up to $358 million in losses for a small group of aquaculture companies, and associated damages cost over 1.1 billion since 2010 for US citizens. This means that one company's excess fertiliser use may cause damage to many others in tourism and aquaculture. 
Investing in nitrogen efficiency lowers food prices and emissions
According to the report, nitrogen use needs to be cut as food production increases. This shift, however, needs to take place carefully, as reducing it without improving efficiency risks a 13% drop in both crop and livestock production by 2050 compared to 2010 levels. 
To make nitrogen use more efficient, the report recommends improved manure recycling, improved sewage treatment and recycling, consuming fewer animal products, and reducing harvest loss and food waste. 
It estimates that these approaches can collectively reduce food prices by 19% and decrease fertiliser demand by 65% by 2050 compared to 2010. They can also contribute between 50% and 809% of the non-CO2 emission reductions from agriculture required by 2050 as part of the Paris Agreement. 
The report calls on financial institutions and investors to incentivise transformation in the sector. It recommends investment in new technologies such as precision farming and nature-based solutions, and that financial institutions ask companies to report on nitrogen costs incurred through wasted fertiliser. 
Compared to carbon, nitrogen has been largely ignored in international treaties for climate and environment. This trend is widespread in the corporate world, too – a McKinsey report suggests that 79% of Fortune Global 5000 companies have acknowledged soil nutrient pollution as an issue, but did not set targets for reducing their impact. 
Nevertheless, government regulations in the arena are on the rise. For example, India, Germany, Sweden and the US have commissioned the creation of national nitrogen budgets. Ignoring nitrogen efficiency also poses litigation risks for businesses and governments: the EU Commission has sued Belgium over not doing enough against nitrate pollution.
Nitrogen efficiency will help achieve the Global Biodiversity Framework's aim of reducing nutrient losses to the environment by 50% by 2030. According to Planet Tracker, it is crucial to meet nine of the Sustainable Development Goals and could also free up land for afforestation.
SGV TAKE 
Considering that we are on course to breach the nitrogen planetary boundary three-fold, this is an urgent area of action for all stakeholders. Farmers are left buying inefficient fertilisers that damage their land, and companies waste resources producing unnecessary fertiliser. Government regulations must focus on the sector to make its use more efficient and urgently reduce production.