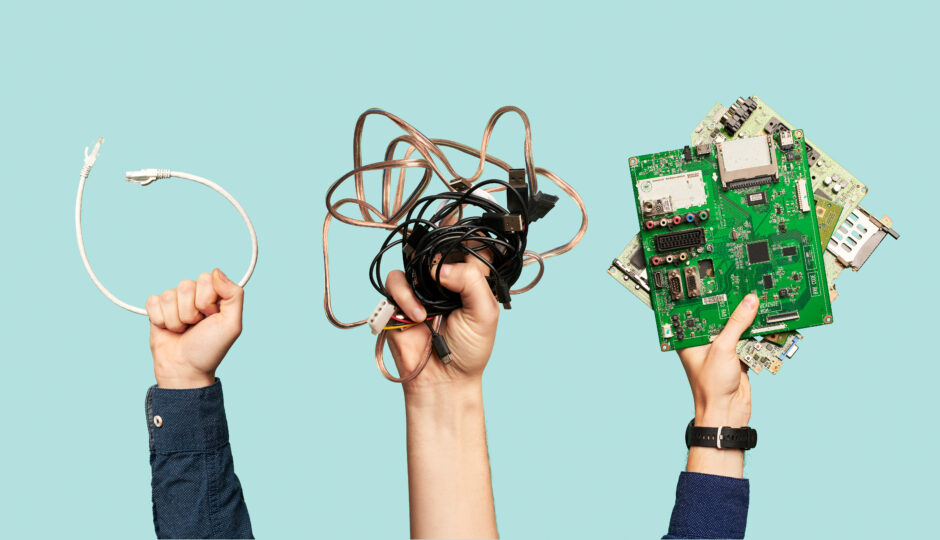 Telecoms group Virgin Media O2 and environmental charity Hubbub have launched a £500,000 fund for UK projects tackling e-waste. Applications close on 14 December 2022.
Virgin Media O2 and Hubbub will award grants of between £10,000 and £75,000 for UK projects.
Electronic devices contain valuable metals or recyclable parts but only a small fraction is disposed of properly, causing environmental and social consequences.
Tackling e-waste can present new business opportunities in a relatively untapped market.
Focus on reuse, repair and recycle
Virgin Media O2 and Hubbub have launched a £500,000 fund to award grants of between £10,000 and £75,000. The recipients, which need to be based in the UK, will be projects reducing e-waste, encouraging the recycling of electronic devices or supporting their reuse.
The Time After Time fund will cover projects for small waste electrical and electronic equipment (WEEE), such as smartphones, laptops and toys. Virgin Media O2 and Hubbub invite applications from charities, academic bodies, community interest companies, social enterprises, registered companies, local authorities and Business Improvement Districts. 
The pair said the projects need to "demonstrate measurable impact and a clear legacy and will need to launch by April 2023". Applications are open and will close on 14 December 2022.
Gavin Ellis, co-founder of Hubbub, said: "E-waste is a pressing environmental issue so this funding is very welcome and will help us support a range of initiatives that could have a significant impact. Whether that's a research project that supports a reduction in e-waste, a campaign that raises awareness amongst key audiences, or a project that directly tackles the causes of e-waste."
He added: "We're particularly welcoming applications that engage people aged 16-24 who are not only heavy users of electrical items but are key to helping tackle this issue in the future."
The fund is part of Virgin Media O2's sustainability strategy, which involves supporting people to carry out "10 million circular actions" to tackle e-waste by the end of 2025. The company has two other initiatives with Hubbub: Community Calling, intended to boost smartphone reuse, and the Tech Lending Community Fund, which has provided grants to five companies that will provide 1,000 refurbished tablets to people living in temporary accommodation and who are digitally excluded. 
The consequences of e-waste
According to the WEEE Forum, an international association representing 46 organisations, there are around 16 billion mobile phones in the world, 5.3 billion of which will become waste – either by being hoarded at home or by being thrown in the bin, which will lead them to landfill or incineration. Norway is the country that generates the most e-waste per person, followed by the UK, where the Time After Time fund will operate.
The way the industry works has enormous environmental and social consequences. E-waste contains metals, such as lead and mercury, and hazardous chemicals, such as brominated flame retardants. 
Several studies have found that people leaving in areas exposed to e-waste had significantly elevated levels of heavy metals and persistent organic pollutants. Children and pregnant women suffered negative impacts on neonatal growth indices and hormone level alterations.
This is disproportionately affecting low-income countries. Ambiguous and unharmonised rules around the world have allowed the formation of unregulated international trade of e-waste, which in turn is causing the proliferation of illegal and improper recycling. Southeast Asian, Central and South American as well as North and West African countries are the world's major importers.
The lack of adequate infrastructure to process the devices causes pollution of air, soil and water, meaning the hazardous materials can eventually be ingested by animals and people. Illegal recycling is often associated with labour rights issues, such as child labour and the unprotected exposure of workers to dangerous materials. 
Electronic devices contain valuable metals such as gold, copper, silver and palladium, whose mining can have significant environmental and social impacts in itself. Recycling those metals can therefore reduce the impact of the mining industry.
The business opportunity
Only 17.4% of electronic devices was collected and recycled in 2019, according to the UN. Research by Giraffe Innovation for Material Focus calculated that the UK is missing out on at least £13.6 million of critical raw materials due to the lack of advanced recovery technologies. It is also estimated that a tonne of mobile phones has 100 times more gold than a tonne of gold ore.
This suggests that there are significant business opportunities in a relatively untapped market, which is expected to be worth nearly $100 billion in 2030. Some companies are incorporating e-waste into their activities. In 2021, the Royal Mint, the official maker of British coins, partnered with Canadian cleantech startup Excir to recover metals from electronic devices. 
There is also an increasing number of retailers offering refurbished devices, such as smartphones and laptops, such as specialised platforms Reconome and Backmarket or traditional ones such as Argos. These products are usually cheaper than those brand new, which helps people who are digitally excluded due to financial issues.
Some manufacturers, meanwhile, are making electronic devices more sustainable, such as Fairphone and Framework. This can be achieved by sourcing sustainable materials, ensuring workers are paid fairly and making products easier to repair.