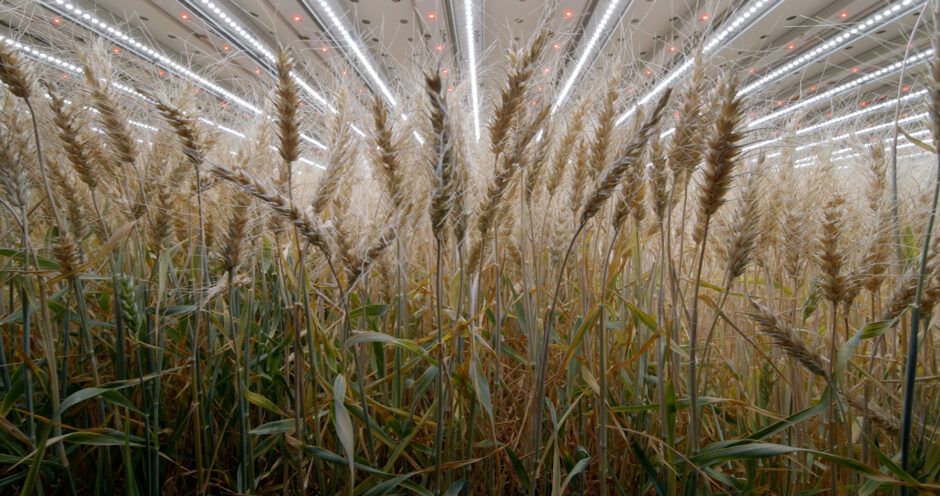 Global vertical farming company Infarm has completed an indoor wheat farming pilot project to produce wheat under a controlled environment that saves on land, soil, water and chemical inputs. 
Infarm has made its first foray into the indoor production of staple crops, with its results suggesting that high yields of wheat could be cultivated while consuming minimal resources.

 

Climate change cannot be addressed without transforming the agricultural sector, but food supplies must be expanded if we are to avoid a global hunger crisis.

 

Infarm's breakthrough could help drive investment into controlled environment agriculture by demonstrating its potential for scalable, sustainable food production.

 
Infarm, a co-host of the Food Systems Pavilion at COP27, has conducted its first trials of staple crop production from an indoor farm. According to the company, its piloted system could produce an annual 117 tonnes of wheat per hectare, 26 times the yield of conventional farms. 
Chief executive and co-founder Erez Galonska said: "Being able to grow wheat indoors is a milestone for Infarm and of significant importance for global food security, as wheat is a calorie-dense but resource-intense crop that is a core component of diets worldwide. We started Infarm to find new ways of producing food to feed the world's growing population and the results show that we are a big step closer to achieving this goal." 
Infarm's vertical technology reduces resource consumption
Infarm has developed modular vertical farming systems that can grow more than 500,000 plants on just 40 square metres of floor space. They do not require any soil or chemical pesticides, and consume up to 95% less water than traditional farming methods. As they can be deployed in close proximity to the product's end consumer, they also reduce the emissions associated with food transportation. 
The company's technology maximises its data capabilities by using sensors to gather insights on each of its plants several times per minute, recording key growth factors such as temperature, humidity and pH. This information is then used to automate the consistent optimisation of growth conditions and improve the efficiency of resource consumption. 
To date, Infarm claims to have saved over 130 million litres of water and more than 180,000 square metres of land since it was founded in 2013. Its current product range offers over 75 different plants, including herbs, leafy greens, salad leaves and mushrooms, which are available in around 1,850 stores worldwide. The latest trial project marks its first foray into staple crops. 
Climate change cannot be addressed without transforming conventional farming models
Conventional farming systems are contributing to climate change, with the agricultural industry accounting for around 24% of global greenhouse gas emissions and up to 90% of the freshwater consumed by human activities. It also has severe impacts on biodiversity, both through the conversion of land and the damage it causes to surrounding soils. 
As such, the transformation of farming models will be crucial in delivering a more sustainable future. As stated by the UN Environment Programme (UNEP), the World Health Organization and the UN Food and Agriculture Organization (FAO), "business-as-usual is not an option". 
The world is facing an impending hunger crisis
This transformation will not be easy, as food and agricultural systems must also continue to provide enough food to accommodate the growing population. Overall food demand is set to increase by over 50% before 2030, with the FAO warning that this will leave 670 million people without sufficient access to nutritious food. 
Farmers are therefore faced with contradicting responsibilities: how can they prevent a global hunger crisis while simultaneously reducing its impact on the environment? 
These competing responsibilities are further compounded by the reverse impact that climate change is having on farming. The industry is uniquely vulnerable to the increasing impacts of extreme weather, while the resources available for traditional food production are rapidly declining. 
Unprecedented heatwaves across Europe, for example, caused summer crop yields to decline by 8-9% at a time in which food prices were already rising due to the blocking of grain exports from Ukraine. This was not a unique event, with severe weather conditions also contributing to downturns in grain production in the US and Pakistan. 
The FAO has recently lowered its forecast for 2022's global production of coarse grains by 1.3 million tonnes, a decrease of 2.8% on 2021's production and the first decline in the past four years. Coarse grains are a vital source of vegetable protein and caloric energy around the world, but climate change is causing both yields and prices to be increasingly volatile.  
Indoor wheat farming and controlled environment agriculture offers a solution
Of all the various grains, wheat is considered one of the most important crops. It supplies around 20% of the calories and protein consumed globally, and is currently cultivated on millions of hectares of land. Given the environmental impacts and vulnerability of conventional farming, alternative modes of wheat production provide great hope for the agricultural transition. 
Controlled environment agriculture (CEA) such as vertical farming systems enables production conditions such as lighting, temperature, moisture, nutrition, pests and disease to be carefully controlled. Crops produced in this way are therefore resilient to the impacts of climate change and can be produced at any time of year while requiring just a fraction of the resources consumed by conventional agriculture. 
Although it is theoretically possible to grow any plant under CEA conditions, vertical farming has typically been limited to crops that have a small growing habit, are prolific producers or can be grown and sold in rapid cycles. This is largely due to the economic constraints of such farms, with their high energy consumption and upfront capital requirements limiting their profitability.  
Enthusiasm for CEA technologies remains high, however, with the sector having received record-breaking investment in 2022. With sufficient financial support and technological advances, the costs of vertical farming could eventually be brought down. Breakthroughs such as Infarm's ability to produce valuable commodity crops could drive further investment in CEA technologies by demonstrating the potential for sustainable, scalable food production.