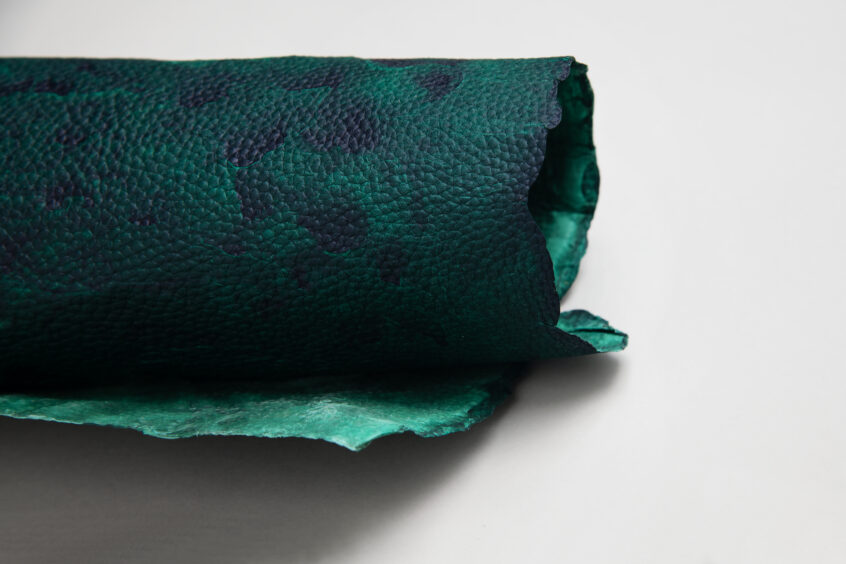 ECCO Leather and Ecovative have partnered to develop and commercialise new mycelium materials for footwear, fashion and apparel.
ECCO Leather and Ecovative intend to design new consumer products using mycelium materials.
Mycelium is extracted from mushrooms and is extremely versatile, strong and light.
It can be used as a replacement for real leather and its vegan alternatives, which are mostly made from plastic.
Traditional meets innovative

The pair said this is a first-of-its-kind partnership, as it combines a traditional leather tannery and a mycelium technology company. They intend to leverage Ecovative's knowledge in developing materials with mycelium and ECCO Leather's expertise in using leather for consumer products.
Ecovative and ECCO Leather first partnered in May 2022 to test mycelium materials against the standards for commercial leather products and tanning processes. They are now expanding their collaboration to bring new products to the market.
ECCO Leather, part of the Danish footwear brand ECCO, has developed tannery processes that require less time, chemicals, and water than traditional textile finishing methods.
Gavin McIntyre, chief commercial officer of Ecovative, said: "The best and fastest way to advance new materials with biology is through partnerships just like this one with ECCO Leather."
He added: "By combining our expertise and capacity to grow mycelium at scale, and ECCO Leather's extensive understanding of what's needed for the best leather products in the world, we will help bring the industry closer to true sustainability and circularity."
What is mycelium?
Mycelium is the fibrous 'root structure' of mushrooms. Fungi are a separate kingdom of life from plants, but mycelium can be described as looking like roots. 
Its cells, called hyphae, group into networks that are fine, strong and able to resist water, decay, as well as internal and external pressures. The mycelial cell walls are covered in chitin, which is present in insect shells and gives the structure high tensile strength. 
Mycelium is extremely versatile, strong and light, and can also give fire-resistant properties to the products in which it is contained. It is biodegradable and recyclable and, as such, it has been used to improve the sustainability credentials of a wide range of products.
It is being used for compostable packaging, foam for single-use healthcare products such as make-up sponges, and meat alternatives – all areas in which Ecovative operates. It can also act as a binding agent in building materials, thereby reducing the environmental impact of the construction industry. There are doubts, however, over its ability to withstand weight so mycelium composites are currently advised for non- or semi-structural supplements.
The faux leather conundrum
Similarly to ECCO Leather and Ecovative, many players in the fashion industry are looking at mycelium formulations to replace animal leather. Ecovative already works with brands such as Reformation, Wolverine and PVH.
One of the early adopters was MycoWorks, which presented its formulation Reishi at the New York Fashion Week in 2020 and is working with Hermès (EPA:RMS). Gucci, Adidas (ETR:ADS) and Stella McCartney are using Bolt Threads' textile Mylo.
Mycelium is seen as a solution to create vegan leather that has little environmental impact. Most faux-leather products are designed with synthetic products that are petroleum-based – sparing animals' lives but relying on fossil fuels. 
These are also difficult to recycle and, when produced cheaply, they display wear and tear quite quickly, with high chances of ending up in landfill – taking decades to biodegrade and increasing the spread of microplastics. Some argue that real leather may indeed be better than its plastic-made alternative, because it is much more durable when taken care of properly.
Why is real leather unsustainable? 
Real leather is made by treating animal skins, mostly from cows, with harsh chemicals. As such, it does have a significant environmental impact, but this depends on how different companies address the processes.
The main ethical problem with leather is that it involves killing animals. Research commissioned by the Leather and Hide Council of America argues that it is only the by-product of the meat industry, therefore cutting the waste associated with parts of the animal that are not being used. Lower demand for leather, therefore, may not affect how many animals are slaughtered for beef.
It is worth noting, however, that the livestock sector accounts for 14.5% of total anthropogenic greenhouse gas emissions according to 2013 estimates, most of which comes from cattle rearing. Moreover, the world needs systemic change across the agriculture sector to lower global warming – if fewer animals will be slaughtered for meat, as it is advised to reach the Paris Agreement goal, a need for alternative sources of leather will arise.
Looking at the production side, leather tanning requires huge amounts of energy and water, and produces sludge waste. To avoid the biodegradation of the leather, the animal skins are treated with harsh chemicals such as mineral salts, formaldehyde, coal-tar derivatives, and some chromium- or cyanide-based oils, dyes, and finishes. These often end up polluting the areas surrounding the tanneries through their wastewater.
People who work and live near tanneries have been found at risk from exposure to these chemicals – various studies have found that they were at higher risk of cancer compared to the rest of the population.
The mycelium opportunity
It is clear that real leather or its plastic-based alternatives do not have a place in a sustainable fashion industry. Of course, vintage or second-hand items should keep being reused, but new products must contain more eco-friendly materials.
The fashion industry is scrutinised by an increasing amount of consumers for its sustainability credentials. Meanwhile, the global leather goods market is expected to grow 4% annually to reach $55.3 billion in 2024, although it seems likely that there will be rising demand for faux leather.
In the words of Bart Hofman-Kronborg, group manufacturing director of ECCO Leather: "Mycelium represents a brand new canvas on which we can create with both traditional and novel material processes. It removes the complexities of the raw hide supply chain, while its fast and efficient growth allows us to bring a new material category to market, one that gives consumers an environmentally conscious choice over petrochemical-derived materials.
He added: "Historically, tanneries have exclusively been associated with animal hides; with mycelium, this millennia-old industry can evolve, diversify and expand into a wider material market."