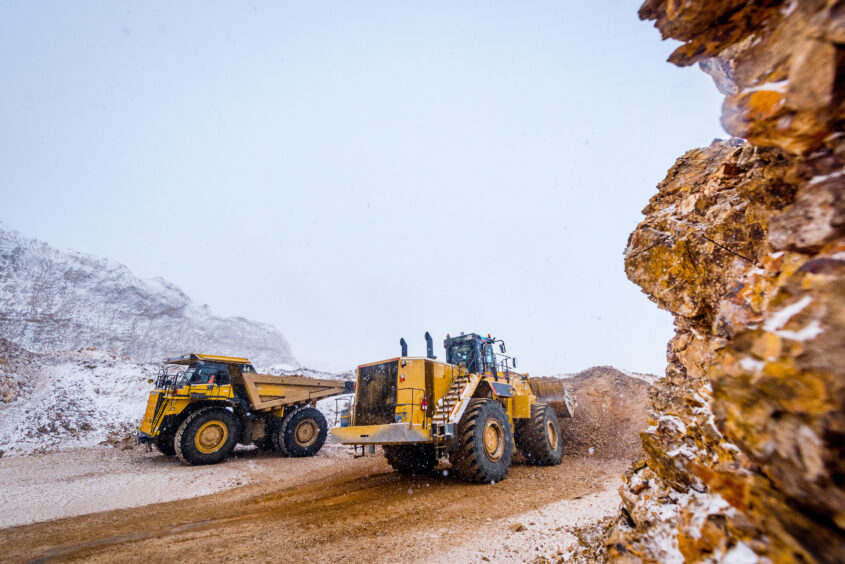 Mining services provider Perenti (ASX: PRN) and technology company ABB (NYSE:ABB) have signed an agreement to collaborate on decarbonisation solutions for their mining clients.
Perenti and ABB will work on approaches to support net zero emissions targets for underground and open-pit mines.
The mining industry sources minerals essential for the energy transition, but has traditionally had major negative impacts on the environment.
The partnership highlights how the mining supply chain is addressing sustainability issues, potentially providing decarbonisation solutions to miners of all sizes.
Perenti and ABB's capabilities complement each other
Under the agreement, experts from the two companies will collaborate on electrifying mine hauling operations, power distribution, energy efficiency and power management. Australian group Perenti's expertise lies in mining and technical capability, complementing ABB's technology focus. 
They plan to explore business models and solutions to provide services for pilot, brownfield and greenfield mining projects to electrify customer operations. ABB has already signed similar agreements with original equipment manufacturers, technology innovators and mining companies. The Swedish-Swiss group has developed a range of electrification technologies such as microgrids for off-grid mines, trolley assist to reduce diesel consumption in trucks, and the pilot of a fast-charging system for electric vehicles.
Joachim Braun, division president at Process Industries, ABB, said: "Mining customers are committed to facing environmental, societal and economic challenges head on as they aim to decarbonize mining operations."
He added: "With ABB's sector leading position in electric-mine technology development, and Perenti's excellence and experience in mine development and mine operations, the scope of this collaboration is a perfect opportunity to make real progress in providing electric solutions that will decarbonize the industry."
Crucial for the transition but harmful to the planet
The mining industry plays an essential role in the energy transition as it sources critical minerals, such as lithium and copper, which are used to build clean energy technology. Demand for these metals has been on the rise and is expected to boom over the next few decades, as renewable energy infrastructure and electric vehicles become more widely adopted.
According to the International Energy Agency, demand for lithium is expected to grow by over 40 times by 2040, with demand for graphite, cobalt and nickel rising between 20 and 25 times. Forecasts are dependent on technology and policy uncertainties: for example, cobalt demand could be anything from 6 to 30 times higher than current levels, based on assumptions about the evolution of battery chemistry and climate policies.
Mining, however, has traditionally caused significant environmental impacts, affecting the quality of water, air and soil and leading to biodiversity loss. The industry accounts for 2-3% of global CO2 emissions. Of these, 40-50% come from diesel used in mobile equipment, with another 30-35% from non-renewable electricity, according to research by McKinsey. 
In terms of greenhouse gas emissions, mining contributes to 4-7% of the total worldwide, also due to fuel use and on-site electricity generation. As such, addressing miners' Scope 1 and 2 emissions would significantly reduce the environmental impact of the sector. Some efforts are underway as the International Council on Mining and Metals committed in 2021 to reach net zero Scope 1 and 2 emissions by mid-century.
Engaging the supply chain
The partnership between Perenti and ABB suggests that there is interest to tackle decarbonisation across the mining supply chain. Most low-carbon initiatives so far have been initiated by the miners themselves which, even though they represent a necessary step in the transition, does not mean their outcomes will necessarily be shared with their competitors.
Other initiatives are focusing on specific mines rather than being extended to company-wide operations. For example, Rio Tinto (LON:RIO) and the Government of Canada are cooperating to reduce the carbon footprint of the miner's Fer et Titane operations in Québec. Being one of the largest global producers of high-grade titanium dioxide feedstock, the mine is certainly not a small operation, but the decarbonisation efforts must be carried out across the whole industry.
Decarbonisation technologies will play a fundamental part in the sector's transition and should be rolled out across miners of all sizes. Agreements such as the one between Perenti and ABB, which are not miners per se, show the potential to make such technologies available to a wider pool of companies.