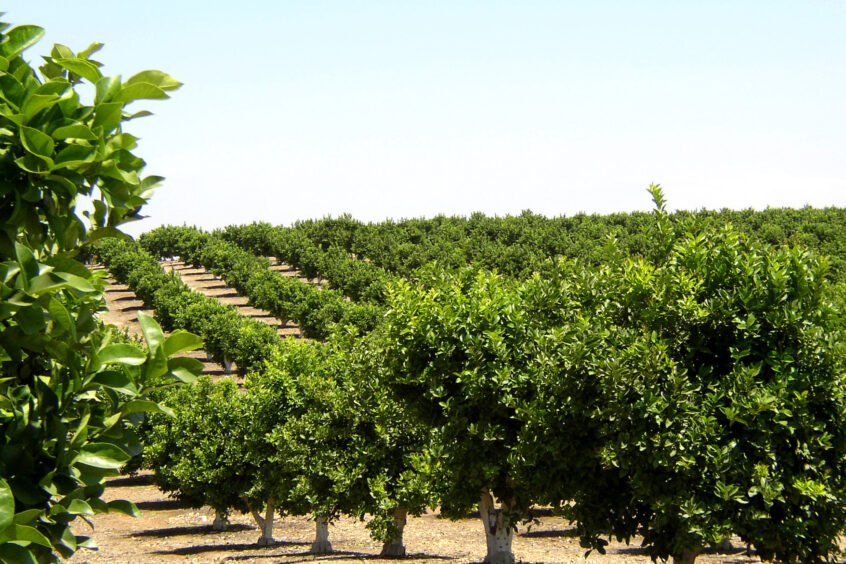 Citrus producer Limoneira (NASDAQ:LMNR) has tapped Norwegian agritech company Desert Control (FRA:8KT) to strengthen the resilience of desert farmland in California and Arizona. 
Desert Control will use its Liquid Natural Clay technology to improve Limoneira's citrus yields, optimising the consumption of water, fertiliser and natural resources.

 

The company intends to tackle desertification, a pressing global issue that is deeply interconnected with climate change, biodiversity loss and food and water shortages.

 

Liquid Natural Clay's rapid commercialisation within the US suggests that sustainable agricultural solutions are beginning to gain traction.

 
Desert Control has signed its first commercial agreement in the US market for the deployment of its Liquid Natural Clay solution. The project is expected to optimise Limoneira's citrus plantations with improved resource efficiency and increased productivity. 
According to Limoneira's vice president of farming operations, Edgar Gutierrez: "Sustainability goes hand-in-hand with innovation. Limoneira discovers and practices environmental management methods that protect the health of the land and surrounding communities. The only way forward in our changing climate is to work with our natural systems to produce the finest, freshest citrus." 
"The contract with Limoneira further strengthens the foundation for an accelerated scale-up of our U.S. operations. We are proud to partner with Limoneira to create a leading example for climate-smart agribusiness that combines sustainability stewardship and profitability for the prosperity of business, nature, and our environment", added Ole Kristian Siversten, president and chief executive of Desert Control.
The global impact of desertification
Desertification, the process through which fertile land is turned into barren desert, is becoming a pressing global issue. Climate change is contributing to an increase in desertification, as warmer temperatures cause soil water content to fall below its natural levels, but the relationship between the two is not a one-way street. 
As land becomes desert, various feedback loops are triggered. For example, desertification causes fluctuations in rainwater cycles and land surface temperature, while also reducing the carbon sequestration capacity and biodiversity of surrounding ecosystems. 
Given that water is one of agriculture's most crucial inputs, this drying effect is driving humanity towards a global hunger crisis. Indeed, farming currently accounts for around 90% of the freshwater we consume, with irrigated agriculture representing approximately 40% of total worldwide food production. 
Trends such as population growth and urbanisation are increasing the demand for freshwater, but changing weather patterns are severely reducing the availability and reliability of its supply. Intensive agriculture and irrigation only worsen the problem of desertification, as it requires even more water to be extracted from the land.  
As such, desertification has become a cyclical problem that must be solved to address the interconnected challenges of climate change, food security, water scarcity and biodiversity loss. 
Currently, however, we are far from the track we need to be on. Around 500 million people are living in areas that have been affected by desertification since the 1980s, leaving them vulnerable to food and water shortages while lowering their resilience to climate change. 
These communities are also experiencing economic losses, with a 2019 report from the United Nations Convention to Combat Desertification estimating that land degradation has reduced the productivity of almost 25% of the global land surface and affected the well-being of around 3.2 billion people. The report goes on to indicate that the ecosystem services lost through desertification are worth about 10% of the annual worldwide GDP. 
Combatting desertification with Liquid Natural Clay
To combat the issue of desertification, Desert Control has developed its patented Liquid Natural Clay (LNC) technology. It mixes water with clay to form a natural, chemical-free solution that can be distributed over land using traditional watering and irrigation techniques. 
Each application is mixed on-site, tailored specifically for local soils, and applied on top of dry land. It saturates the soil to a depth of 40-60 centimetres, creating a sponge-like layer that retains both moisture and vital nutrients. The treated land then requires less water for irrigation, and can support higher crop yields thanks to its enhanced nutrition. 
Independent research suggests that the LNC treatment can reduce water consumption by up to 50% while increasing agricultural yields by between 17 and 62%. The treatment, which lasts for up to five years, can also be used in landscaping applications such as the restoration of green spaces in urban areas. 
Under the agreement with Limoneira, Desert Control will initially apply its LNC technology to two citrus ranches in Arizona and California. The project will be monitored through 2023, with Limoneira having issued a letter of intent to expand its contract if key success indicators are met. According to Limoneira, its overarching objectives include creating healthy soil systems while improving its water stewardship and enhancing local biodiversity. 
Emerging solutions to address contradicting challenges
As food producers grapple with the conflicting challenges of reducing their environmental impact while simultaneously building their resilience to climate change and producing enough food for a growing population, a range of solutions has begun to emerge. 
Desert Control notes that it was able to break the US market far faster than it had previously established commercial operations in the United Arab Emirates, suggesting that the true value of such solutions is beginning to be recognised. As such, the company's latest announcement provides some hope that the urgent transformation of global agriculture is beginning to gain traction.