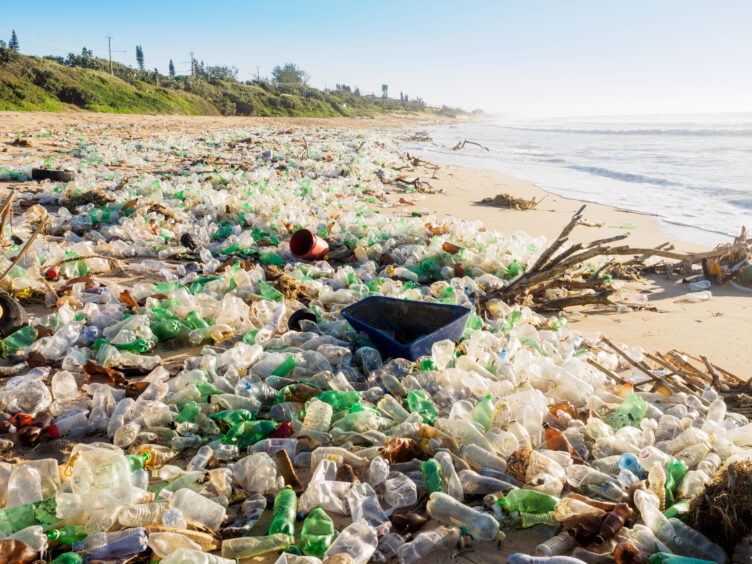 Waste-to-energy startup ScarabTech plans to deploy its modular units for turning plastic waste into power and fuel, having secured investment from the Global Innovation Initiative Group (GIIG) Africa fund. 
ScarabTech's units use a low-carbon process known as pyrolysis to convert plastic waste into fuel that can be used in existing engines or power generators.

 

Advanced recycling technologies will prove vital in addressing the plastic waste crisis, but they are yet to achieve commercial viability.

 

The startup's small-scale solution could lower the costs of chemical recycling while providing fuel and electricity to those most in need, thereby supporting the delivery of the UN Sustainable Development Goals.

 
ScarabTech, which was established in 2018 and has previously been funded by angel investors, has announced its first equity investment from the GIIG Africa Fund. The company had recently been named an African regional winner of 2022's Global Startup Awards, which serves as an exclusive vehicle for the GIIG Africa Fund to identify promising startups that are aligned with the delivery of the UN Sustainable Development Goals (SDGs). 
The funds will be used to finalise ScarabTech's product development and begin commercial production by December 2023. In the year leading up to commercial launch, the investment will also enable the company to develop a series of pilot projects across Africa, Asia and the Australian subcontinent. 
"These projects, and other in the field, are validating our business model and technology in its intended operating environment, a crucial step before we scale the business to start making an impact in the fight against plastic waste. This GIIG funding has made all of this possible", said Jeffrey Barbee, co-founder and chief executive of ScarabTech. 
Modular pyrolysis units transform plastic into fuel
The startup's technology relies on a process known as pyrolysis, through which plastic is heated in the absence of oxygen to yield a vapour that can be refined into chemicals, fuels and hydrocarbons including hydrogen, diesel, kerosene or propene.  
ScarabTech has housed this process within small-scale, modular units called 'Beetles'. According to the company, its machines can produce around 90 litres of fuel per 100 kg of plastic consumed, with each unit having the capacity to recycle up to 800 kg of waste each day. 
Given their small size, ScarabTech's Beetles can be easily transported to any location. They are delivered in standardised shipping containers, and can be ready to operate within hours. Each unit is also capable of powering itself, so they can be set up in off-grid locations where electricity is difficult to access and fuel is expensive. Here, they can provide great value in powering generators or microgrids, reportedly at a far more affordable price than conventional diesel. 
Furthermore, the pyrolysis process itself is emissions-free, with ScarabTech claiming that the fuels its Beetles produce are up to 72% less carbon intensive than regular alternatives. Although the combustion of these fuels still results in emissions, the company has formed a range of offsetting partnerships in a bid to achieve carbon neutrality. 
With its specialised software algorithms, the company is able to provide its clients with remote monitoring by trained staff that can provide guidance on improving efficiency. As the company conducts further research, it will offer free upgrades to each Beetle's systems without needing to return to the site. 
Addressing the plastics crisis
Plastic waste has fast-emerged as one of the world's most pressing challenges. Around 479 million tonnes of plastic were made in 2019 alone, with estimates suggesting that the continuation of business as usual would see a cumulative 1.2 billion tonnes being produced by 2060. 
Currently, only 9% of this plastic is recycled while the rest is mismanaged, landfilled or incinerated. This lack of recycling has allowed plastic pollution to destroy natural ecosystems while endangering the health of humans and animals alike. 
Plastic recycling is typically limited to mechanical methods, which are only able to handle certain types of plastic and generally produce low-quality recycled materials that have few viable applications. Advanced chemical recycling techniques such as pyrolysis, on the other hand, can be used with a far wider range of plastic feedstocks and can produce a number of high-quality, high-value resources. 
As yet, however, plastic pyrolysis has not reached commercial viability. Each plant is expensive and time-consuming to develop, while the market demand for their output remains low. In 2021, fewer than 150 chemical recycling plants were in operation worldwide, with a total capacity of below 2.5 million tons. Of these facilities, less than 30% were operating at a commercial scale. 
A small-scale solution to drive sustainable development?
With around 759 million people around the world still lacking access to reliable electricity supplies, the majority of off-grid locations have come to depend on diesel generators that combust large volumes of fossil fuels and emit CO2 throughout their lifespan. Indeed, diesel generators currently represent over 50% of the distributed power market by revenue, with Nigeria alone spending an annual $22 billion on generators and the fuel they consume.  
As countries across the globe battle to reduce their dependence on domestic or imported fossil fuels, ScarabTech's Beetle machines could provide a valuable solution. By housing its process within small-scale, modular units, the startup could enable plastics pyrolysis to become commercially viable at the local level while providing low-carbon power to the vulnerable communities that are most in need. 
In doing so, the company's efforts are aligned with the delivery of several of the UN SDGs. Most specifically, ScarabTech is targeting goal 7's ambition of delivering universal access to affordable and clean energy. It also feeds into goal 11's vision of sustainable communities and goal 10's intention to reduce global inequalities.  
The opportunities that could be gained by increasing access to electricity could also support the delivery of decent work, economic growth and quality education, which could in turn lead to reduced poverty and hunger. By incorporating plastics recycling, the goals for climate action, life below water, life on land, clean water and good health and wellbeing could also be factored in.