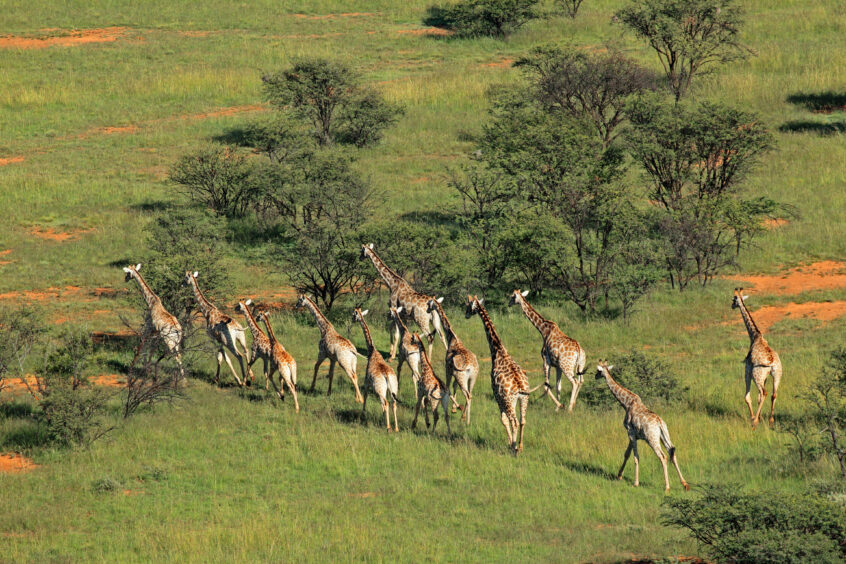 Iridium's satellite communications network will be used to support the Smithsonian's Movement of Life Initiative, reflecting the increasing use of satellite technology in the fight against climate change and biodiversity loss. 
The Smithsonian Institution will use Iridium Communications' satellite technology as part of its Movement of Life initiative to enable wildlife conservation.

 

By enhancing its tracking of wild animals, the Smithsonian Institution hopes to gain a better understanding of threats to the survival of terrestrial, avian, and marine life.

 

Satellite technology could help to overcome current obstacles in wildlife conservation by providing insights into animal behaviour in remote and inaccessible landscapes.
Iridium Communications (NAS:IRDM) claims that its satellite network provides connectivity and coverage that is unmatched by other providers. The firm says that, by placing its constellation of satellites in low earth orbit (LEO), 780 kilometres above the Earth, it has gained access to stronger signals than those provided by the typical satellite networks deployed at higher, geostationary orbits. 
Operating in a LEO environment also means that the satellites can have smaller antennas, therefore requiring less power to operate. The structure of Iridium's LEO network enables it to cover remote and high-altitude regions by converging at Earth's poles, providing a third factor in its differentiation from competitors. 
Finally, Iridium says that the frequencies used by its network are more resilient to weather than those of alternative companies. This allows it to ensure the reliability of its communications across land, sea or air. As such, Iridium's satellite technology can be used in applications that require remote monitoring across inaccessible terrain, no matter the weather conditions. 
Satellite technology and the Movement of Life Initiative
Such technology has a range of applications in animal conservation and the fight against biodiversity loss. It is well-suited for use by the Smithsonian Institution's Movement of Life Initiative, which was established with the aim of gaining insights into the ecological impacts of animals' movement and migration habits. Such insights are expected to support wildlife conservation and the protection of endangered species. 
The initiative includes several distinct programs, relating to terrestrial, avian and marine animals. Its leadership team is drawn from across Smithsonian units, such as the Environmental Research Centre (SERC), National Zoo and Conservation Biology Institute (NZCBI), Tropical Research Institute (STRI), and Migratory Bird Centre (SMBC). 
Terrestrial animals are among the first species that will be tracked by Iridium's satellite monitoring program. These include Asian elephants, Masai giraffes, jaguars, wildebeests, bobcats and addax, a rare Saharan antelope. 
In a bid to expand the influence of its work, the Smithsonian has created a range of open-source analytical tools that are made freely available to scientists and animal conservationists that are attempting to analyse animal datasets. Its provisions include a continuous-time movement modelling (ctmm) software package, which can be used to model different species and estimate both their energy expenditure and the size of their home-range. The ctmm platform can also help by predicting animals' encounters with humans or man-made hazards. 
The functionality of the ctmm is made more accessible to those without coding experience via a graphical interface known as 'ctmmweb'. Furthering its commitment to accessibility, the Movement of Life initiative will also launch a series education and outreach programs for ecologists and conservationists around the world. 
Satellite technology in the nature-tech space
The collaboration between Iridium and the Smithsonian provides a further example of the how satellite technology is increasingly being used to support nature conservancy and as a solution to biodiversity loss. 
Satellite technology holds great promise in this area, as it is able to capture images and data that could help to steer global action against climate change and biodiversity loss. For example, thermal-infrared cameras have enabled the launch of a Wildfire Intelligence Solution, while others are using satellite monitoring to verify the effectiveness of carbon removal projects. 
The Smithsonian Institution will continue its use of legacy methods for tracking animal movements in conjunction with Iridium's satellite technology. Its additional partners in the Movement of Life initiative include Applied Satellite Technology Ltd., Savannah Tracking Ltd., Ground Control, and Vectronic Aerospace. They provide more traditional products and services such as land, sea and air-based communication and surveillance, radio collars and GPS tracking tools. 
Biodiversity loss is the third greatest risk to our planet
The World Economic Forum (WEF) considers biodiversity loss to be one of the most severe global risks, third only to climate change and extreme weather, due to its potential social and economic consequences. According to its analysis, more than half of the world's GDP is at risk. 
Despite these warnings, biodiversity loss is accelerating faster than ever before, with human activity being the main culprit. The underlying interconnections between nature loss and climate change make it even more urgent that action be taken to halt and reverse this trend. 
At the global level, progressive action will most likely rely on economic incentives. There is some hope that this could be realised, with the WEF estimating that tackling biodiversity loss in a timely manner could unlock a $10 trillion annual economic opportunity while supporting the creation of around 395 million jobs by 2030.