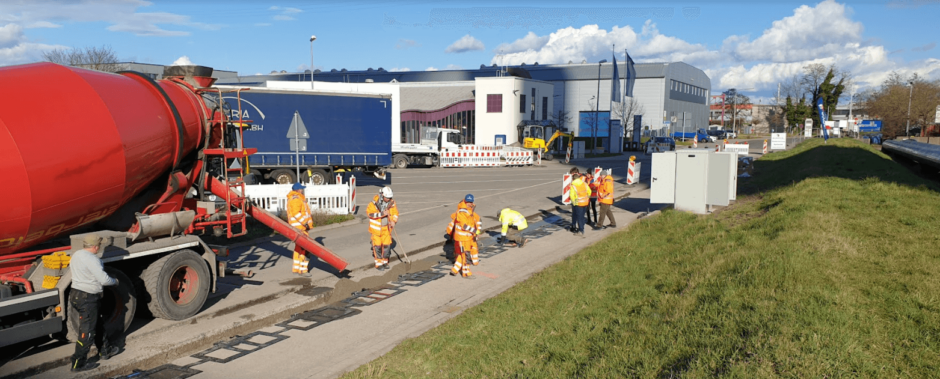 A city in Germany will conduct a trial of ElectReon's dynamic wireless electric vehicle charging technology, similar to trials being conducted elsewhere in Europe. It may prove the technology's effectiveness in supporting the bloc's strategy on low-emission mobility.
The city of Balingen, Germany, will test a dynamic wireless charging technology provided by Israel-based ElectReon for shuttle buses.
The trial is intended to demonstrate the technical- and cost-effectiveness of the technology. 
Wireless EV charging could support the bloc's strategy for low-emission mobility.
Testing EV wireless charging on the go on public transport 
In Balingen, Germany, a trial will be conducted of wireless charging of EVs while they are being driven. The project is planned for the city's Garden Show 2023, and will initially be tested along a 400-metre route for shuttle buses, with plans to increase the prepared road section to one kilometre in a later phase.
The wireless charging technology being used is inductive charging, which involves inserting magnetic coils under the asphalt. The charge is transferred via an electromagnetic field that is created when a bus, with receiver coils installed on its floor, approaches the stretch of road fitted with induction coils.
In addition to dynamic charging, the project will also include two inductive stationary charging stations. Israel-based inductive EV charging technology specialist ElectReon is being paid €3.2 million for its wireless Electric Road System (wERS) charging infrastructure. 
Other project partners include EnBW (ETR:EBK), a German energy company, the Karlsruhe Institute of Technology and Balingen's public works department, Stadtwerke Balingen.
Not the first dynamic inductive charging trial in the country
The dynamic wireless EV charging trial in Balingen is not the first test of ElectReon's technology in Germany. In November 2022, the company announced a second joint project with Eurovia, a subsidiary of Vinci, related to a German highway project called E|MPOWER.
The €7.5 million E|MPOWER project incorporated ElectReon's eWRS technology on a one-kilometre section of an autobahn in Northern Bavaria. The partnership between the two companies was signed in 2021 and was intended to demonstrate and construct in-road charging systems in the country.
The E|MPOWER project built on a prior successful demonstration of the eWRS technology in KarlsRuhe in 2021, and demonstrates the use of the technology on a larger scale.
What are the benefits of dynamic wireless charging over static, plug-in methods?
Dynamic wireless EV charging has a lower life-cycle cost of operation than static, plug-in charging infrastructure, according to ElectReon. Existing, non-dynamic solutions require the allocation of real estate for the creation of charging infrastructure, and also vehicles to be fitted with bulky batteries to carry enough charge to make them cost-effective to run.
By installing dynamic charging coils along bus routes, for example, eWRS reduces the need for static charging locations. Also, for short-haul, high-frequency public transport routes, it eliminates the need for batteries altogether, making them lighter and more efficient to operate.
Semi-dynamic charging is another cost-effective solution, suggested by the company for slow-moving vehicles along a dedicated path. Examples of this would include taxis and other vehicles waiting at airports, logistics hubs or traffic lights. 
Implementing these solutions, ElectReon contends, would reduce the need for static charging infrastructure, which can still be implemented using inductive or wireless charging technology. This would reduce the need for cables that could be cumbersome, and can also be proprietary to individual vehicle brands. 
The eWRS system is also safe, the company claims, as it is only activated when the receiver approaches the charger.
Are wireless EV charging solutions going to become the norm?
According to EnBW, the main aim of the Balingen shuttle bus trial is to demonstrate the technical effectiveness of wireless EV charging. While ElectReon itself has been involved in other projects to demonstrate the efficacy of the technology, other companies are offering an inductive charging solution.
In August 2022, Siemens and German automotive parts manufacturer MAHLE announced a letter of intent to conduct joint interoperability tests to close gaps in the standardisation of inductive charging systems.
In March, Volvo Cars announced it would participate in a static wireless charging test as part of the City of Gothenburg's Green City Zone strategic initiative. The charging stations are being provided by US-based InductEV. The three-year trial will involve Cabonline, a taxi operator in the Nordic region, using a small fleet of Volvo XC40 Recharge EVs.
The UK's first trial of wireless charging of electric taxis (WICET) was announced in February 2022. Nottingham city council got £930,000 from the UK government's Office of Zero Emission Vehicles through Innovate UK for the WICET project.
Wireless EV charging may help tackle EU road transport emissions 
Road transport contributes 70% of all greenhouse gas emissions from all transport in the EU. Reducing these emissions is the main focus of the European Strategy for low-emission mobility. In addition to making the transport system more efficient, key components of the strategy include accelerating the deployment of alternative energy for transport, and moving towards zero-emission vehicles.
Proving eWRS' technical capabilities to stakeholders may not be a big challenge for EnBW and the city of Balingen, given ElectReon's success at conducting and expanding trials with other partners. 
As the technology keeps getting deployed and proof of its effectiveness is established on a larger scale, more European municipalities and governments may follow Balingen in trialling wireless EV charging solutions.