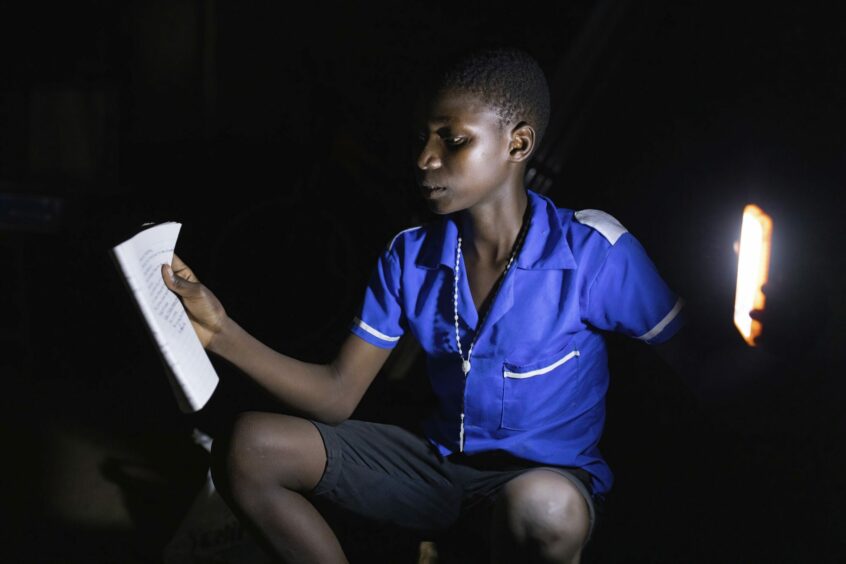 A solar microgrid project funded by the Scottish Government, coordinated by the University of Strathclyde in partnership with United Purpose, has been "life changing" for the residents of a remote village in Malawi. It is part of the Rural Energy Access through Decentralisation and Social Enterprise (EASE) project.
A solar-powered microgrid installed in 2020 has been providing 60 homes and small businesses with a supply of electricity for the first time.
This has led to a range of social benefits, including a rise in local primary pupils progressing to high school, flourishing businesses and women's empowerment.
The project supports Malawi's 2030 target of sustainable energy for all as well as the achievement of some UN Sustainable Development Goals.
Bringing electricity to rural Malawi
The project is part of the EASE project, intended to address complex energy challenges through a community-centred approach in marginalised rural communities in Dedza and Balaka Districts, in Malawi. The microgrid came after several years of collaboration between the University of Strathclyde, international development charity United Purpose, WASHTED and Community Energy Malawi, with funding from the Scottish Government's Malawi Development Programme.
The national grid of the East African country only reaches 12% of the population. In rural areas, where 85% of the population lives, only 3% of residents have access to electricity. 
The 12-kilowatt solar-powered microgrid was installed in the village of Mthembanji, in the Dedza township, in June 2020, in a 20-foot shipping container. It has provided 60 homes and small businesses with a supply of electricity for the first time.
It is managed through a social enterprise and community engagement ensures the service is affordable and designed for customer needs, as well as adhering to Malawi's electricity supply regulatory requirements. 
How did the project benefit Mthembanji's residents?
The project has been described as "life-changing" by some of the residents. The microgrid allowed discounted electricity to be offered to the local Ntandamula Primary School, which started holding evening classes to catch up on the education missed during COVID-19, as well as introducing iPads in partnership with the Turing Trust.
A year after the installation, there was a more than fivefold increase in local primary pupils progressing to high school – rising from just seven out of 44 to 38 out of 47 learners in 2020. This is because children could only study with torchlight before the microgrid.
Matilda Chagontha, a resident and mother of five kids, said: "Before the microgrid we only had one torch and we had to share between the kitchen and for the children to use to study."
"It was really hard for the children to do well at school. Sometimes it was a decision to buy batteries for the torch or food for the children. But my life changed when the electricity arrived because it's used for lighting in the house."
She added: "My children can now study and the outside bulb protects us from thieves. And the children are doing so well at school because they are able to study."
The arrival of electricity has resulted in 20 new businesses, including video shows, grocery shops with fridges, computer cafés, cold soft drinks, salons and barbershops. Meanwhile, existing businesses reported higher income.
Dalitso Bizweck, who used to close his small grocery shop early due to inadequate lighting before the microgrid, extended the opening hours and built a chain of seven shops in front of his compound, which he will rent out.
"Since the coming of electricity, I have benefited so much both financially and socially," he said. "Some of the money I saved has been used to construct some new shops and I tapped the electricity from the house to the shops. The shops are rented out to people. I will also be buying a refrigerator very soon and I will use it to sell cold drinks in my shop."
He added: "Security has increased at our house because of the security lights. Socially the life for my family has improved because we now watch the TV any time we want to, which is different from before the microgrid when we had limited time to watch TV using solar home system."
The project is also having positive gender impacts, with women reporting more free time, independence and decision-making, respect within the community and household, and security in the home. Access to news and health information has also improved.
Expansion plans
A second solar microgrid has also now been installed in Kudembe village as part of EASE. It is powered by solar PV and provides reliable electricity to 50 customers, around 250 people, who were previously unconnected. This system was locally manufactured and installed by Malawian contractors instead of being imported from South Africa or Europe, as is usually done.
Through EASE, staff at Community Energy Malawi have also been piloting District Energy Officers (DEOs), raising awareness around renewable energy with rural communities and building capacity for mainstreaming energy in local development planning. The scope is to roll out DEOs in all districts.
A solar PV energy hub and solar-powered irrigation have also been installed in Nakatale, in the Bakala District, offering refrigeration for farmers to store produce and other productive uses of energy, enabling increased incomes and economic development for rural farmers and businesses.
Meeting the UN SDGs
The microgrid project is a strong example of how low-carbon, climate-resilient technology can support people as well as the environment. It is also helping the Government of Malawi achieve the country's 2030 target of sustainable energy for all.
Ibrahim Matola, Malawi's Minister of Energy, noted that the EASE project "lays a great foundation" for the United Nation's Sustainable Development Goal (SDG) number 7, which calls for affordable, reliable, sustainable and modern energy for all. Its benefits are contributing to the achievement of other SDGs, namely 4 (quality education), 5 (gender equality) and 8 (decent work and economic growth).
As solar microgrids are scalable, affordable and easy to build in various locations, the success in Malawi could be replicated in other parts of the world with no access to national grids.