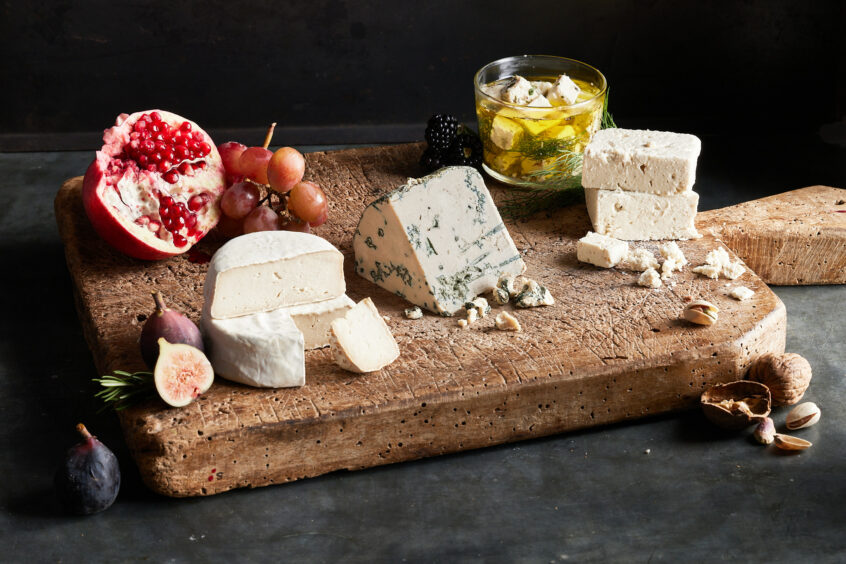 US-based startup Climax makes vegan cheese with recipes developed by using machine learning. Its technology finds out at the molecular level what makes animal-based foods so loved by consumers, then comes up with plant-based ingredients to replicate them.
Climax is launching its first "zero-compromise" plant-based products to select audiences in the US and is launching production facilities for early 2023.
The startup uses machine learning to find recipes for vegan cheese that make it taste like the real thing.
There is a strong appetite for plant-based products that appeal to people who eat dairy and meat, but are looking to reduce the environmental impact of their diets.
Climax to launch new products
The company has announced the introduction of its first "zero-compromise" plant-based products to select audiences in Los Angeles, New York and San Francisco, following two years of research and development. It is also building a production hub for its cheeses and a pilot plant for proprietary ingredients in Petaluma, California, earmarked to open in early 2023. Distribution partners are expected to be announced "soon".
Climax's 'moonshot products' – cultured and aged Blue, Brie, Feta and Chèvre cheeses – are designed to use sustainably grown plant ingredients while matching the taste, nutrition, and price of dairy cheeses.
"We started from a profound appreciation for the complex flavors and textures of dairy products," said founder and chief executive Dr Oliver Zahn. "Cows have made our milk for thousands of years. However, less than 10% of the plants they eat get turned into food for humans, which has led to significant environmental and health problems in today's much more crowded world." 
He added: "It is human nature to rethink ancient practices, so we came up with a smarter way. By using data science to accelerate plant-based ingredient and process discoveries, we are saving thousands of years of tinkering to create products that are just as tasty as the cow-based predecessors without the downsides, today."
How is the cheese made?
Climax's team of 40 scientists have combined molecular-level learnings about animal products with proprietary plant ingredient functionality databases, in order to come up with optimal 'digital recipes' from ingredients selected from thousands of edible plants. They use machine learning frameworks to find out at the molecular level what makes animal-based foods so loved by mass consumers.
Once they are figured out, Climax's technology comes up with combinations of plant-based ingredients that can be optimised to produce alternatives that taste and feel exactly like animal-based products. The startup claims that this solution is more sustainable and cheaper than plant-based alternatives currently on the market, as its technology can sift through thousands of ingredients to find the most convenient ones. 
The products are made with non-allergenic ingredients such as seeds, legumes and plant oils. They are also free of nuts, cholesterol, and GMO ingredients. 
Zahn continued: "Our technology and ingredient discoveries will soon power the replacements of bigger categories with successors that will be equally delicious and nutritious but more sustainable and – because our products are not heavily processed – substantially more economical and environmentally friendly."
Making plant-based food appealing to all
Even though more people are becoming aware of the effects of the dairy industry on the environment, not everyone is willing or has the opportunity to remove cheese and milk from their diets. It is estimated that there are 270 million dairy cows producing milk on the planet, part of an $827 billion industry that is a source of livelihood for millions of people worldwide.
It comes, however, with a variety of social and environmental impacts, depending on how they are farmed and fed as well as how the products are treated. For example, dairy cattle generate greenhouse gases through enteric and waste fermentation as well as excreting nitrogen emissions through their faeces and urine. The livestock sector as a whole has a huge significance on the carbon budget: according to 2013 estimates, it is responsible for 14.5% of total anthropogenic greenhouse gas emissions.
Switching to plant-dairy alternatives could represent a solution to address this issue, while opening up new markets and new business opportunities for innovative projects. Taste and price, however, must reach parity with traditional dairy products to convince consumers to make the change: analysis by UBS found taste is the main hurdle in the wide adoption of plant-based alternatives.
If Climax's 'fake' Blue, Brie, Feta and Chèvre cheeses really do taste like the real thing, the company is set to tap a huge opportunity amid strong demand for more sustainable food products.