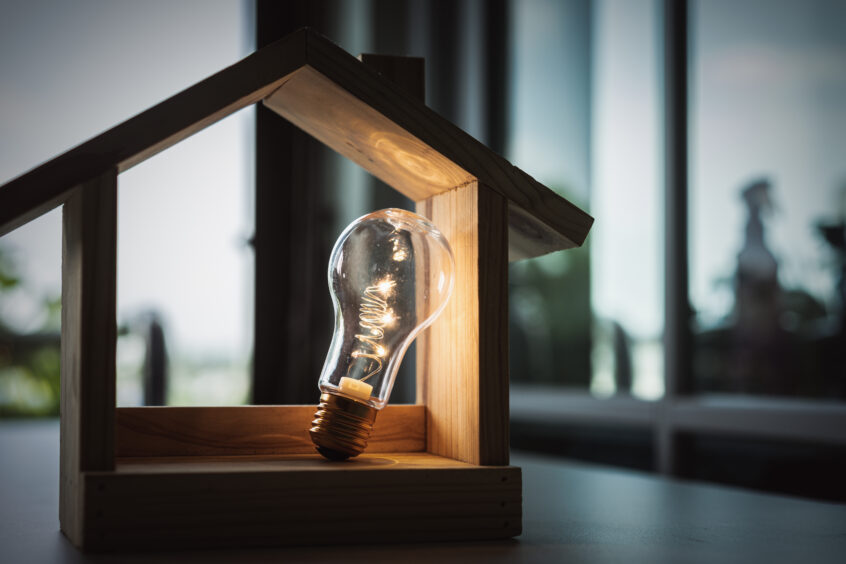 Energy efficiency is a key tool to reach global climate targets as energy demand grows exponentially across the world. 
Energy efficiency has been called the 'first fuel', as it is the cleanest and cheapest way to meet energy demand.
It has been overlooked by investors and policymakers, but is a key tool to boost energy security, reduce consumption and limit the environmental impact of energy.
Governments are increasingly turning to efficiency measures amid the energy crisis, although this is so far mostly limited to advanced economies.
What is energy efficiency?
Energy efficiency consists in reducing the amount of energy required for a certain task. Today energy is being wasted everywhere, but the solutions stop such waste are already available.
According to the International Energy Agency (IEA), energy efficiency is the 'first fuel' as it still represents the cleanest and often the cheapest way to meet demand. This can be achieved at multiple scales, from entire energy systems to the individual level.
Energy generation and distribution: saving energy starts at the source. One way to ensure all output is being used is to capture the 'waste' heat from power plants and use it for heating, cooling and hot water in nearby buildings and facilities. Across the value chain, smart grids can balance demand through real-time consumption analysis and demand response measures.
Buildings: new buildings can be designed for maximum efficiency and existing ones can be retrofitted. In developed economies, 80% of the buildings likely to be use in 2050 have already been built, so improving their efficiency plays a crucial part in achieving net zero emissions.
Critically, the building sector needs to cut 50% of direct emissions and 60% of indirect emissions by 2030 to be on track to reach net zero by 2050. This includes achieving a 45% reduction in energy consumed per square metre by 2030 from 2020 levels.
Community design: according to the Environmental and Energy Study Institute (EESI), designing neighbourhoods with mixed-use developments and safe, accessible options for walking, biking, and public transportation is a key tool to reduce the need for private vehicles. This includes ensuring that all services needed by residents are easy to reach and that all modes of transport are supported by infrastructure.
Vehicles: designing vehicles that are more energy efficient means they will need less fuel to cover a given distance, cutting emissions and costs. While this is a seperate issue from changing the vehicle fuel source, plug-in hybrids and fully electric vehicles are particularly fuel efficient.
Freight: the efficiency of rail and truck transportation can be improved by updating the vehicles and related technologies, and by shifting long-distance freight transport from trucks to rail. At the same time, improvements in logistical management can ensure that space use is maximised.
Human behaviour: even though technology can make great strides in improving energy efficiency, its use can make huge differences in the final results. This is because social, cultural, and economic characteristics affect the design and usage of these measures.
For example, homeowners may not update their energy systems without financial incentives promoted by the government, or commuters may not use public transportation if there is a cultural stigma against it. These factors need to be addressed to ensure that society as a whole maximises the efficiency of energy use.
What are the benefits of energy efficiency?
Energy efficiency is a key tool to reach net zero emissions by 2050 while meeting the world's needs. Moreover, supportive policies and increased investment in relevant technologies are bound to create jobs and open up new markets.
Boosting energy efficiency leads to several other benefits in terms of costs, energy security and climate. Indeed, lowering the consumption of energy means that demand will decrease, therefore ensuring energy security. This in turn cuts costs and the environmental impact associated with energy production and transportation.
Cost savings: efficiency is an investment that ultimately leads to significant savings. This can be at a personal, corporate or even state level. On a personal level cutting energy use saves money, important in a cost of living crisis. Making the energy supply sector more efficient can help providers deliver better service for their customers while reducing their own operating costs, improving profit margins and mitigating risk.
Utilities that encourage energy efficiency among their customers can generate significant cost savings for themselves through avoided infrastructural investment by delaying or deferring costly system upgrades. Other benefits include improved system reliability and dampened price volatility in wholesale markets.
If energy efficiency activities are sufficiently widespread and of a large enough scale, such as fuel economy standards for vehicles, it can have an economy wide impact. Although it is important to point out that some energy sources, such as oil, are global commodities; that means a change in demand in only one region may not have a significant impact on energy prices, according to the IEA.
Systemic changes though ultimately lead to benefits for individuals. For example, a report by E3G, IEEFA, Wuppertal Institut and Neon found that Germany's gas imports could reach €200 billion by 2030, doubling bills for consumers – if the same amount were invested in energy efficiency measures, the costs would dwindle rapidly.
Meanwhile, sustainability advisory firm 3Keel calculated that countries are spending only $30 per person per year on retrofitting existing buildings, which is a small fraction of what is being spent on energy bills.  Reversing that ratio could result in significant savings over the longer term.
Energy security: by reducing overall demand, efficiency can reduce reliance on imports of oil, gas and coal. The war in Ukraine saw European countries scrambling to wean themselves off Russian gas, demonstrating how volatile energy markets can be. Lower imports also bring broader macroeconomic benefits, including an improved balance of payments and increased competitiveness.
Reducing energy imports or increasing exports can also benefit a country economically, particularly where energy is a large contributor to trade balances, by improving national accounts and reducing the need for costly supply and storage infrastructure, according to the IEA.
Reductions in electricity demand resulting from efficiency can also limit requirements for new electricity generation, transmission and distribution infrastructure, particularly during a transition from fossil fuels to renewables-based generation.
Environmental benefits: improving efficiency will also make the energy transition smoother. According to a white paper by the Danish engineering group Danfoss, The neglected demand side of the green equation, there is far more work to do beyond replacing fossil fuels with renewables in the energy transition. Even with the ramping up of renewable energy, there will simply will not be enough renewable energy generated to meet growing energy demand. 
While the need to grow the use of (renewable) electricity in the energy mix is clear, it is fundamental that energy demand is reduced first. Not only will this cut emissions and costs immediately, but the increases in energy efficiency can shave demand peaks – increasing the overall efficiency of the system.
Given the volatility of renewable energy generation and the speed of development in the energy storage space, energy efficiency can also reduce the systemic cost of electrification. 
Such demand management systems are also critical to managing the rising need for cooling amid increasing global temperatures. As the temperature heats up, more people are looking for cooling solutions. For instance, in Germany today only 3% of people have air conditioning, while in the US the percentage rises to 90%. And as emerging economies get richer, there are expectations of increased demand for these products. 
Are we making progress?
The energy crisis in Europe has put energy security in the spotlight. Many countries are scrambling to ensure their demand is covered, mostly by boosting domestic production or by securing imports. Improving energy efficiency has historically received, and still does, little attention, even though it is a cost-efficient and relatively easy solution to implement.
It is not clear why it is being neglected. A survey of UK energy professionals, published by the Energy Institute in July 2022, suggested that efficiency policies in Britain did not have any positive effects. This highlights the importance of supportive governmental action, although Germany seems to be the only country with a plan to reduce energy demand permanently. As such, better efficiency may need a stronger push from authorities worldwide.
Nonetheless, the IEA said in its Energy Efficiency 2022 report that the world may be at a potential turning point after several years of slow progress, as more governments and consumers are increasingly turning to efficiency measures to address fuel supply disruptions and record-high energy prices.
The report says that energy efficiency investment in 2022 rose 16% to $560 billion, while the global economy used energy 2% more efficiently compared to the previous year. In fact, the IEA found that the energy efficiency actions taken since 2000 made energy bills $680 billion cheaper – which is equivalent to 15% of total energy expenditure in 2022. 
This progress continues to be supported by policy and spending measures, with a few being announced in 2022. These include the Inflation Reduction Act in the United States, the European Union's REPowerEU plan and Japan's Green Transformation programme, which add up to hundreds of billions of dollars in spending on more efficient buildings, cars and industries over the coming years. 
These packages, however, like much of energy efficiency investment more broadly, are concentrated in advanced economies, and greater investment is needed in emerging and developing economies, according to the IEA. While progress is encouraging, we are far from having fully harnessed the power of energy efficiency.